Central location. Friendly, multilingual staff. Good facilities and great price. - Josh
What sets them apart?
This hostel's central location, clean rooms, and affordability make it a favorite place to stay in Valencia.
Hostel Personality
Who's staying here?
The price make this a popular option with budget travelers and backpackers who are looking for a good deal. Young travelers and small groups particularly seem to enjoy this place.
Insider Tip
It's worth the small price for the breakfast. Pay in advance and it's a little cheaper.
The River Hostel
The River Hostel is a centrally located place to stay with clean facilities, friendly staff, and a decent amount of common space. They offer a filling breakfast in the morning for a small price, and it's well worth the money. The rooms are basic but clean, and every guest gets a locker and a comfortable bunk.
If you're hoping to explore Valencia from a central location, then this is a good place to stay. The price can't be beat and the staff are helpful and friendly.
The Facilities
Dorms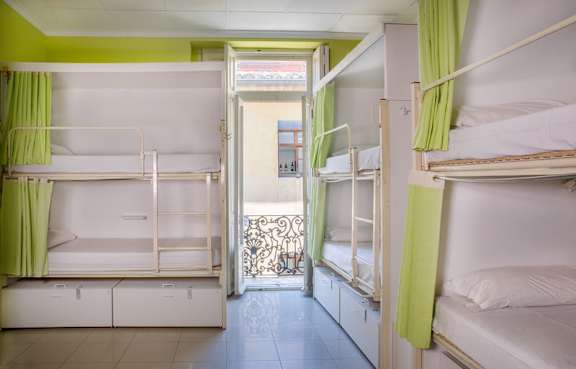 The dorms are clean and comfortable. They're a bit basic, but no different than what you find in most hostels. The bunks do have privacy curtains, which is a nice touch, and there are lockers under the bed and power outlets for each guest. Every room has both air conditioning and heating, and many of the rooms have balconies.
There are a wide range of room sizes to choose from. You'll find dorms that sleep anywhere from four to twelve people, with everything in between. Both co-ed and female only rooms are available as well.
Private Rooms
In addition to the dorm rooms, there are double and twin rooms available as well. The rooms also use shared bathrooms and they have basic but elegant furnishings. The beds are comfortable and the added privacy is much appreciated.
Bathrooms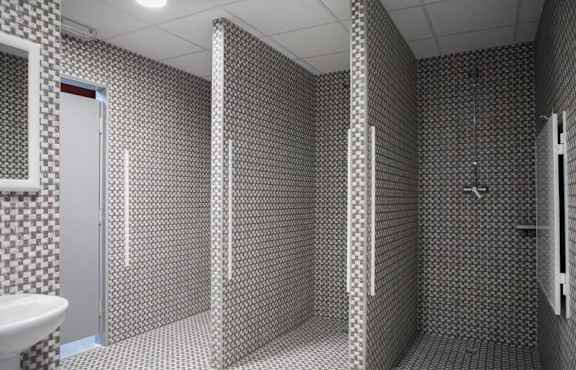 The rooms use shared bathrooms. There are plenty available and, like the rest of the hostel, they're cleaned regularly. The shower doors could provide a bit more privacy as they're only half length. This is particularly challenging if you're taller or shorter than average.
Common Areas
The River Hostel has some nice common areas including a games room, a lounge, and a shared kitchen that guests can use to prepare their own meals. There's also a cafe onsite if you want to grab a quick bite.
The common space is a nice area to relax, but the hostel itself can feel a bit spread out, so some guests complain that it's hard to socialize and meet others. Even so, the atmosphere is relaxed and charming.
The Location
Ciutat Vella
What's Nearby?
This hostel is all about location. It's in a beautiful building that's located right next to Turia Gardens. Within a 5 minute walk you'll find Valencia Cathedral as well as the National Museum of Ceramics and Decorative Arts. Also nearby is the central market.
Centrally located next to Turia Gardens, The River Hostel is 5 minutes' walk from Valencia Cathedral and Alameda Metro Station, which has direct airport trains.
Nearby Transportation
The hostel is very close to Alameda Metro Station, where you can access trains to the airport. The hostel also offers an airport or bus transfer for a small price. The hostel's central location means that most parts of the city are accessible by public transit.
Amenities
This hostel has the standard amenities available including Wi-Fi, luggage storage, security lockers, and laundry facilities. There's breakfast served every morning for a small price and vending machines are around if you want a quick bite to eat.
Staff
The staff here are friendly and helpful. It's a professional establishment and guests are respected and treated well. Staff is available 24 hours a day if you have any questions or concerns.
Heads Up
This is a good value hostel, but they do nickel and dime you a bit. Some guests also feel it's a bit hard to meet other travelers, particularly if you're traveling alone.
The River Hostel
Do you have a favorite hostel that you would like to review? Let us know!