Meininger has the feel of a hotel - The rooms are very nice and clean, and they even felt a little private with each bunk bed having nice cubbies and area right by your head for your own stuff. Also the shower was great! The staff is amazing, super friendly and helpful. - Ella
What sets them apart?
Meininger is known for it's hotel vibe with the amenities of a hostel. You can enjoy a quiet night's sleep but still take advantage of the common areas, kitchen, and affordable prices.
Hostel Personality
Who's staying here?
The Meininger hostel chain is popular with groups, budget travellers, families, and couples. It feels a bit like a hotel, but the cheaper dorms, kitchen, and common areas make it a fun option for everyone.
Insider Tip
Check out the local neighborhood, which is trendy and fun, with some great restaurants.
MEININGER Vienna Downtown Franz
Like the other branches of this chain, Meininger Vienna Downtown Franz is a great hotel/hostel with a wide range of options for all types of travellers. The dorms are affordable and comfortable and the private rooms bring in couples and small groups of travellers. This hostel has a small kitchen that guests can use and common areas with foosball and games. The atmosphere is quiet, so you can enjoy a good night's sleep. People also tend to stick to themselves, so it's not really the most social hostel, but it is a great place to base yourself during your time in Vienna.
The Facilities
Dorms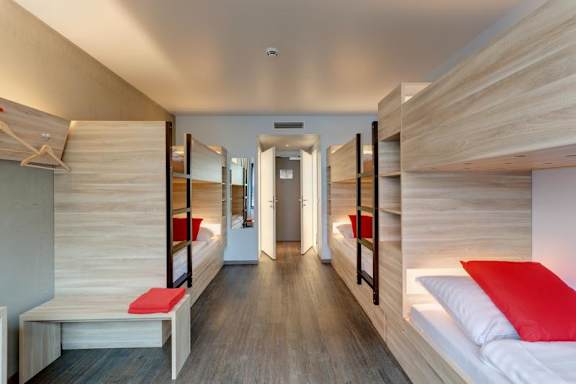 This is a large hotel/hostel with 131 rooms in total, some of which are dorm rooms. The environment feels a bit more like a hotel with the option to stay in a dorm for a better price, so you won't find the social vibe that you get at many other hostels. Still, the rooms are comfortable, modern, and quiet and the space is nice. Dorms have bunk beds that each have their own little cubbies. The rooms are clean and there's a decent amount of natural light.
Private Rooms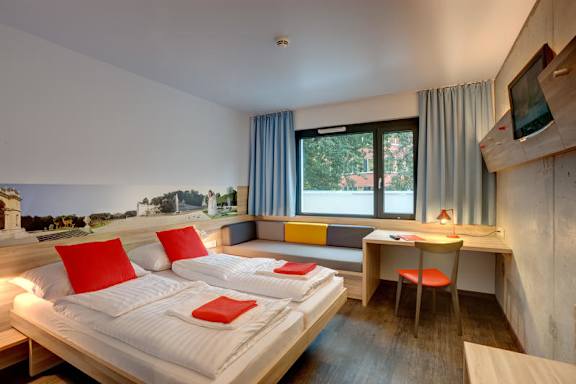 Many guests stay in the private rooms, which are typical of what you might find at most budget-friendly hotels. There's everything from singles to rooms large enough for small groups or families. They have basic furnishings, televisions, and a modern style.
Bathrooms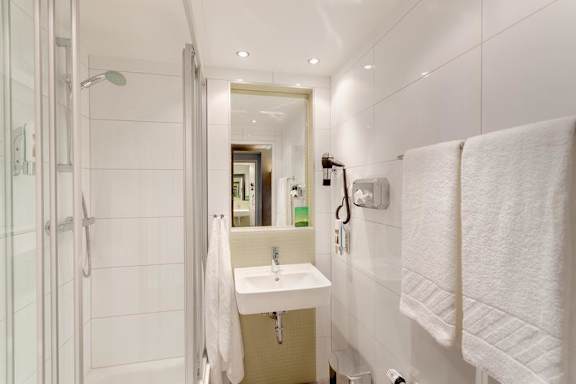 Most rooms have en-suite bathrooms here. The bathrooms are clean and modern and the showers are great with hot water and good water pressure. Like the rest of the hostel, the bathrooms are cleaned regularly. Bathrooms are also equipped with a hair dryer.
Common Areas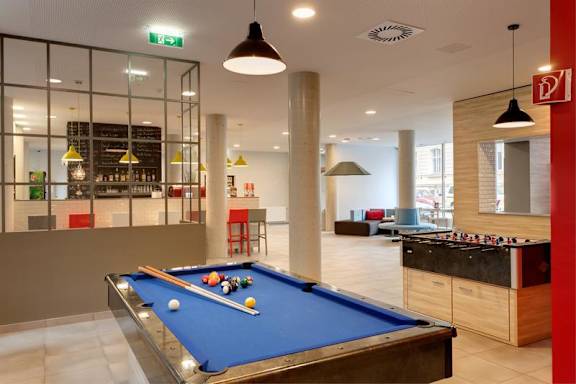 There are several great places to hang out here. The lounge has comfortable sofas, games, a television, pool table, and foosball table. There's also a bar area and a small kitchen where guests can prepare their own meals. The kitchen is a bit small for the number of rooms so it can be a tight fit, particularly during peak meal times, but it is nice to have.
The Location
Leopoldstadt
What's Nearby?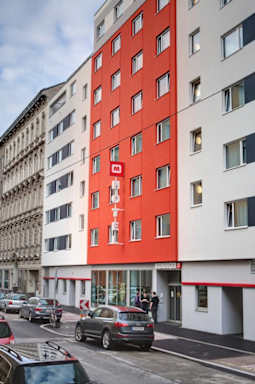 This hostel is locatd in the fun Leopoldstadt area, in Vienna's second district. It's situated between the Danube Canal and the Danube in what was once the Jewish quarter. Today the area is a popular hangout spot with plenty of parks and outdoor space, the Karmeliter Market, and plenty of great restaurants. Wander the food stalls of the market or grab a bite in one of the many restaurants nearby. There are both local and international options to choose from. The area also has many great artist galleries and interesting shops to explore.
If you're heading to some of the more popular tourist attractions, you'll need to take public transportation. The Schottenring is nearby and there you can catch a number of trains, trams, and buses.
Nearby Transportation
You'll need to take public transportation to get to most of Vienna's top tourist attractions. The closest metro station is Schottenring, which is right around the corner. From there you can catch a U2 or U4 train, trams 1, 2, or 31, as well as nine different bus lines. The city is very accessible from this area.
Amenities
This is a large hostel and hotel, so it has many amenities for guests. There's a small kitchen, laundry facilities, Wi-Fi access, and all kinds of travel information. The hotel is spread out over seven floors, so the elevator is much appreciated to access rooms. A buffet breakfast is also available every morning for a small price.
Staff
The staff here are professional and responsive. Staff is available 24 hours a day to address your concerns and they can give you tips on the area, how to get around, and where to eat.
Heads Up
Like the other branches of the Meininger chain, this hostel feels a bit more like a hotel. Many guests enjoy this, but other miss the social aspects of a hostel. It's also a bit removed from the main tourist areas, but the surrounding neighborhood is nice and it's easily accessible to public transportation.
MEININGER Vienna Downtown Franz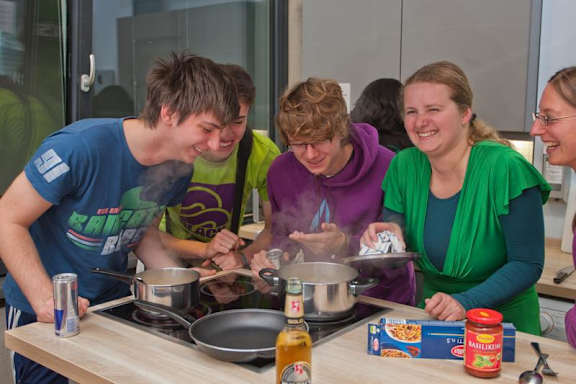 Do you have a favorite hostel that you would like to review? Let us know!