Quiet, Safe, and Affordable Hostels in Rio de Janeiro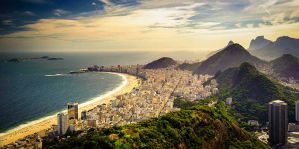 Rio de Janeiro is the second largest city in Brazil. It's located on the South Atlantic coast and is a popular tourist destination for its spectacular landscape and mellow beach culture. It's also a famous place to visit for its yearly carnival.
There are many affordable guest houses and hostels in Rio de Janeiro. Because it's such a large city, it is best to consider what neighborhoods you want to visit when making your reservations. The hostels below are relaxing and affordable options for budget travelers.
How much do hostels in Rio de Janeiro cost?
| | |
| --- | --- |
| Average Dorm Price | $27 ($1 to $1,717) |
| Average Double Private Room Price (in a hostel) | $56 ($3 to $687) |
A great hostel for couples and backpackers.
Dorm Bed:
$
16.47
Private Room:
$
19.76
Overall Rating:
96%
Pousada Favelinha is located on a small mountain in the middle of Rio de Janeiro. It's between the districts of Laranjeiras and Santa Teresa and it is found inside a small "Favela", which is one of the many poorer districts in Rio. Despite the economic challenges of the area, there is a very rich culture here. The hostel is very secure and it has been around since 2004, making it the original "Favela Hostel" in Brazil. The hostel also offers guests a truly wonderful view and a very quiet environment that makes a nice retreat from the chaos of the city.
This is a truly unique place to stay in Rio. You'll be warmly welcomed by the residents of the Favela and it won't be long before you're making friends with locals and travelers alike.
The hostel is small, with only five double rooms and one dorm available. Every room has a private bathroom and its own balcony where guests can enjoy views of the surrounding area. Each balcony also has a hammock. The hostel includes a wonderful complimentary tropical breakfast. There's also a large living room and a rooftop terrace.
This hostel has a surprisingly peaceful setting despite being in the middle of the city. There is no traffic around so you can hear hummingbirds and roosters. The hostel is about a five minute walk from two metro stations which will take you to Copacabana Beach. It's about a seven minute walk from the cable car that goes through the Santa Teresa district.
If you want to have a truly unique experience in the heart of Rio de Janeiro, then Pousada Favelinha is an excellent option.
Rua Antonio Joaquim Batista, casa 13 Entrada: Rua Almirante Alexandrino 2023
,
Rio de Janeiro
,
Brazil
,
A good hostel for backpackers, couples, and small groups of friends.
Private Room:
$
40.00
Overall Rating:
97%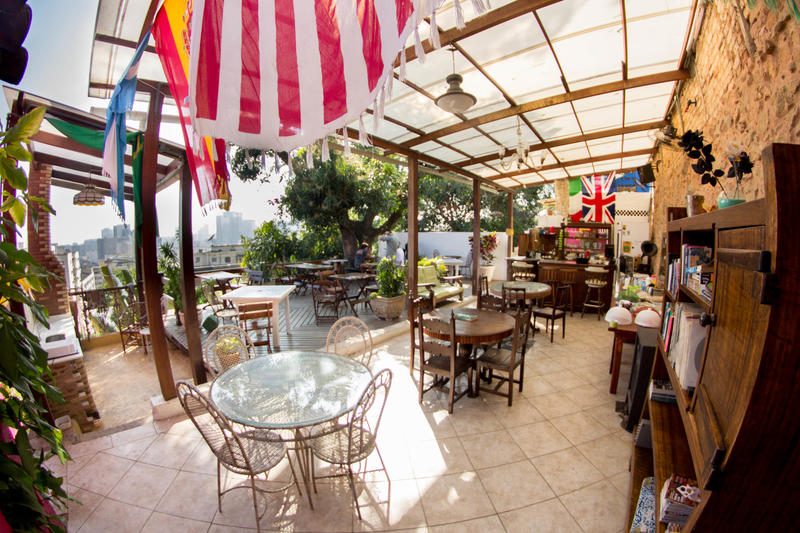 Villa Leonor is located in a nineteenth century villa in a historic area of Santa Teresa. The hostel offers impressive views of the city and is surrounded by mango, banana, and bamboo trees. Despite having the atmosphere of a peaceful retreat, Villa Leonor is still just a short walk from some of the most popular nightlife areas in Rio including Lapa and the bohemian bars around Santa Teresa. You can also take a bus to the metro, which will then take you to the beaches in the Zona Sul.
The hostel has double, triple, and quad private rooms. Each room has its own private bathroom. There is also a six bed dormitory with access to two bathrooms. The hostel has all of the standard amenities available to guests including a shared kitchen and a large terrace bar. From the terrace you can enjoy impressive views of the city. Breakfast and wi-fi are also included in the price of the room.
Rua Costa Bastos 681 Santa Teresa
,
Rio de Janeiro
,
Brazil
,
A good hostel for backpackers and small groups of friends.
Dorm Bed:
$
55.00
Overall Rating:
94%
Harmonia is a small and comfortable hostel that is conveniently located in the middle of the Ipanema district. It's just three blocks from the beach and is very close to many different bars and restaurants. If you want to be near the beach, this location can't be beat. It's also in one of the safest parts of Rio and it is a secure place to stay.
Because this is a small and personal hostel, it's easy to make a few friends here. It want be long before you've met the other guests and are swapping travel stories.
The hostel has three different dorms that are each co-ed. The dorms have either four or six beds and every dorm has fans but only one dorm has air conditioning. There are also three bathrooms in the hostel that have hot water available all day every day.
The hostel has all of the standard amenities available as well. Coffee and tea are available throughout the day. There's free wi-fi throughout the building and the staff are on-site to help you with any questions you might have. Staff members speak both Portuguese and English.
Rua Barao da Torre 175, casa 18 Ipanema
,
Rio de Janeiro
,
Brazil
,
Share This Article