Best Hostels in Tamarindo for Solo Travellers and Groups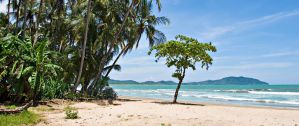 As Tamarindo's visitors are diverse in their interests and activities, so are the accommodation options. While some travelers are looking to party, others are traveling as a family. Some are younger backpackers, and some are a little bit older and are visiting Tamarindo for the sport fishing and higher end resorts. This mix can be your salvation, as a variety of hostel options as well as restaurants and activities are available for any type of traveler looking to relax on their own or meet up with others.
How much do hostels in Tamarindo cost?
| | |
| --- | --- |
| Average Dorm Price | $14 ($9 to $25) |
| Average Double Private Room Price (in a hostel) | $36 ($18 to $60) |
Also great for couples and families with kids
Dorm Bed:
$
25.00
Private Room:
$
25.00
Overall Rating:
97%
This fairly new establishment is stunningly beautiful on the interior. Check out the photos. The bathrooms and kitchen are modern and clean, and the dorm beds and private rooms feel luxurious for a hostel. Reviewers have stated that the staff is friendly and helpful, and also quite attractive...?
Private room and dorm beds are available. The price range for the rooms can vary greatly depending on the type of room you wish, and this draws in a diverse clientele. But the communal free breakfast gets everyone together in the morning and creates a friendly and social atmosphere.
In addition to free breakfast, they offer free Wi-Fi, laundry services, a pool table, and they are just steps from the beach. They are also located close to many great amenities in town.
Tamarindo Right next to "Farmacia Tamarindo"
,
Tamarindo
,
Costa Rica
,
A social but quiet hostel for solo travelers and couples
Dorm Bed:
$
12.75
Private Room:
$
19.80
Overall Rating:
83%
Dorm beds as well as private rooms are available in this budget friendly hostel that is about ten years old. The helpful staff can also provide tourist information, as they also book tours and excursions to the nearby sights and activities. Although inexpensive, everything is clean while creating a tropical atmosphere. The outdoor courtyard area is a great place to socialize with its hammocks and daybeds.
The Pura Vida is a few hundred meters from the beach, and very close to several dining options. The amenities include free Wi-Fi, laundry services, free parking, air conditioning, and a game room with a pool table and other games.
calle guanacaste 100m oeste de banco national a
,
Tamarindo
,
Costa Rica
,
A social party hostel for solo travelers, and couples
Dorm Bed:
$
13.00
Private Room:
$
22.00
Overall Rating:
83%
Even though "hostel resort" is a bit of an oxymoron, this place seems to come through accurately on the name. The Hostel Resort chain might be familiar to some travelers already, and if so there should not be an surprises here with what to expect. With a colorful and vibrant courtyard interior that also offers plenty of social space with hammocks and a cafe, the interior feels different than most other hostels. Also, it's a very short walk from the beach and right in the middle of town surrounded by bars and restaurants. If you're looking for a social atmosphere, this place has it.
Dorm beds and private rooms are available. The facility is described as clean and modern by most reviewers. They also offer standard amenities to be expected such as Wi-Fi, laundry facilities, a communal kitchen, lockers, tour services to nearby sights and attractions, and more.
Tamarindo down town, Next to the Bac San Jose, Pla Tamarindo beach, Santa Cruz
,
Tamarindo
,
Costa Rica
,
A social hostel, also great for couples and groups
Dorm Bed:
$
12.00
Private Room:
$
13.25
Overall Rating:
85%
A recent renovation and a focus on surfing makes this popular hostel a great place to stay. Located right near the beach and in the center of town surrounded by restaurants, bars, shops, and other amenities, you can't go wrong here. The staff has been described as friendly and helpful with everything, especially as they offer tour bookings, surfing lessons, and other transportation services.
Other standard amenities include linens, laundry, Wi-Fi, a discount at their restaurant, a communal kitchen to cook our own meals, and a social courtyard area with hammocks. It is described by reviewers as clean and well maintained. Air conditioning and hot showers are also a nice perk.
Tamarindo, Santa Cruz, Guanacaste Diagonal a Plaza Conchal
,
Tamarindo
,
Costa Rica
,
A small, relaxed hostel that's also good for couples and families
Dorm Bed:
$
12.00
Private Room:
$
15.00
Overall Rating:
90%
This relaxed hostel with dorms and private rooms is slightly further back from the beach than some of the others, but it's still only a three minute walk. Reviewers describe this place as having a relaxed vibe, as the central pool provides a nice atmosphere for travelers to mingle and chill. The overall atmosphere is nice with an older hacienda home style with palm trees and renovated rooms.
The dorms have private ensuite bathrooms and are kept clean. Other facilities include a kitchen for self-catering, air conditioning in the evenings, free Wi-Fi, and surf lessons provided by their own surf instructor.
50 metros sur de Villa Verd
,
Tamarindo
,
Costa Rica
,
A fun, social hostel that's great for meeting others
Dorm Bed:
$
10.00
Private Room:
$
14.85
Overall Rating:
82%
In the middle of town and close to the beach, this modern and clean hostel offers pretty much everything a traveler could want in a comfortable and fun environment. With a central game and TV room, this hostel is very social. They have a pool table and other games, and guests have described this hostel as fun and social while also being safe and secure.
With a location in the middle of town, it is close to restaurants, bars, shops, and the beach.
They offer surf lessons, free Wi-Fi, air conditioning, parking, bike rentals, tours, and they have an on site bar & restaurant.
Dorms and private rooms are available.
Calle Guanacaste, frente al Hotel Portofino
,
Tamarindo
,
Costa Rica
,
Share This Article