Best Party Hostels in Prague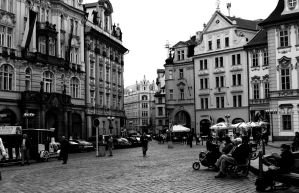 Prague is a truly beautiful city with culture, art, and history. It's also one of the most popular party cities in all of Europe. The days of cheap beer may be behind us, but the party scene remains active and the nightlife can't be beat for young travelers. If you're looking for a fun place to stay, any of these hostels will make sure you make the most of Prague's social scene.
How much do hostels in Prague cost?
| | |
| --- | --- |
| Average Dorm Price | $12 ($5 to $34) |
| Average Double Private Room Price (in a hostel) | $39 ($5 to $105) |
Dorm Bed:
$
8.80
Private Room:
$
6.60
Overall Rating:
81%
Clown and Bard is one of the most popular party hostels in Europe. It's a great place for any young traveler who's looking to make the most out of the party scene that is so vibrant in the city. There is a 36 person dorm room, so you can imagine the activity level is almost constant. It's not a place to stay if you're hoping for a good night's sleep. The bar is located downstairs and they have a nightly happy hour which start at 7 pm. There is frequently live music as well.
Many guests hardly find time to leave the hostel because the party is almost constant. You'll find no shortage of ready made friends, and there's almost always something going on.
The hostel also has the standard amenities such as free internet, 24 hour reception service (not in the winter months), a safe, money exchange, and car parking for a small fee.
Borivojova 102 Prague 3, Zizkov
,
Prague
,
Czech Republic
,
Dorm Bed:
$
400.00
Overall Rating:
97%
The MadHouse is more than just a place to sleep, it's a place to have an experience. The staff is wonderful and work hard to keep the atmosphere lively and fun. They like to have a good time, and there's almost always some type of party going on. There are afternoon beer-pong sessions, and regular hostel "family dinners". There are regular activities including trips to the beer gardens, ice hockey games, and regular nights out.
The layout of the hostel also makes socializing easy. There's a television lounge with bean bag chairs and comfortable sofas. The dorms are large, and the decor is fun.
It's located only a short walk from Narodni Trida tram and metro stations. There's a supermarket nearby and the historical center is very close. The neighborhood is diverse and everything you need will be conveniently easy to reach.
Spalena 39
,
Prague
,
Czech Republic
,
Dorm Bed:
$
6.72
Private Room:
$
11.19
Overall Rating:
86%
Plus Prague is part of a European chain of hostels that is popular with backpackers for its fun atmosphere and reliable amenities. It's located about three metro stops from Prague's historic city center. It's state of the art in that it has a swimming pool and sauna, both of which stay open year around.
The rooms are bright and large with a lot of natural light. They are clean, modern, and comfortable. There's also an onsite restaurant that has great local food that is reasonably priced.
Because the hostel is so popular with travelers, there's always something going on. You'll easily meet others who are interested in going out and socializing. The atmosphere is fun and welcoming and it's a great place to chill out for a few days.
Privozni
,
Prague
,
Czech Republic
,
Dorm Bed:
$
12.11
Private Room:
$
16.71
Overall Rating:
93%
This is a great hostel where you can socialize and meet other guests. It's designed perfectly for those who want to chill out and have a good time. There's a backyard garden where there's almost always someone to chat with. There's also a bar with affordable beers, and a television area with a comfortable sofa and DVDs to choose from.
Many guests find themselves lingering longer than they had expected. There is no curfew so you're free to come and go as you please, and the common areas are abundant so you'll easily make new friends.
Cimburkova, 8
,
Prague
,
Czech Republic
,
Share This Article