Tallinn's Top Party Hostels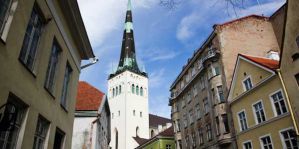 The old Soviet Republics are looking west, not just for their economic future, but also for entertainment, travel, and excitement! Tallinn is a small capital city that is big on history, art, architecture, and fun. A large number of youth hostels for long term travelers or weekend fun-seekers have popped up over recent years. Offering old-world charm with modern amenities, they are comfortable, clean, and packed full of other travelers looking to meet new people and make new memories. All of the following places are in or around the city center and await your arrival.
How much do hostels in Tallinn cost?
| | |
| --- | --- |
| Average Dorm Price | $14 ($10 to $18) |
| Average Double Private Room Price (in a hostel) | $48 ($22 to $137) |
Dorm Bed:
$
14.22
Private Room:
$
14.22
Overall Rating:
92%
The Red Emperor Hostel in Tallinn, Estonia is a social place to stay with many activities for its guests. They organize events on a nightly basis and there are frequent group programs that guests can take part in. They can offer excellent cultural and party ideas and the staff are almost always on top of the social events going on around town. If you have any questions or need any suggestions just inquire with a staff member and they can probably tell you were the best place to be for the night is.
The facility itself is very comfortable and you have access to many great amenities including brand new showers, large dorm rooms and a nice kitchen that allows you to prepare your own meals. This cost saving option is great for travelers who are on a budget.
Aia 10
,
Tallinn
,
Estonia
,
Dorm Bed:
$
11.00
Private Room:
$
12.00
Overall Rating:
90%
Tallinn Backpackers is an lively hostel that works hard to maintain a social, yet comfortable atmosphere. It's the perfect place to stay if you're wanting to be in the heart of the city with a group of ready made friends. The staff work hard to make sure that guests are having a good time. There are any number of activities that keep guests entertained during their time here. The hostel is famous for its daily pub crawls which are run by the qualified Aussie partysmiths. There are double happy hours when you can enjoy one euro beers at the bar. There are also parties regularly, many with themes or interesting events. If you're interested in seeing Tallinn from a different perspective there are also many alternative tours that take you around the city to sights that are a little more off the beaten path. The hostel does everything it can to make sure you have a large number of activities and entertainment options to choose from. There are day trips regular and beer is available around the clock.
If you're coming to Tallinn and hoping for a good time then this is the place for you. It's easy to socialize in a relaxed but active environment during your stay at Tallinn Backpackers. There are no shortage of opportunities to meet fellow travelers. Tallinn Backpackers encompasses everything which Tallinn is known best for. If you're young, active, and out to have a good time, then this is the place for you. It's one of the most popular hostels in the city and you'll quickly learn why during your time here.
Olevimägi 11
,
Tallinn
,
Estonia
,
Private Room:
$
13.97
Overall Rating:
89%
Viru Backpackers in Tallinn, Estonia is owned and operated by Tallinn Backpackers. Tallinn Backpackers has long been recognized as one of the best hostels in the city, and Viru Backpackers is following in that trend. Guests at Viru Backpackers have access to all of the day trips, pub crawls and activities that have made Tallinn Backpackers the number one choice it is today.
The rooms in this new hostel are all recently renovated and many have great views that look out on the active Viru Street. The location allows you easy access to many of the city's top cafes and restaurants as well as popular bars, museums and galleries, all of which are just a short walk away. The hostel is also conveniently located just around the corner from the Town Hall Square, which is really at the center of everything.
Many members of the staff at Viru Backpackers are of diverse and international backgrounds. Most have traveled throughout Europe themselves and choose to spend extended periods of time in Tallinn because they fell in love with the city. Because they have a personal love for the city, they can also give you great insight on the many great activities to do around town. If you're looking to have a great time and a unique experience during your time in Tallinn then Viru Backpackers is the place for you.
Viru 5
,
Tallinn
,
Estonia
,
Dorm Bed:
$
12.00
Private Room:
$
12.00
Overall Rating:
93%
This really is the ultimate backpacker's hostel. It offers a laid back environment where travelers like to hang out and get to know one another. It's centrally located and has many great amenities available to guests. If you're looking to have a good time and meet some other travelers, then this is the place for you.
It's conveniently located right across from Freedom Square. Freedom Square is the largest square in the Old town. It's also near public transportation, many of the city's best sights, and a large selection of clubs, bars, and pubs. There are some great restaurants nearby as well.
They've only recently finished renovating the place. The bathrooms are all brand new and there is a fully equipped kitchen which guests can take advantage of. There are also large lockers where guests can safely store their belongings. The bunk beds are comfortable as well.
The place is run by backpackers, so they know what you're looking for in accommodation. The bar area is great for those who are looking for a party but there are also places you can go to relax and have some peace and quiet. If you want to watch a movie there is a cinema room and if you just want to read a book there are great places to do that as well. There are also pub crawls in the evening that guests are welcome to join in on.
Day time activities are plentiful as well. These include AK47 shooting, walking tours of the city and more. You can easily organize a trip to Lahemaa National Park or coordinate transportation out to the former Soviet town of Paldiski.
Tatari 1
,
Tallinn
,
Estonia
,
Dorm Bed:
$
10.00
Private Room:
$
10.00
Overall Rating:
87%
This hostel has what is probably one of the best locations in the city. It's just around the corner from the famous Town Hall Square, but it still sits along a quiet street where you can be assured a good nights sleep. The rooms have been recently renovated and are kept clean. The beds are comfortable and there are linens and sheets that are included in the price of the room. Every guest will also receive a key to their room so access is 24 hours a day, 7 days a week.
This is the largest hostel in the city so they are able to accommodate groups of travelers as well as solo backpackers. There are tours that are organized daily, and bike rental is an added convenience. Guests will be given a homemade, delicious breakfast so they can start their day out right. There are occasionally movie nights, pub crawls, parties, events and more, so there is likely to be something fun going on during your time here.
The common room is comfortable and the guests and staff all enjoy interacting and having fun together. The general environment is very relaxed and mellow. The staff speak several languages and they will go out of their way to make sure your stay is as enjoyable as possible. If you need any advice on things to see or do, don't hesitate to ask.
Lai 20 Tallinn
,
Tallinn
,
Estonia
,
This hostel is targeted at a young crowd. If you're interested in a social setting with most of the amenities shared then this is the place for you. It's a backpacker hostel that is relatively new to the city. It's located right in the middle of the old town and is close to most of the popular sights and attractions. It's in a safe location and is convenient and fun.
There's a common area where guests can hang out. It includes a balcony that overlooks the city's historic area. There are also plenty of services available to guests. These include free high speed internet, public computers, luggage storage, linens included in the price of the room, guides that know the best bars and clubs, bicycles for rent, secure storage for your valuables, and shared cooking facilities.
This is a great place to stay if you're heading to Tallinn and you're looking for a good time. It's a social atmosphere with a lot you young guests that are wanting to go out and live it up in the city. It's close to everything and still affordable in price. It's perfect for travelers who are on a budget but still want to experience all the fun that the city has to offer.
Sauna St 1, apartment 7 Tallinn
,
Tallinn
,
Estonia
,
Share This Article