Best Hostels in Crete for Solo Travellers, Couples, and Groups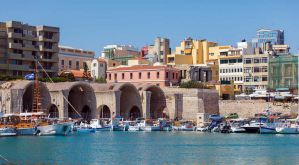 Crete is the largest and one of the most beautiful Greek islands. In addition to natural beauty, Crete has a welcoming culture and interesting towns. While it's most famous for its beaches, there are also rugged mountains, fascinating cities, and peaceful villages on the island.
There are a range of different accommodation types on Crete. If you're on a tight budget, the island has a handful of hostels that are reasonably prices and fun places to stay. There are also some good budget hotels and apartments throughout Crete that may be a good option.
How much do hostels in Crete cost?
| | |
| --- | --- |
| Average Dorm Price | $0 ($0 to $0) |
| Average Double Private Room Price (in a hostel) | $42 ($16 to $115) |
A good hostel for solo travellers, couples, and backpackers.
Dorm Bed:
$
10.00
Overall Rating:
98%
Youth Hostel Plakias is a favorite hostel in Crete. It is located on the south coast of the island in the town of Plakias. The town is a beautiful place to visit with not only stunning beaches, but also beautiful rivers and gorges nearby. You'll quickly fall in love with the natural beauty and scenery in this area. The town has some good restaurants and bars where you can enjoy a good meal and drink after a busy day exploring the area. This hostel has six and eight bed dorm rooms that are perfect for socializing and making new friends.
It also offers all of the standard amenities including free wi-fi, filling breakfasts (for an additional fee) and cheap drinks. Guitars, snorkels, fins, and beach mats are also available for your use. There's also a shared kitchen if you'd like to prepare some of your own meals.
The staff at the hostel is friendly and helpful. They can help you with any travel questions you may have and can give you hiking maps and tips if you want to explore the area on foot.
If you're looking for a place to relax for a few days, or even longer, then this is the place to come. It's mellow atmosphere and friendly staff make it the perfect place to stay during your time in Crete.
Plakias Rethymno
,
Crete
,
Greece
,
A good hostel for solo travellers, couples, and small groups.
Dorm Bed:
$
10.00
Overall Rating:
88%
Rethymno Youth Hostel is centrally located on the island of Crete. It's close to the bus station, where you can catch buses to many places around the island, and it's also close to the ferry port where you can catch boats to Piraeus. It makes an excellent base for exploring the island and it's easy to enjoy day trips to places like Samaria Gorge, Lake Kournas, Preveli Beach, Knossos, Festos, Falasarna, Ballos Beach, and Elafonisi.
The hostel is found in a traditional Venetian style building. The upstairs has thick stone walls and wooden floors while the downstairs has a beautiful patio that is surrounded by lush gardens. The patio is the perfect place to relax, soak up some sun, and enjoy the moderate climate.
The staff at the hostel is friendly and knowledgeable. They can help you make any number of travel arrangements and they can answer any travel related questions that you might have. They keep the atmosphere at the hostel light and friendly so it's easy to meet other guests.
The hostel has eight bed dorms that are either female only or co-ed.
Tobazi 41 Rethymno
,
Crete
,
Greece
,
A good hostel for solo travelers, couples, groups, and families.
Dorm Bed:
$
11.00
Overall Rating:
83%
Chania Hostel is conveniently located about 50 meters from the sea. It's on El. Venizelou Road right next to the summer cinema 'Attikon' and is about a ten minute walk from the city center. There are regular buses that travel to and from the airport and stop just ten meters from the hostel's door. You'll also find many coffee shops, restaurants, and shops nearby. The hostel is found in an old 1800's building that has a lot of character and charm. It's the perfect place to stay while you're in Crete.
The hostel has 20 bunk beds available that are split between four, six, and ten bed rooms. Each room has it's own private bathroom. The reception area is located downstairs where you'll also find an eating area. Guests have access to a shared kitchen and a beautiful garden where they can enjoy the moderate weather.
The staff is friendly and helpful. They can also offer discounts on various tours including Samaria Gorge tour walks. They can also help with buses and tours to Elafonisi Beach, Falassarna Beach, and Saitan Beach. Car, bicycle, and scooter hire are also available.
Chania, Elefteriou Venizelou 116, Chania
,
Chania
,
Greece
,
Share This Article