Canggu's 5 Best Hostels (Bali)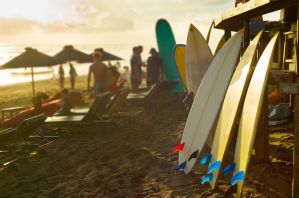 Canggu is a resort village on the south coast of the Indonesian island of Bali. It's surrounded by terraced rice paddies and known for beaches like Canggu and Echo, with strong surf. The nearby Seminyak resort area has high-end shops and restaurants. Just south of Seminyak, the beachside town of Kuta is known for its nightlife. North of Canggu, Tanah Lot is a Hindu temple that sits just offshore on a rocky outcrop. More a state of mind than a place, Canggu is the catch-all name given to the villa-filled stretch of land between Kerobokan and Echo Beach. It's filled with an ever-more alluring collection of businesses, especially casual cafes. Three main strips have emerged, all running down to the beaches: two along the meandering Jl Pantai Berawa and one on Jl Pantai Batu Bolong There are plenty of things to see and do in this city, and, luckily, there are also several cost friendly accommodations to help you enjoy your stay here too.
A fun hostel (2 pools!) in a great spot, highly recommended
Dorm Bed:
$
3.80
Private Room:
$
13.30
Overall Rating:
84%
Canggu Beach Hostel is located right by the popular surfing spots Pererenan Beach and Echo Beach in Canggu (250 meters to the beaches). It is less than a 10 minute walk to the heart of Canggu, Bali's up and coming surf town with a wide variety of restaurants and bars. The property offers a 24 hour reception, gym, scooter rental, surf lessons, work space, hot showers, air-conditioning, and clean rooms. They also offer dining options and fresh juices & smoothies in the onsite restaurant. The property has a garden with two swimming pools where you can relax in the sun in a comfy bean bag. There is also a rooftop terrace where you can enjoy the sunset and views of the city. Canggu's exciting nightlife is also just minutes away. The staff is glad to offer you tips on the best breakfast spots, restaurants, bars, beaches, chill spots and adventures around Bali. Linens, towels and parking are included with your stay.
JL Raya Pantai Pererenan No 156, Canggu, Bali
,
Canggu
,
Indonesia
,
A social hostel that organizes activities for guests
Dorm Bed:
$
6.43
Overall Rating:
85%
Wave Hunters Surf Camp is a hostel that aims to give guests a great experience by offering a variety of services including BBQ-night, scooter rental, airport pickup service and rafting trips. The villa has 3 mixed air conditioned bedrooms, each with 6 bunk beds and an en-suite bathroom. There is a common area where you can sit, eat and just relax, and an outside pool for those moments when it's time to cool off. Free parking is available and the staff is happy to help with travel plans.
Gang Nakula 9b
,
Canggu
,
Indonesia
,
In a great location with plenty of amenities
Dorm Bed:
$
7.71
Overall Rating:
83%
Hangtime Hostel is located in the heart of Berawa. It offers mixed dorms, special female dorms, and even private rooms, so there's something for everyone. From the hostel, it only takes a 5-minute scooter ride to Berawa beach where you can enjoy the most beautiful sunsets, ride the waves, and dance the night away in famous Finn's beach club. Berawa area offers a wide variety of restaurants, warungs and bars. The hostel offers BBQ nights, a nice central pool side, and a shared kitchen area. Free parking and free towels are offered with your stay.
Jalan Jalak X
,
Canggu
,
Indonesia
,
A small, social hostel for surfing and yoga
Dorm Bed:
$
8.44
Overall Rating:
86%
The Hideout is small boutique surf & yoga hostel nestled away in a quiet area of Pererenan, Canggu. It sits on a large piece of land in a beautiful garden. This property features 2 common areas, free fibre-optic Wi-Fi , self-service kitchen, swimming pool, and a yoga shala. The air conditioned dorms include custom beds with a night light and charging points. The staff is happy to help with information about the area and travel options. There is also an outdoor terrace where you can relax. Parking, linens, and towels are all included with your stay.
Munduk Tengah No.5 Jl. Pantai Pererenan
,
Canggu
,
Indonesia
,
A luxury hostel with great amenities
Dorm Bed:
$
13.67
Overall Rating:
91%
The Farm goes above and beyond the standard in hosteling. They provide solid bedding with larger, more comfortable mattresses, curtains on each bed for privacy, and an international power outlet and reading light for when you just want to be alone. All rooms are air-conditioned and have an ensuite bathroom with traditional open air shower. The shared kitchen is fully equipped and ready to use in case you want to stay in and relax instead of going to one of the fine local cafes or restaurants. The property offers scooter for hire, clothes lines, board racks, yoga matts, and bean bags. There is a common area for relaxing as well as an outdoor terrace and swimming pool for refreshing. The staff are friendly and willing to help with information on their favorite parts of the city. Linens, towels, and parking are all included with your stay.
Jl. Pantai Batu Bolong #29H
,
Canggu
,
Indonesia
,
Share This Article