The Best Party Hostels in Auckland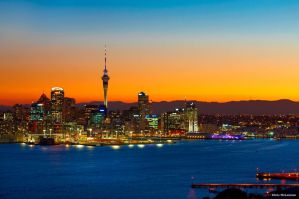 Auckland is often the arrival destination for those who wish to visit New Zealand, but it's much more than just a stopover. As one of the largest cities in all of the south Pacific, it's full of nightlife, bars, restaurants, shopping, and other entertainment, especially in the central area surrounding Queen Street.
Backpackers with an interest in partying flock to Auckland for the vibrant social scene, nearby beaches and water sports, outdoor activities (volcanoes!), and cultural sights.
The hostels listed below are consistently rated by guests as the best hostels in Auckland which foster a social and fun party atmosphere for guests. Whether it's through onsite bars, nightly drink specials, music, or the ambiance of the surrounding neighborhood, all of these hostels will ensure that you have the time of your life while visiting Auckland.
How much do hostels in Auckland cost?
| | |
| --- | --- |
| Average Dorm Price | $21 ($16 to $30) |
| Average Double Private Room Price (in a hostel) | $57 ($39 to $83) |
A party hostel for backpackers, couples, and solo travelers
Dorm Bed:
$
15.62
Private Room:
$
37.09
Overall Rating:
70%
The
Base
chain of hostels can be found in many cities throughout New Zealand, and are popular because of their solid and predictable amenities which make backpackers comfortable during their stay while providing a fun and active social scene. The Base Auckland is no exception, and in many ways epitomizes all that the company has to offer: three onsite bars, dorms and private rooms, central location, clean and modern facilities (including updated bathrooms), large communal areas with a great kitchen and TVs, internet and Wi-Fi, key-card security, a fitness center, job search, TVs in private rooms, game rooms with pool tables, and the list goes on.
Just because you're looking to have a good time doesn't mean that you have to sleep in filth or in a dangerous environment, and the people who run Base make sure that everything is kept tidy and clean, and is safe and secure.
Late night partying and dancing goes on at the bars and in some of the common areas on many nights of the week during peak season, and still quite often during the low season. If you're looking to have a good time and meet new friends, you can't go wrong here.
Some reviewers give lower marks for an occasional lack of cleanliness.
229 Queen St (Corner of Queen St and Darby) St Darby Street
,
Auckland
,
New Zealand
,
A social hostel for backpackers, solo travelers, and couples
Dorm Bed:
$
25.00
Private Room:
$
35.00
Overall Rating:
78%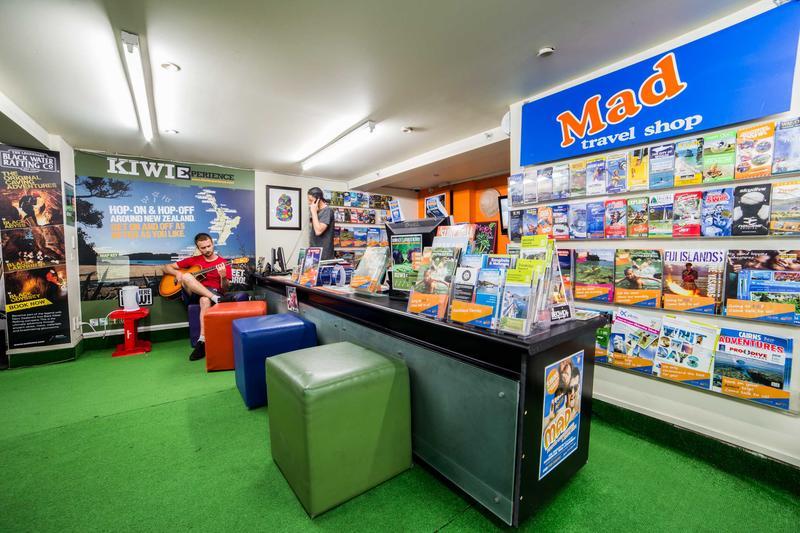 Nomads Auckland is part of the Nomads hostel chain throughout New Zealand (and the rest of the world), and receives consistently good reviews from guests. On offer are dorm beds and private rooms, plus a long list of great amenities. They offer multiple bars for having a great time and meeting new traveling friends! Their top floor kitchen and common area spreads out onto a rooftop terrace overlooking the city. This is the perfect spot to have a drink and mingle with fellow guests. And don't forget about the hot tub or the sauna, both of which make for a great way to relax after living it up in downtown Auckland!
This modern hostel is located in a historic building, but since it's been renovated, everything is clean and modern and comfortable.
Guest reviews tend to highlight the cleanliness, the friendly staff, the great location, and the fun social vibe.
16-20 Fort St Auckland
,
Auckland
,
New Zealand
,
A social hostel for backpackers, solo travelers, and couples
Dorm Bed:
$
19.35
Private Room:
$
29.02
Overall Rating:
70%
With an amazing location right in the middle of everything you want to see in downtown Auckland, the QueenStreet Backpackers offers typical hostel amenities and a fun, social vibe. The common room is large enough for a fun, social party, and many guests hang out late into the evenings enjoying drinks from the bar and good company around the pool table and other common areas.
They have dorms and private rooms, all with shared bathroom facilities at good prices. A good, shared kitchen is available for those that wish to save some money by cooking their own meals. Laundry is also available, as is internet and Wi-Fi.
4 Fort Street Auckland CBD
,
Auckland
,
New Zealand
,
A social hostel for solo travelers, females, couples, and groups
Dorm Bed:
$
21.00
Private Room:
$
25.00
Overall Rating:
65%
Another of the Nomads chain, but just a few blocks away in Auckland from their first hostel, the Fat Camel is unique because of its apartment style layout. Shared dorms come in various sizes such as 6 or 8 beds, and each dorm area has its own kitchen area. This hostel is essentially a renovated apartment building that has been set up as a hostel. This can make for a terrific environment if you bring a group, or if you want to meet new friends in a smaller environment, and then throw your own party.
Even with all of these comforts, several huge communal areas are also available, as is an
onsite bar
and a separate communal kitchen if you don't want to use the one in your own apartment area. They also offer a steam room, key-card access, internet, and other typical hostel amenities.
38 Fort Street Downtown
,
Auckland
,
New Zealand
,
Share This Article