Was a really lovely place to stay for our short trip to Amsterdam. It was very clean and facilities were excellent. - Megan
What sets them apart?
This hostel is clean, comfortable, and reliable. It has a hotel-like atmosphere that appeals to travelers who want quiet rooms at a budget price.
Hostel Personality
Who's staying here?
This is a large hostel with many room types so you'll find all types of travelers here including independent travelers, families, and larger school groups.
Insider Tip
The kitchen is the perfect place to prepare a meal if you're hoping to save money by not eating out.
MEININGER Amsterdam Amstel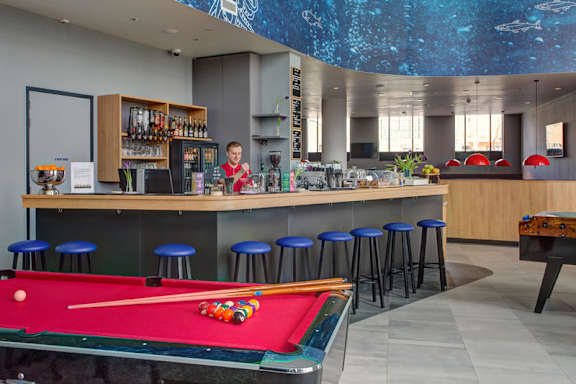 This is a branch of the Meininger Hostel chain and the second location of this chain in the city of Amsterdam. It offers the reliable service that the chain is known for in a comfortable setting. The rooms are comparable to what you'd find at a standard hotel, and the amenities are excellent. There's a nice shared kitchen that guests can use. If you're traveling with kids you'll appreciate the kids play area, too.
The location is a bit removed from many of Amsterdam's tourist attractions, but it's right on a train line so it's very easy to reach the city center.
The Facilities
Dorms
This is a large hostel and hotel with a large number of rooms (186 in total). The dorms are just a small part of the rooms available, as there are also a range of private rooms to choose from.
There are four and six bed dorms available that are either mixed or female only. The rooms are clean and modern, and the beds are basic but comfortable.
Private Rooms
There are a wide range of private rooms to choose from at this hostel. From basic single rooms to six-bed family rooms, there really is something for everyone. If you're traveling as a couple you'll appreciate the double rooms, and families with kids will appreciate the rooms that combine larger beds with bunk beds.
Bathrooms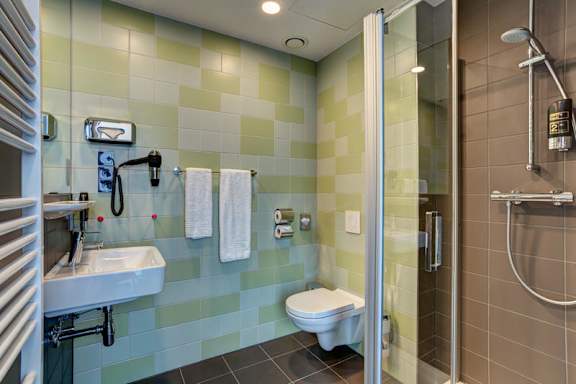 Most rooms have private bathrooms that are clean and modern. The facilities are cleaned regularly and the fixtures are updated.
Common Areas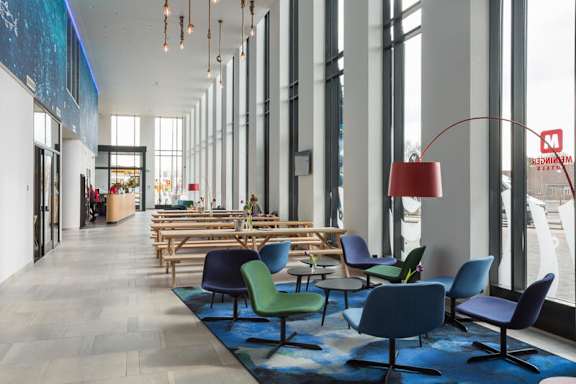 There are a variety of common areas to this hostel and hotel. The lounge and breakfast room are great places to relax or enjoy a snack. There's also a great shared kitchen that is well stocked if you want to prepare your own meals. Kids and adults alike will enjoy the Gamezone and Kidszone which offers games and puzzles.
The Location
Watergraafsmeer
What's Nearby?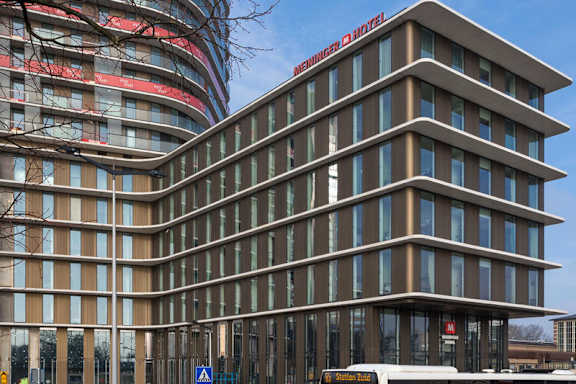 This hostel and hotel is located in the Watergraafsmeer district near Park Frankendael and the Amstel. It's right across from the Amsterdam Amstelstation Train Station, which provides access to the historic center of the city in just a few minutes. It's also possible to bike into the historic heart of Amsterdam in about 15 minutes.
Nearby Transportation
You'll really depend on public transit at this hostel. You can take a train into the city and arrive in about 15 minutes. Amsterdam Amstel Station is right across from the hostel and Metro Spaklerweg is less than half a mile away.
Amenities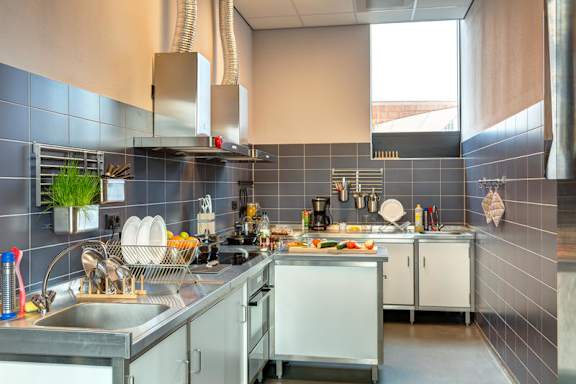 This is a large hostel and hotel with great amenities including a great breakfast (for a fee), travel information, vending machines, and secure rooms. Luggage storage is also available.
Staff
The staff here are friendly and professional. This is a major hostel/hotel chain and the staff are organized and respect the guests. It's a large hostel, but they keep things moving smoothly from check in to check out.
Heads Up
This hostel is a bit expensive, but it's a reliable chain with comfortable rooms. It's more like a hotel than a hostel, so if you're hoping to meet other guests, this may not be your place.
MEININGER Amsterdam Amstel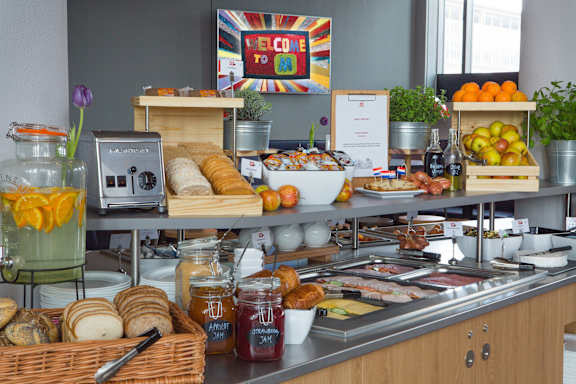 Do you have a favorite hostel that you would like to review? Let us know!