The Best Hostels in the Rosario Islands, Colombia for Budget Travellers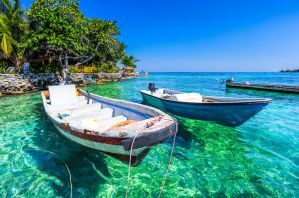 The Rosario Islands, also referred to as Coral Islands of Rosario, is an archipelago located off the coast of Colombia, approximately 100 kilometres (62 miles) from Cartagena. The Rosario Islands are integrated by 28 islands and all of them form one of the 46 Natural National Parks of Colombia, created to protect one of the most important coral reefs in the Colombian Caribbean Coast. Only three of these islands are property of the Colombian state. Before establishing the national park in 1977, wealthy families used this natural paradise to build their summer houses, but then the government allowed them to keep their properties, only if they paid annual rent and taxes to be there, and complied with certain rules to preserve the ecosystem of the islands. People can visit the national park area of the islands, and tours are available. Isla Rosario has an aquarium and open-sea oceanarium that people can visit. Activities on the Rosario Islands include swimming, snorkeling and fishing, among others. The best time to visit Colombia in general, and especially the Rosario Islands is the dry-season months from December to March. These uninterrupted sunny days are just perfect for a Caribbean coastal experience and to enjoy all the activities it has to offer.
Your tropical paradise awaits!
More Accommodation Options
Check these out other nearby places to stay.
For more accommodation prices and options, check out our guide covering Rosario Islands hotel prices for your next trip.
Pin This Page
Some of the links on this website are sponsored or affiliate links which help to financially support this site. By clicking the link and making a purchase, we may receive a small commission, but this does not affect the price of your purchase.