It is the perfect place to rest, I can say that it is the best hostel I have been to. The rooms and bathrooms are very clean, the hotel staff is very helpful, the breakfast was exquisite and the best part is that it is a castle, it is like a dream. I recommend it 100%. - Mexican Girl
What sets them apart?
The Stayokay Heemskerk is in a 15th-century water castle, which means it is entirely surrounded by a moat. While the rooms are pretty standard hostel beds, the communal areas on the ground floor are full of castle details like suits of armour and wooden beams.
Hostel Personality
Who's staying here?
School groups are common visitors to this unique hostel, along with families, and older travelers. However, all are welcome!
Insider Tip
Ask the front desk staff to direct you to the 'dungeon'! Sure enough, on the fourth floor there is a dungeon room, with a small barred window you can peek through. Chained up in the corner is a skeleton!
Stayokay Heemskerk
It's not often you get the run of a 15th-century castle for hostel prices. Behind the castle is a formal garden that is run by a separate organization, so it is not always open to visit. From the breakfast room, you get a beautiful view over the gardens for when they are not open. The staff are friendly and the abundance of communal space is great for rainy days.
The Facilities
Dorms
Bunk beds line the walls in various combinations. Because this is a historic property, the rooms are all a bit random in their layout. Bunks have storage drawers under the bed for luggage and backpacks. Some of the rooms also have sinks. Dorms have ensuite bathrooms, too.
Private Rooms
Private rooms still use all bunk beds, so there isn't much different between these rooms and the dorm rooms. The private rooms are really for families or groups of students that want to stay together.
Bathrooms
The bathrooms are spartan but clean. Sometimes the lighting is a bit dim, so it can be hard to see what you're doing. Each one is equipped with a squeegee for cleaning up after yourself. Towels can be rented at the front desk if you didn't bring your own.
Bar
The bar is a cozy room in one corner of the ground floor, with a precarious old stone spiral staircase going up to the upper floors. You can take your drinks into the dining room or the larger knights hall, complete with armour and pennants.
Restaurant
The dining hall operates as breakfast room and it is also where you eat dinner. Evening meals are themed, and served buffet style. You can purchase wine or beer from the bar, which is just in the next room, and eat while looking out over the formal gardens. Meals are plentiful and of good quality.
Common Areas
There are several communal rooms on the ground floor, including the dining hall, a second larger dining hall, a games room with board games and puzzles, the bar, and the front desk area. All of these rooms are open throughout the day, so you're welcome to relax with a book anywhere, or get some work done.
Outdoor Space
There is an inner courtyard with tables and sun umbrellas for the nice weather, and the formal gardens behind the hostel, although these are not always open. There is a big open space in front of the hostel, with the original gravel drive running up to the front gate.
The Location
Heemskerk
What's Nearby?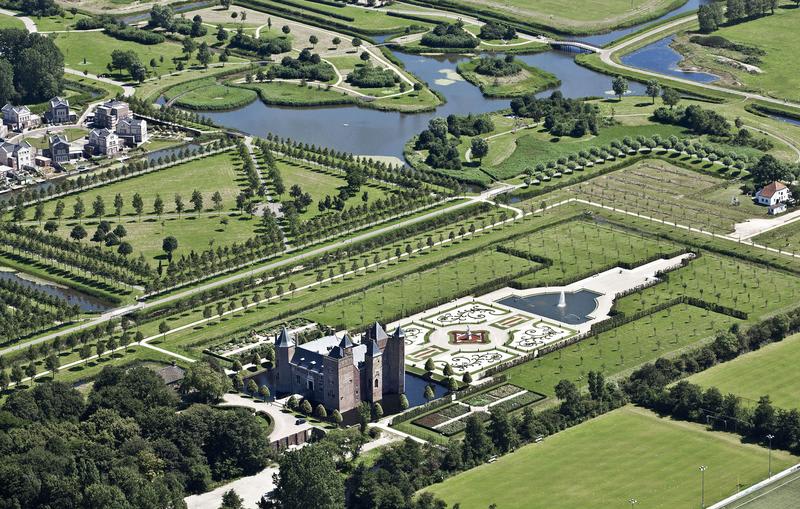 The small town of Heemskerk is not particularly interesting, but you can rent bikes from the hostel and ride to the beach in about 20 minutes. It is the North Sea, so it is unlikely to be very warm! However, it is quite scenic.
Nearby Transportation
The Heemskerk station is on the Netherlands rail network, and a short bus ride will take you to the hostel from the train station.
Activities
The staff organizes occasional activities, usually around the theme of the history of the castle. They have kids activities and things to do for school groups, too.
Amenities
An excellent Dutch breakfast is served here for free. They also have Wi-Fi, bike rental, luggage storage, parking, a pool table, and plenty of other nice amenities that are typically found at hostels and hotels in Europe. They have a ping-pong table, playground, gardens, and other fun things to do as well.
Staff
The staff are very helpful and friendly. They keep the hostel very clean and well organized, and make sure that any problems are tended to immediately.
Heads Up
The beds in this hostel were not the most comfortable, and as it is a very old building, it is not well soundproofed. We had a school football team staying above us one night and it was quite loud for a few hours.
Stayokay Heemskerk
Reviewed By
Erin is a Canadian freelance writer based in southern Germany with her family. She loves exploring
castles
and open-air museums particularly, but cute towns and villages are a close second. Follow along at
Erin at Large
, and witness her procrastinating in real time on
Instagram Stories
.
Do you have a favorite hostel that you would like to review? Let us know!