What sets them apart?
Kasbah Red Castle has such a great energy from the moment you walk in the doors. The guys running the hostel are so accommodating and work very hard to make you feel like you matter. It is also so affordable, you can't pass it up!
Hostel Personality
Who's staying here?
The people staying at this hostel are true backpackers. Some are staying in Marrakech to see the sites, but it's also a stop over on their way to the next place, most likely the Sahara Desert. The vibe is 20-30 year olds looking for adventure.
Insider Tip
There is a pet turtle walking around the property. Be careful not to crush him and don't get spooked if he comes rummaging around your room.
Kasbah Red Castle Hostel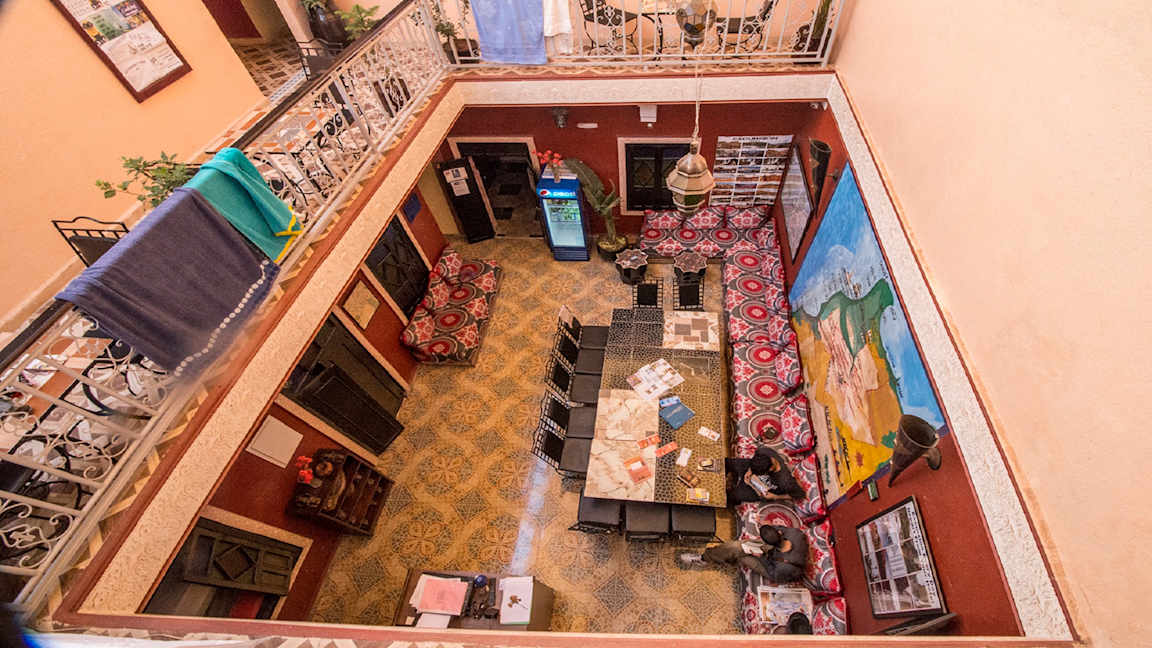 The Kasbah Red Castle is a great, affordable hostel in Marrakech. Although most of the city can be fairly cheap, this is a true budget-friendly hostel!
The atmosphere is incredibly welcoming and a great find. Everything is clean and convenient for any length of stay. The traditional, colorful decor is cheerful and a great reflection of the culture. You will not be disappointed in your stay!
The Facilities
Dorms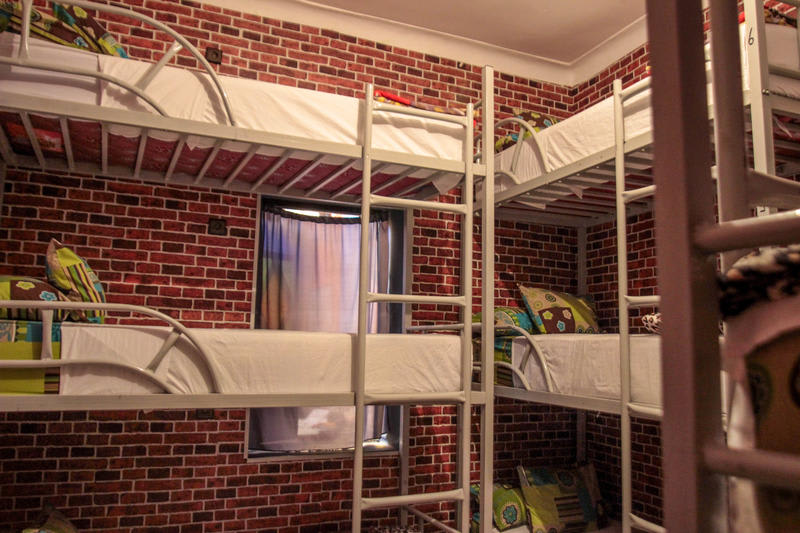 The dorms are all bunk style beds. You can get an 8, 9, and 14 person room that has a 2 or 3 person style bunks. There is also a 10 person, female only room. The rooms have air conditioning, but are very small. There isn't much room if several people are up and about at the same time. Also, the lockers are very small. Only the most important valuables can be locked up. There is no room to store your bag in a locker.
Private Rooms
Private rooms are available here, but the price is more on par with a hotel and is astronomically more expensive than the dorm rooms. However, the private rooms are nicely appointed. They use the shared bathroom down the hall.
Bathrooms
There are several bathroom areas on each floor. Each area has 2 fully enclosed showers and 2 fully enclosed toilet rooms. They are very clean at all times. The showers have limited space to hang clothes and towels, though, so plan accordingly.
Restaurant
There is a small kitchen area where you have the free breakfast is made every morning. There is also a set menu to purchase a buffet style dinner every night for 50 MAD (or 5€). It's not a restaurant with a menu to choose from, though. The food is good, but there is a set menu at all times.
Common Areas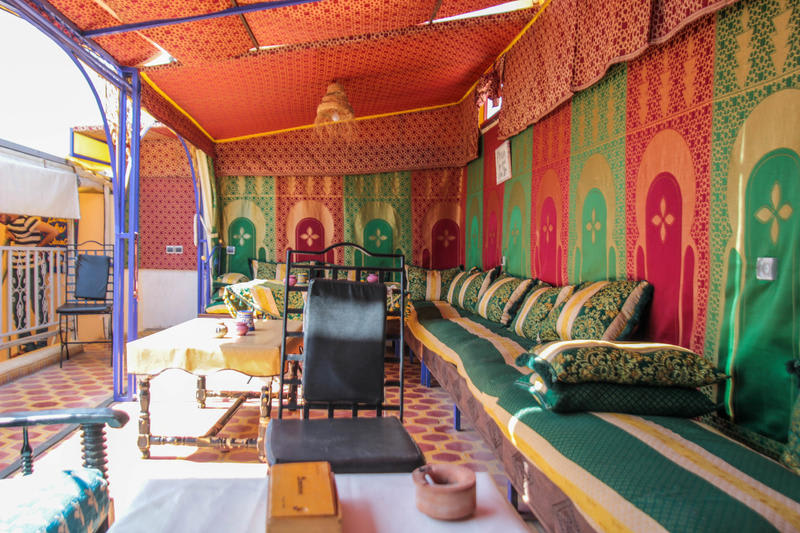 The common areas have a very comfortable, cool vibe. Many people gather around the large dinner table, as there are many cushions and power sources to charge electronics. There is also a great rooftop area. All of these areas are colorful, vibrant and open air. It's a great way to pass the time.
Pool
While there isn't a pool, their is a hot tub on the property. At the time of our visit, it looked like a science experiment gone bad. I wouldn't count on this as an amenity. Perhaps if they cleaned it up it might be nice.
Outdoor Space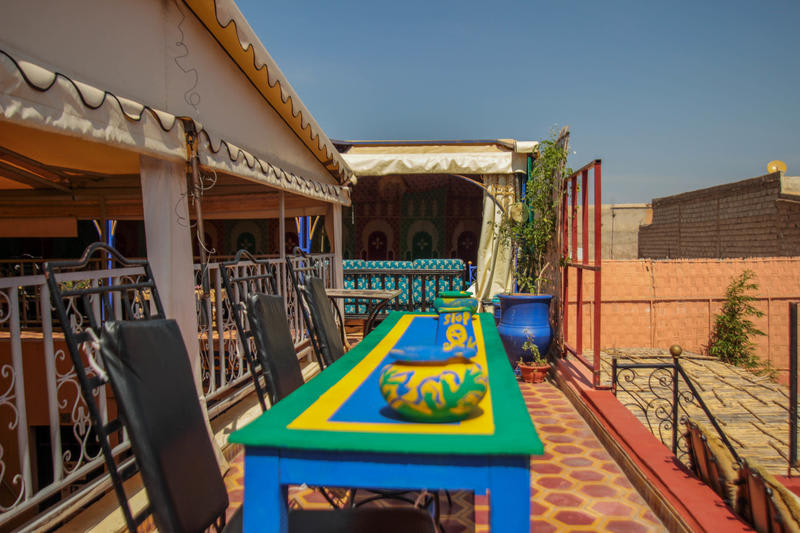 All the common areas also double as outdoor spaces, as there is no complete roof on this hostel. It is all open air, except for the dorm rooms and bathroom areas. In fact, we got sprinkled on a bit at the front desk while checking in.
The Location
Marrakech
This ancient city is full of winding streets that make up the old medina. At various places, travelers find larger squares, parks, mosques, and museums. Getting lost here is one of the best things you can do, so just take in all of the sights and smells, eat the local food, and revel in the authenticity of this bustling old city.
What's Nearby?
This hostel is in the midst of a traditional Moroccan medina. It is like a step back in time. Many vendors are within a few steps with local spices, vegetables and other foods. There are several restaurants within walking distance as well.
Nearby Transportation
The most common transportation nearby are taxis. There is a taxi lot not far from the property. The bus station and train station is a long, long walk away. I would suggest a taxi for local transportation, as public transportation can be challenging. Several bus lines are located on the main road not far from the hostel, and they can take you around (but not always through) the city center.
Activities
The hostel does not provide any free activities other than the breakfast. They do help organize day trips and trips into the Sahara Desert for a fee. They are basically tour guide organizers for their activities.
Amenities
This hostel is pretty bare on amenities. The WiFi is available, but very spotty. That seems to be more of a Morocco problem than a hostel problem, though. The food is great and the air conditioner works. It meets all expectations for the price!
Staff
The staff is very kind and welcoming. The front desk made sure to know our names and asked us how we slept every night. Anything we needed, they were sure to help. Amazing guys!
Heads Up
My only annoyance is that there are no locks on the room doors. I did not fear for my safety. However, I was worried about my valuables during the time I forgot to lock them in the locker.
Kasbah Red Castle Hostel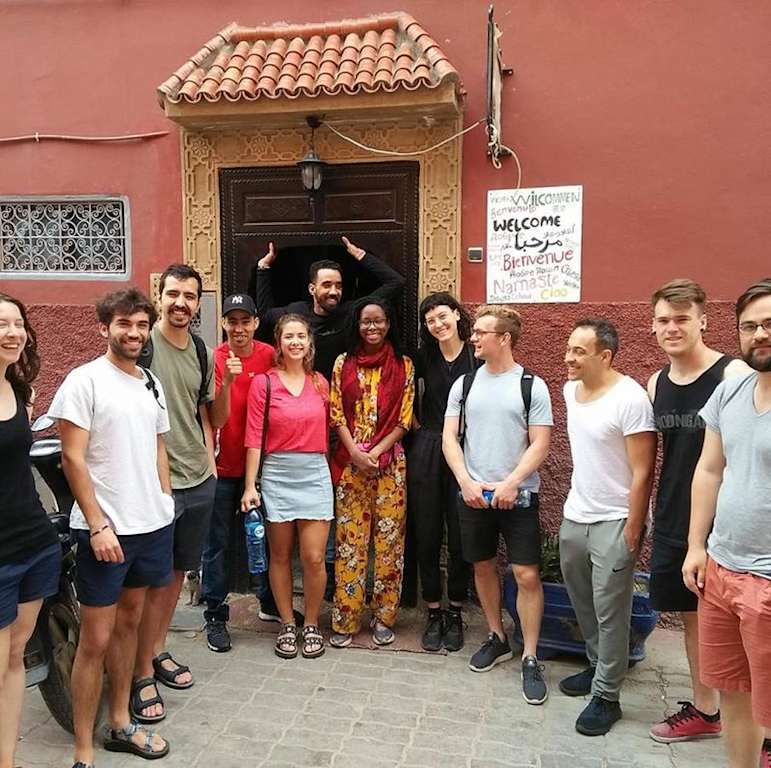 Reviewed By
Bryann Caldwell, author of
fiercelyunbroken.com
, is an extroverted introvert traveling this world telling stories along the way. A true student of this world masquerading as a teacher for a day job. The goal is to find the better ending. No matter what life throws at you, you can make the life you dream of having. Just don't forget the lessons you have learned along the way.
For more information, check out
Things I wish I knew before visiting Morocco
.
Do you have a favorite hostel that you would like to review? Let us know!