Where Do Backpackers Go in New Zealand? A Review of Hostels and Guesthouses.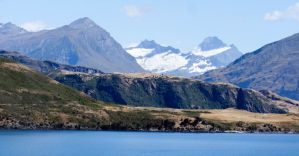 Jump to:
New Zealand is a beautiful country to visit and it attracts all types of travelers, from budget backpackers to campers and families. If you're a backpacker, there are a wide variety of hostels to choose from with several major chains available. Hostels typically offer affordable dorm beds and a social atmosphere where you can meet other guests.
Some visitors choose to explore the country with a camper van or RV. There are campgrounds around with several located in national parks. This is a fun and affordable way to experience New Zealand as well
Where Do Backpackers Stay in Auckland?
The Best Hostels in the Central Business District
The Central Business District is at the heart of Auckland. This is where you'll find the highest concentration of shops, bars, and restaurants. Many visitors enjoy going to Viaduct Harbour, which is a fun area where you can eat or hang out.
The Best Hostels in Parnell
This neighborhood has some beautiful Victorian villas where you can enjoy good food or interesting shops.
The Best Hostels in Newmarket
If you've come to Auckland to shop, then you should head to Newmarket. There's everything from boutique shops to a large mall. The shops cater to all different budgets and there are also plenty of great restaurants and pubs.
The Best Hostels in Ponsonby
Ponsonby is about ten minutes from downtown and it's a trendy area with some fun shops and restaurants. It's also notable for its nightlife scene along Karangahape Rd.
The Best Hostels in Devonport
Devonport is over the Harbour Bridge, but it's just a short boat ride from the Central Business District. It has some nice beaches and a nice little downtown area where you'll find quaint cafes and interesting galleries to wander through.
Where Do Backpackers Stay in Queenstown?
The Best Hostels Near Downtown (Church Street)
A lot of the backpacker hostels and budget accommodation are centered around Church Street in the downtown area. This area is walkable to many restaurants and entertainment venues. There are also some nicer hotels and guesthouses nearby if you want to spend a bit more.
The Best Hostels Near Lake Esplanade Road
If you want a quieter setting, then Lake Esplanade Road is a good option. It's still easy to walk to any number of restaurants, but the area is more peaceful than downtown. There are a variety of accommodation options available as well, including hostels, apartments, and large hotels. The area also has some great views.
The Best Hostels Near Frankton Road
If you're looking for an apartment, then Frankton Road is a good area. It's near the airport, but is also well connected for those heading out of town.
The Best Hostels Near Arthur's Point
If you want to be a bit outside of town, then Arthur's Point is a nice location. It offers a natural setting that is popular with families, but there is still a decent selection of backpacker hostels in the area.
Where Do Backpackers Stay in Christchurch?
The Best Hostels in Downtown Christchurch
Downtown Christchurch offers visitors the convenience of being in walking distance to many restaurants and sights including Hagley Park and the Botanic Gardens. There are a variety of shops, restaurants, and bars in the area, but backpacker hostels are limited.
The Best Hostels in Sumner
If you want a peaceful setting just outside of town, then Sumner is a good option. It's about a fifteen minute drive from downtown Christchurch, but it's a pleasant place to explore. There are apartments and hotels available, as well as a backpacker's hostel.
The Best Hostels in Waipara Valley
Waipara Valley is the place to stay if you want to sample some of New Zealand's wine. It's about an hour north of Christchurch and there are a variety of vineyards that you can tour or sample wines.
Share This Article