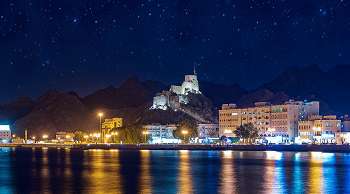 Are you ready to embark on an unforgettable adventure to Oman, but are not sure how to start planning? Don't worry, because we have analyzed an extensive selection of multi-day adventure tours based on key criteria such as price, destinations, guest ratings, service, travel style, quality, and activities. So, get ready to immerse yourself in a rich tapestry of culture, history, activities, excitement, food, and breathtaking landscapes. Below are the best options in Oman, so let's get to it!
What are adventure tours like in Oman?
Here are the important factors:
59 trip options analyzed
$292 average price per day (USD)
2 to 15 days in length
4.8 of 5 average rating
12 people or less on average
Curious about the diverse range of adventure tours? Prepare to be amazed by the array of options available to suit every traveler's preferences. It comes as no surprise that visitors adore these tours, given their exceptional average guest rating of 4.8 out of 5 stars. When it comes to group sizes, the average maximum capacity stands at 12 people, allowing for a comfortable and sociable experience. The shortest tour is 2 days, while the longest is 15 days. As for physical activity options, the tours are thoughtfully categorized as easy, moderate, relaxing, and serious, with the most being easy. For transportation, the tours are marked as self drive and coach / bus, with a prevalent number on self drive tours. With a comprehensive analysis encompassing 59 adventure tours, you can rest assured that Oman has something tailored to your interests and preferences, promising an unforgettable experience for all.
(All tour prices are in US Dollars before taxes, and come from a base price that is reported by TourRadar. Peak season prices can vary significantly, particularly in destinations where seasonal travel fluctuates dramatically.)
So, let's get to it and see...
The 10 Best Adventure Tours in Oman
See also The Best Family-Friendly Tours to Oman, The Best Hiking & Trekking Tours in Oman, The Best Historical Tours in Oman, The Best 10-Day Tours in Oman, The Best One Week (7-Day) Tours in Oman, The Best 3-Day Tours in Oman, Tours for Outdoor and Nature Lovers in Oman, The Best Christmas & New Years Tours in Oman, The Best Eco Tours in Oman, The Best Cultural Tours in Oman, The Best Romantic Tours for Couples in Oman, The Best Tours Under $1000 in Oman, The Best Luxury Tours to Oman, The Best Budget Tours to Oman, or The Best Tours for Seniors to Oman for more tour ideas. With so many options, there's a guided tour or vacation package for every type of traveler.
Also, if you're departing from a specific destination, see The Best One-Week (7-Day) Tours from Muscat for more package tour options.
How much do Adventure Tours in Oman cost?
Average Daily Price
Adventure Tours
After analyzing 59 adventure tours in Oman, we found the average price to be a remarkably economical $292 per day. Naturally, this region has many fantastic options for adventure tours with a variety of prices. The individual costs will vary by the destinations, travel style, available dates, and other factors. If you're interested in more information about tours here, see our guide to tour prices in Oman.
And for more information on Oman, see Oman Travel Costs and Oman Hotel Costs.