What sets them apart?
This brand new hostel is super-modern, very clean, stylish, and sits in a great neighborhood. With a combination of dorms and private rooms, along with a great breakfast and plenty of other comfortable amenities, any budget traveler would be very happy here.
Hostel Personality
Who's staying here?
Budget travelers of all types would be happy here. From solo travelers to backpackers, to couples or small families, or even small groups, this hostel can accommodate a variety of people.
Insider Tip
Bring a towel or rent one at the front desk.
The People - Paris Bercy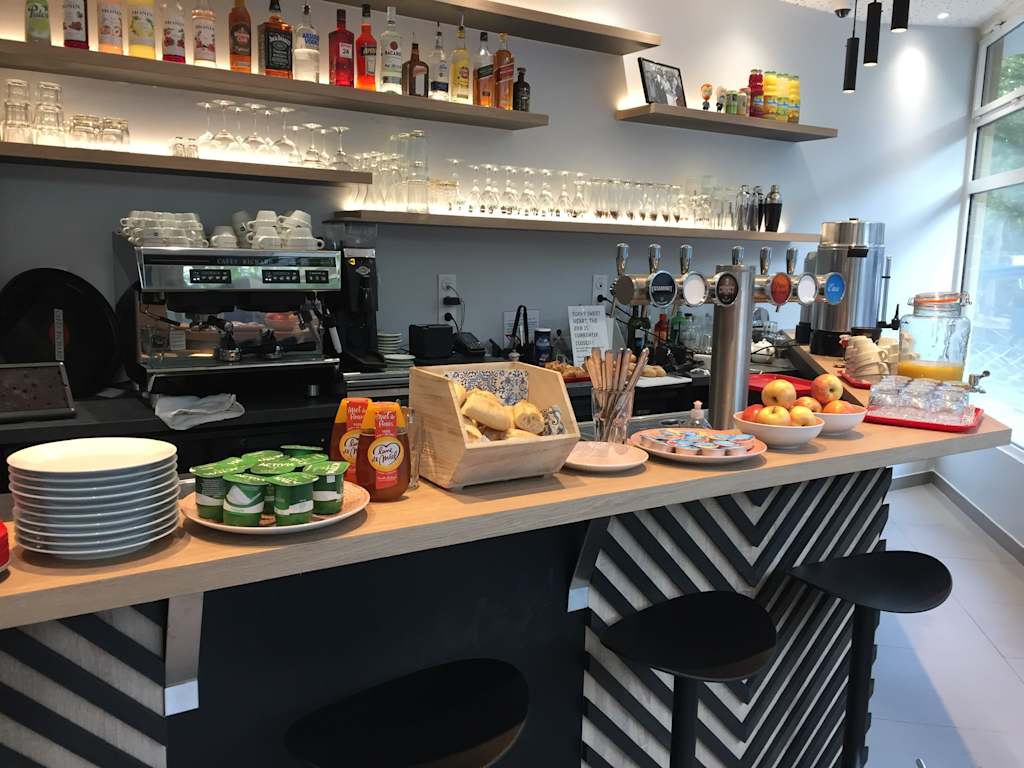 Built specifically to be a modern and unique hostel, this establishment will "wow" anyone with its modern bunks and private rooms, perfectly clean common areas, amazing rooftop terrace, and friendly staff.
The location is also terrific. Located on the eastern side of central Paris, it's close enough to walk into the city center. It's also close to the Bastille and several large parks, as well as the Gare de Lyon train station.
The on-site bar is a nice and casual area to hang out, as is the relaxing patio and rooftop. The main common area is very comfortable, and a good breakfast is served for a small price.
The Facilities
Dorms
The dorms themselves are perhaps one of the biggest draws to this hostel. The new, custom-built bunk beds are in a "pod" style. They have curtains for privacy, as well as shelves and lights and plugs on the inside. The bunks have small lockers for valuables, and the building itself has larger lockers for luggage. The rooms have plenty of space to move about, too. Some of the rooms have balconies, and plenty of natural light comes in through the windows.
Ensuite bathrooms (very modern) are attached to every room. The rooms are in either 6 or 8-bed configurations, which is a nice size to be social but not too crowded. An
all-female dorm option
is available, too. And since this is a modern building, they have central air-conditioning and heat.
Private Rooms
The private rooms are also modern and well designed. They come in a few different sizes to accommodate different types of guests. All of the private rooms have ensuite bathrooms.
Standard double rooms are great for couples, as they have one double bed. A deluxe double room is also available, and for the extra cost you get a nicer room with a balcony and larger windows.
Or, a double twin bed room can be booked which has two twin beds (great for 2 friends). It's also possible just to get one single bed in a room alone if you are a solo traveler.
Finally, the People Hostel offers a 4-bed room which has one larger bed and a set of bunks. This is great for families, as the parents can have the big bed and the kids will immediately fall in love with the ultra-modern bunks with curtains and shelves. These rooms have plenty of space and a small balcony, too.
All private rooms have ensuite bathrooms.
Bathrooms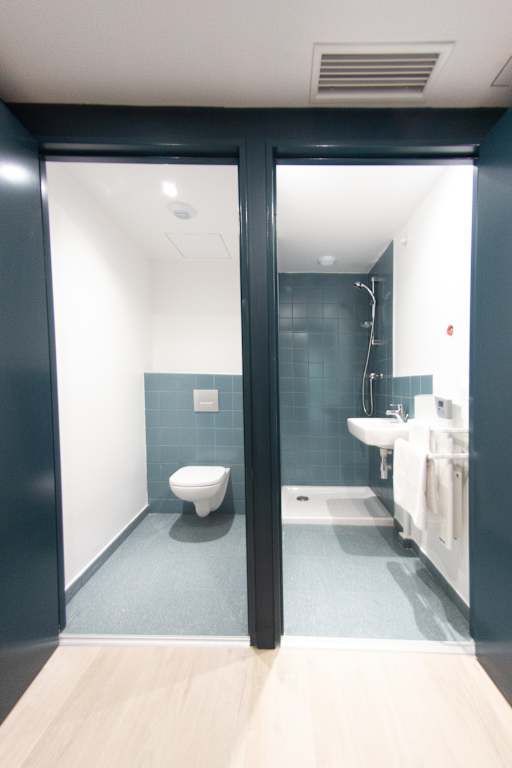 As this is a new hostel, the bathrooms are very modern, clean, and comfortable. It's probably nicer than what you have at home! And for convenience, in the dorms the shower room is separated from the toilet room in that traditional European way. This is great for when you're sharing a room with others and you don't have time to wait.
Bar
The bar at the People Hostel is not large, but it's a casual place to hang out and relax. They have beers on tap and some comfortable seating. They also have some high-end coffee making skills, and they serve breakfast in the mornings for a small fee.
Common Areas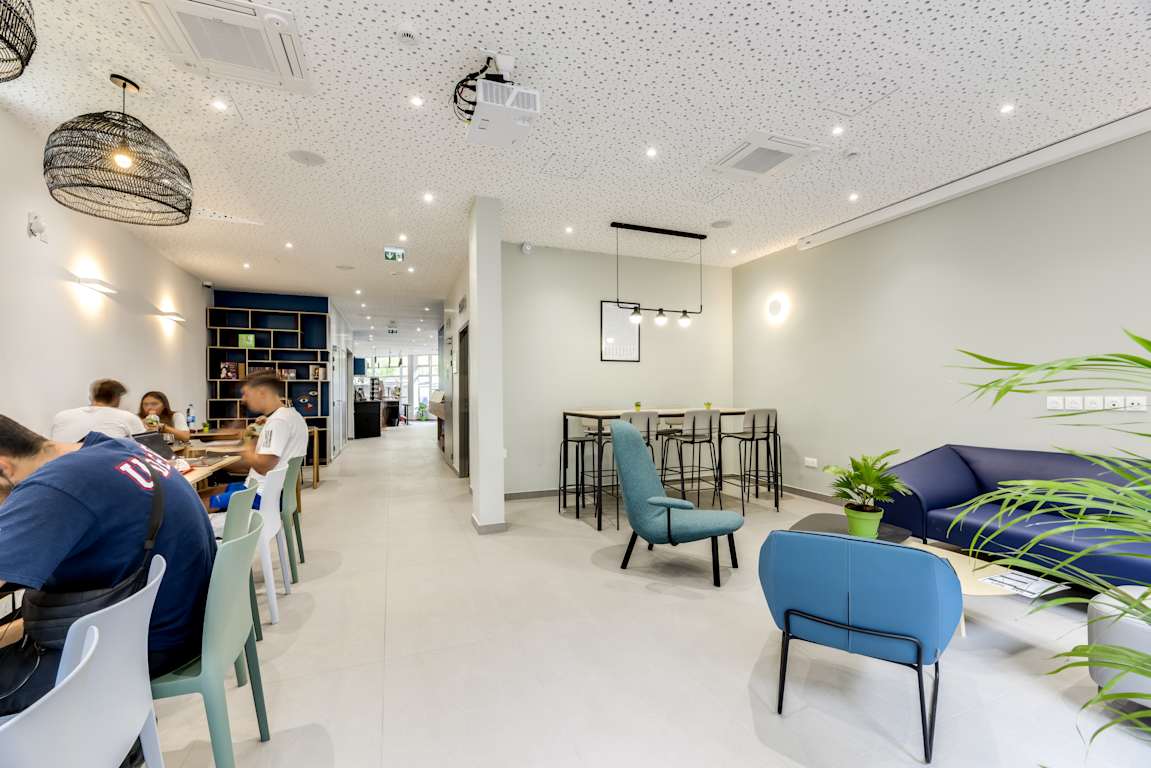 The common space here is terrific. It's large, spacious, and new. They have a combination of sofas and chairs mixed in with some dining tables. Here guests can just relax, or have some food or a drink, or do some work. They also have a TV.
Outdoor Space
A surprising amount of outdoor space can be found at this hostel. First of all, the patio area is relaxing and comfortable. It's a great spot to have some coffee or a beer, chat with your new friends, and plan your day in Paris.
The rooftop terrace is also has plenty of comfortable seating along with a small garden area. The views over Paris are fantastic, especially in the warmer months.
The Location
12th Arr. East Side
What's Nearby?
As this hostel is just outside of the city center, most of the sights and attractions of Paris are not too far away. And anything further out is easily reached by the nearby metro stations. The Paris Zoo and the Bastille are both not too far away. With a long walk, guests could be at Notre Dame, the Marais district, and the Latin Quarter. Or just take the metro.
The surrounding neighborhood is also full of shops, restaurants, bars, and everything else you could need.
Nearby Transportation
Several metro stations are nearby, including the station at the Gare de Lyon train station, which is a major hub. From here, metro lines go in every direction so that you can get everywhere in the city quickly. It's a few blocks away, but if you want to hop on closer, the Dugommier station is only 1 short block away and is on line 6, which runs through the Latin Quarter to the Eiffel Tower. Or go to the Daumesnil station which is on line 6 and 8. Line 8 will take you through the Marais. The options are endless!
Amenities
The list of amenities here is fairly typical of hostels: free Wi-Fi, towels and linens, key-card access, a decent breakfast, luggage storage, and more. Anyone will be happy here. They also have a small kitchen for preparing your own meals, but it does not have a stove, only a microwave.
Staff
The staff of this new hostel is friendly and eager to help. They are excited to welcome everyone and show them what Paris has to offer.
Heads Up
So far guests like this new place, but many say that it has the feel of a hotel instead of a social hostel. If you want a quiet, comfortable, and relaxing place to stay, then this is it. But if you're looking for a party, try somewhere else.
The People - Paris Bercy
Do you have a favorite hostel that you would like to review? Let us know!