Not everyone travels the same way. Likewise, not every tour company provides the same type of experience. Just as everyone likes something different, tour companies themselves can be quite attuned to the diverse interests and needs of travelers.
Some travelers want to just relax during their vacation, while others are seeking out a real adrenaline fueled adventure. Some travelers are interested in history architecture, while others want to see the local culture. Some people want to spend most of their time shopping, while others would rather ride bikes around the city. Some travelers are young and active, and some are retired and move a little slower. And sometimes people travel with their kids, too.
Tour companies know all of this, and they can generally meet your needs. However, it's important to find a tour company that caters to what you want with the various tours that are offered. If you're in your 20's, you probably don't want to end up on a tour full of retired couples. And if you are traveling with young children, you might not want to be on the bungee-jumping hang-gliding adventure tour through the jungle.
Tour companies and the tours they offer have personalities, just like individual people. This article will hopefully give you an overview of what to look for in a tour so that you can get the best experience.
But first,
what is your travel style
? You need to think about this so that you can match it up with the right tour company and the tours they offer.
Adventure Tours
White-water rafting, long distance bicycle tours, cruising along the Amazon River, exploring ancient ruins in the jungles of Asia, hiking in Alaska or Patagonia... if any of these tour ideas sound interesting to you, then you should seriously consider an adventure tour.
G Adventures
is a very popular and long standing tour company that offers a variety of tours on every continent. Their small group tours usually have themes of adventure, ecology, wildlife, the outdoors, or active physical activity. While they do offer "typical" tours that cover history and major sights, a huge portion of their tours are more than just sightseeing trips. Also, they can be quite affordable. As this is a very large company with a huge number of tour offerings, prices vary by trip, length, and destination, but you will very likely find something of interest with this amazing company.
Contiki
specializes in tours for travelers from 18 to 35 years old. While they offer many standard sightseeing tours as well as adventure themed tours, all of their trips encourage social interaction between guests with frequent nightlife destinations as well as active activities for younger travelers. Many of their adventure themed tours offer physical challenges and exciting experiences such as hiking on glaciers, jet boats, bike rides, bungee jumps, wildlife encounters, snorkeling and diving, and more.
Intrepid Travel
is a tour company with a large variety of trip themes. They have a number of trips that cater to travelers under 30. Separately, they have trips that only cater to families as well as older travelers. But no matter your age you can also pick a general type of tour such as a bicycle trip through Asia or Africa, food and cuisine-focused tours, hiking and trekking tours in the Himalayas or Andes, sailing trips, and more. They also offer special Lonely Planet Experiences, which are tours that dive deep into the local culture or ecology, such as the Uganda Gorilla experience or the trip through the western U.S. National Parks.
TourRadar
is a great website to find small tours offered by small, local companies. While it's not a tour provider itself, the website lists thousands of tours for practically every location in the world. Here, smaller companies can showcase their tours and experiences. It's worth checking out if you want a genuine locally planned adventure but don't want to book with one of the larger companies.
Historical & Cultural Tours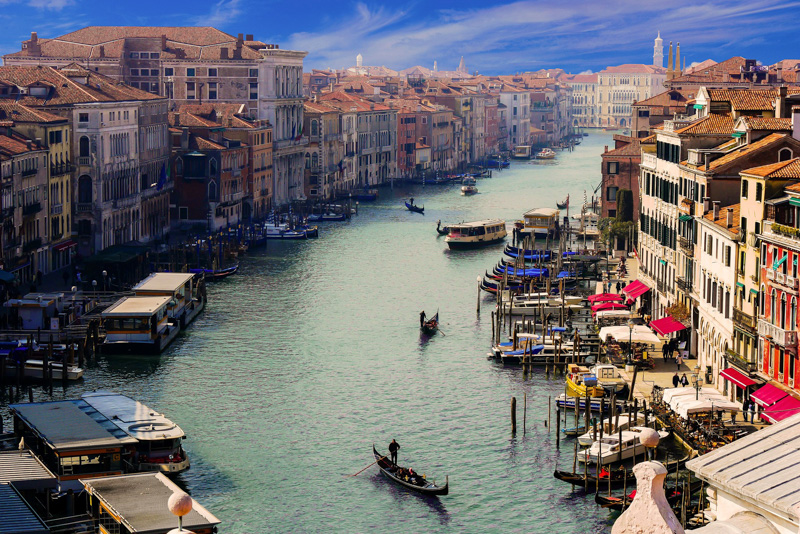 Some of the best experiences had by travelers are the quintessential overview and historical tours of major destinations. After all, there's a reason why the major cities of Europe are some of the most visited places in the world. It's because they are amazing! Seeing the Eiffel Tower, wandering around the Colosseum in Rome, eating Tapas in Barcelona, touring the canals of Venice... these are the European experiences that are on most people's bucket list. But don't forget about the rest of the world. From China to Australia to South America, plenty of small group tours await that will showcase the best sights of a region. Those "typical" tours are often anything but typical once you arrive - they are amazing! And these tour companies specialize in those experiences.
Contiki
, as mentioned above, specializes in tours for 18 to 35 year olds. Many of their tours guide you into European culture and history with a group of like-minded travelers that are your age while also providing plenty of nightlife opportunities. Take a whirlwind multi-city tour of the capitals of Europe, or focus specifically one one or two countries such as Spain, Italy, Germany, or eastern Europe. They also offer a variety of exciting sightseeing tours to Asia, Australia, New Zealand, South America, and Africa.
Baltic Tours
is a fantastic company that is focused on the regions of northern and eastern Europe. The provide big-company levels of service with a small, locally owned personality. If you're interested in visiting some of the less touristy and somewhat more adventurous sides of Europe, check them out!
Trafalgar
is a very reputable tour company providing tours to middle-aged to older travelers. They offer very in depth tours at a fantastic level of service and knowledge. While many of their tours tend to be a little more expensive than their competitors, you definitely get what you pay for!
As mentioned above,
G Adventures
and Intrepid Travel are two very reputable and affordable travel companies. If you're looking for a great overview tour of a region, they deliver it, and more!
Family Friendly Tours
Traveling with kids can be a totally different experience. In addition to making sure that everyone is having a good time, you also need to think about safety, convenience, price, and temper-tantrums. While the kids might want to do one thing, the adults might want to do another. A good tour company can provide activities and experiences that entertain everyone in the family while also taking into account that families need a little more security and move a little slower.
Intrepid Travel
has tours that are catered specifically to families. Many of these tours are with small groups, which is actually a great experience. So, you can end up on a trip where your kids meet other kids and make new friends. You can opt for more traditional tours where you see historical sights, or take a more adventurous trip such as a bicycle-themed trip through the mountains. Or, how about a safari, hiking, Greek island hopping, or kid-friendly museums? They offer a bit of everything.
Trafalgar
also offers family-friendly tours to destinations in various regions. If you're headed to Europe, they can take you to the major sights and attractions in a kid-friendly style while also providing kid-friendly activities, such as meeting up with the Gladiators in Rome. Or, try a more adventurous and wildlife themed trip such as to the jungles of Costa Rica, or horseback riding in Wyoming.
G Adventures
, as mentioned earlier, caters to adventure travelers. But they also have family-themed tours that focus on "edutainment" where kids can learn about the culture, wildlife, and history of a destination. Some of their popular offerings for families include kid-friendly trips to Thailand with a focus on wildlife, cuisine, and beaches, as well as similar trips in Costa Rica, Peru, China, and the Galapagos Islands of Ecuador.
Small Ship Cruises & River Cruises
Just as tour companies have personalities, so do river cruise companies. While many people think of Europe when they think of river cruising, that's not always the case. Many tour companies have smaller boats (yes, even smaller than the European River Cruise boats) where guests can get a much more cultural and in-depth experience.
Many of these river cruise trips are also styled to meet the personality of the destination. A trip on the Amazon River, for example, will definitely have an adventurous atmosphere.
G Adventures offers a number of river cruising experiences
in an adventure style. The Amazon River, the Mekong Delta, the Galapagos, sailing trips through the Mediteranean, and more are all offered.
Intrepid also offers a line of cruises
that it refers to as "adventure cruising" which caters to anyone looking for a new experience. How about island hopping through Indonesia and Borneo? Or, take a small boat (about 15 people) on a trip along the coast of Croatia, Portugal, Turkey, or Morocco.
As mentioned earlier,
TourRadar
is another great website to find those small, locally owned tour companies that can cater to your very specific needs.