Best Party Hostels in Airlie Beach, Byron Bay, & Magnetic Island, Australia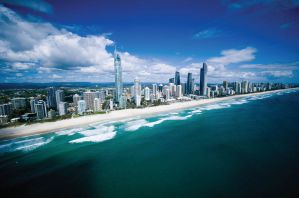 Australia has long been a haven for backpackers who want to soak up the sun, surf some waves, and party late into the night. There are many destinations along the coast of Australia that attract backpackers and party-goers, and there are hostels that are set up specifically for these crowds.
If you've come to Australia specifically to party, then you won't want to miss any of these popular party hostels. Whether it's a long weekend vacation or an extended backpacking trip, these hostels offer some of the most fun social settings in the country.
How much do hostels in Airlie Beach cost?
| | |
| --- | --- |
| Average Dorm Price | $21 ($16 to $24) |
| Average Double Private Room Price (in a hostel) | $74 ($41 to $203) |
Dorm Bed:
$
22.82
Private Room:
$
36.67
Overall Rating:
83%
Backpacker Holiday Village is a popular hostel for backpackers in Byron Bay. It's a short walk or bike ride to the area's best beaches and it's located on the main street, Jonson Street, which has all kinds of shops, restaurants, bars, and cafes. If you've come for the nightlife, then right across the street is Cheeky Monkeys, one of the area's most famous backpacker bars.
The hostel is designed specifically to encourage social gatherings. There's an open floor plan that allows guests to hang out with plenty of space to relax or have fun. The hostel also allows guests free use of surfboards, body boards, and bikes, so it's easy to fill your days with any number of outdoor activities.
The hostel also offers some great amenities for guests including a travel information desk, a pool, spa, barbecue area, and volleyball and basketball courts. Many guests hang around and socialize before they head out on the town.
The hostel has four, six, and eight bed dorms available. There are also private rooms if you want a little more space and privacy.
116 Jonson St Byron Bay
,
Byron Bay
,
Australia
,
Dorm Bed:
$
32.00
Private Room:
$
32.50
Overall Rating:
69%
After a fun day partying on a Whitsundays Island party cruise, you'll appreciate heading back to the social atmosphere that Base Airlie Beach Resort offers guests. It's located about 50 meters from the lagoon and there are many cafes, bars, and shops in the nearby area. You don't even have to leave the hostel if you want to have a fun night, as the attached, Down Under Bar and Grill is a great place for a meal and drinks.
The hostel offers a great setting among six acres of tropical gardens. There's an outdoor swimming pool and plenty of places to relax and hang out with other guests. It has the comforts of a resort for the price of a hostel.
The hostel also has a travel desk where they can help you arrange Whitsunday boat tours and trips to Whitsunday Islands National Park.
The hostel has a wide range of rooms available for all different budget types and travel styles. There are twin and double private rooms available as well as four and six bed dorms.
336 Shute Harbour Road
,
Airlie Beach
,
Australia
,
Dorm Bed:
$
32.00
Private Room:
$
52.50
Overall Rating:
80%
Once a month people flock to Magnetic Island for it's famous Full Moon Party. The party has international and local djs that spin music on the beach, right next to Base Backpackers Hostel. This is the place to stay if you want to be at the center of the action. The event can attract thousands of people, and rooms fill up quickly, so you have to plan well in advance.
The hostel has a range of dorm rooms available including co-ed rooms and "female sanctuary dorms." Guests in these sanctuary rooms receive a "pamper package" on arrival. There are also double private rooms available if you want a little more privacy. Many private rooms even have a view of the ocean.
The hostel also has a bar with a deck area that looks out on the water. It's a great place to relax during the day and sip a drink while you enjoy the view. At night the party starts up and there is music, bar games, and a large crowd that gathers. This is the place to stay if you want to be part of the best party on the island.
1 Nelly Bay Road Nelly Bay
,
Magnetic Island
,
Australia
,
Share This Article