Australia On a Budget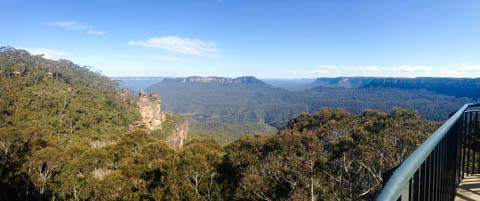 Australia is both a country and a continent. While it is most famous for it's wilderness and stunning natural beauty, it is also one of the world's most developed and economically thriving countries. Perhaps one of the most famous areas in the country is the "outback," but other national parks and the Great Barrier Reef all have much to offer adrenaline junkies and thrill seekers.
The area has far more to offer than just adventure sports and outdoor settings. There are countless cosmopolitan cities such as Sydney and Melbourne. If you're a beach lover you'll have miles of coastline to explore, and foodies will find many international and local restaurants that receive rave reviews.
For many, Australia seems like a far off destination. It takes an entire day to fly there from North America. It's in the southern hemisphere, so July is cold and Christmas is hot. It's a country that looks strikingly like any other westernized country, but it has animals and vegetation that are uniquely its own. It's these familiarities, yet sharp differences that make this part of the world a favorite destination for the young and old alike.
The days of budget travel in this part of the world are long gone. Not only is it an expensive plane flight from most of the world, but the cost of living has skyrocketed in the area. Simple meals, accommodation (hostels, mid-range, or high-end hotels), and transportation all cost more than you would expect. Despite the increasing cost of travel here, there are some tips you can follow to keep your budget in check. Probably the best cost saving tip is to cook your own meals if you have access to a kitchen. Restaurants are not cheap and you can easily save a lot of money by stocking up on groceries and preparing your own food. If you're renting a vehicle and traveling alone, find other travelers to split the cost. Most people will want to rent a car at some point during their trip. Coordinate with others and you'll easily cut the transportation costs in half.
At A Glance
Australia is located in the southern hemisphere so the winter there runs between June and August and the summer is between December and February. The winter is also the dry season in the tropical areas and the summer is the wet season. If you're in the southern areas of the East Coast then the rain is more evenly distributed throughout the year but in the southern parts of the country there are more extreme temperature variations.


This is a very multicultural country with some of the most diverse cities being Melbourne, Brisbane, and Sydney. Each of these cities is well known for its diversity of restaurants which represent a global population. Melbourne in particular is known as the center for the arts while Brisbane has many different multicultural urban villages. If you're looking for the area's best festivals then these are often found in Adelaide where there is a strong German influence.


Do take note that this country has very strict quarantine requirements. Because it is an island with highly diverse and unique biodiversity, the government works hard to prevent the introduction of invasive species. You must declare all animal and vegetable derived products and your luggage will be thoroughly scanned. If you don't declare something then there is a strictly enforced $220 fine and prosecution in some more serious cases.


This is a country where you drive on the left hand side of the road. This may be challenging for visitors who are used to driving on the right. As a general rule, overseas licenses are valid for driving up to three months after you arrive. If your license isn't in English you will be required to get an International Driving Permit.


You will likely need to fly at least once during your trip. Compare plane ticket prices on consolidator websites but purchase the tickets directly from the airlines to avoid any additional charges.
Related:
Looking for a party? Find a
hostel in Sydney
,
Melbourne
,
Cairns
, or along the
Gold Coast
.
Top Tourist Attractions
The Great Barrier Reef:
Perfect for scuba divers and snorkelers alike, this natural wonder is awe inspiring and beautiful. Many divers come to Australia specifically for the Great Barrier Reef, which is the largest continuous coral reef in the world. You can arrange dive or snorkel trips after you arrive through any number of dive shops around town.
Sydney Harbor:
The most famous landmark in Sydney, this area is a beautiful natural harbor that is home to both the Sydney Opera House and the Sydney Harbor Bridge. It's probably the most photographed area in Sydney.
Ayers Rock:
Uluru is of religious significance to the Aborigines. It's an amazing sight, particularly at sunrise and sunset and is one of the most popular natural landmarks in the country. The easiest way to get to Ayers Rock is by plane.
Popular Foods
Australian cuisine is very multicultural. You'll find international restaurants in almost any city, but you'll also find pubs and bars that serve up the typical meat pies and fish and chips. Barbecue is a popular activity and you can get grilled meat any number of places.
Meat Pie:
A popular lunch dish throughout the country is a simple, small, meat filled pie. It's usually made from pastry and stuffed with minced meat and gravy. You can find any number of variations and some include cheese or mushrooms. Meat pies are available in cafe style restaurants and are often a cheap meal option.
Fish and Chips:
Similar to their British counterpart, Australian fish and chips are made with battered and deep fried fish. They are often served with chips (french fries). This is a greasy but cheap meal option that is available in most towns and cities. You'll usually find the best versions in traditional pubs.
Barbeque:
An Australian tradition, barbeque in this country includes a variety of meat types, anything from fish to steak. It's prepared outdoors on a grill and typically eaten outdoors as well. Many guesthouses, hostels, and hotels will host a barbeque once a week which offers a great way to meet fellow travelers and enjoy a filling meal.