The Best Backpacker Hostels in Nanjing, China for Solo Travelers and Couples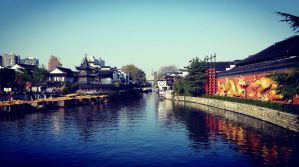 One of the old capitals of China, Nanjing is full of historical sites and attractions, as well as a cultural hub of China. The river, the old city walls, and all of the temples give this city an amazing atmosphere, full of lights at night and bustle during the day. It's not to be missed.
The hostels listed here are in various locations around the city, and each has its own vibe. But they are all very good and highly regarded by travelers from all over the world. Give them all a good look before making your choice, and then let us know how your stay was afterwards!
How much do hostels in Nanjing cost?
| | |
| --- | --- |
| Average Dorm Price | $9 ($7 to $13) |
| Average Double Private Room Price (in a hostel) | $38 ($20 to $67) |
A social hostel, good for backpackers and couples
Dorm Bed:
$
8.45
Private Room:
$
16.90
Overall Rating:
77%
Close to the banks of one of the rivers and in one of the historic districts, the Sunflower Hostel is surrounded by restaurants, shops, and activities. The building itself is great, making for a fun atmosphere where travelers can mix and mingle.
Private rooms and dorms are available, including a female-only dorm option. Many rooms have ensuite bathrooms, including some of the dorms. The bathrooms are modern and western style, and many of the shared bathrooms are new and upgraded, too. Private rooms have TVs and other nice amenities, while dorm bunks have outlets, reading lights, and backpack-sized lockers to keep your belongings secure.
The main room in the front of the hostel is the common area, which is full of table and sofas. It's a nice place to relax and meet other guests. Meals are served, as are drinks from the bar. A pool table and a rooftop terrace are also provided for your enjoyment and relaxation. Free Wi-Fi, book swap, laundry services, and other typical hostel features are offered. The staff can also arrange tours or book onward transportation (24-hour reception desk, too).
Guest reviews are generally good, citing the terrific location and friendly staff. Cleanliness seems to be inconsistent. The food is said to be great.
No.142 Dashiba Street Fu Zi Miao
,
Nanjing
,
China
,
A social hostel for backpackers, couples, and solo travelers
Dorm Bed:
$
8.47
Private Room:
$
14.69
Overall Rating:
79%
The Time Youth Hostel is highly recommended by many previous guests, as it has a nice atmosphere, is in a good location, and has a friendly staff. Shops and restaurants are nearby, it is near the downtown area, and it is also close to several metro lines to access the rest of the city.
Private rooms with ensuite bathrooms are offered. Dorms are also offered at a variety of sizes, and an all-female dorm option is available. Dorm bunks have outlet plugs and reading lights. Bathrooms are modern and well maintained. The rooms have a lot of character, and everything is decorated in an old Chinese style, as the building itself has so much history.
The onsite restaurant and bar provides nourishment to guests, and the common room and dining area becomes a great place to socialize and mingle with other guests. Other typical amenities are available such as laundry, Wi-Fi, transportation and tour booking, and bike rental.
Consistently good reviews are given from previous guests. Most of the positive marks for the reviews are given for the good social atmosphere, the friendly staff (English-speaking), the overall cleanliness and comfort. Some guests claim that the bathrooms are not kept clean enough (but hey, this is China).
NO.6 MeiYuan New Village Yongyuan of Xuanwu Area
,
Nanjing
,
China
,
A quiet hostel for backpackers, families, or couples
Dorm Bed:
$
9.62
Private Room:
$
21.28
Overall Rating:
88%
Look for the Tree Coffee, as this hostel does not seem to have a large sign. Near the river and plenty of shops and restaurants, this hostel resides in a historic style Chinese building with a large courtyard. Recently refurbished and upgraded, the interior is very modern. Rooms are well decorated, and bathrooms are western style with fancy decorations and modern fixtures.
Private rooms with TVs and comfortable beds are available. Dorms are also available, and are modern and clean. Lockers are available. An all-female and an all-male dorm is available, too. A family-sized room is also available for larger groups or families with children.
The coffee shop which also serves meals is available on the first floor.
Free breakfast
is also available for guests who stay in private rooms. Other common rooms are available for those who need a little more relaxation in a quiet space, too.
Typical hostel amenities are provided: free Wi-Fi, laundry, free airport transfer, and more.
Guest reviews give high marks for the modern facilities and comfortable beds. The location is hard to find, but still quite central. The staff is said to be extremely friendly and helpful.
No. 3, Bianying street, Old Mendong Qinhuai District
,
Nanjing
,
China
,
Share This Article