Safe, Affordable, and Quiet Hostels in Cartagena, Colombia
Cartagena is a city in Bolivar, Colombia. It was the first Spanish colony on the American continent and it was one of the first sanctuaries of freed African slaves in the Americas. The city is located on the northern coast of the country and it faces the Caribbean Sea. Cartagena is the most visited city in the country and it can get particularly crowded during the December holidays, the holy week, and when schools are out for Colombians.
Most tourists spend time in either the walled colonial city or Bocagrande, along the beach. There are a variety of hotel and hostel options in these areas. The neighborhood of Castillogrande is also a nice area to visit.
How much do hostels in Cartagena cost?
| | |
| --- | --- |
| Average Dorm Price | $14 ($1 to $40) |
| Average Double Private Room Price (in a hostel) | $44 ($6 to $169) |
A good hostel for backpackers, students, and groups of friends.
Dorm Bed:
$
9.48
Overall Rating:
83%
King Hostal is a good option in Cartagena for budget travelers and backpackers. The hostel is located in the Getsemani neighborhood on 9th Street behind the Trinity Church. It's about three blocks from the walled city and is in a convenient location for visitors.
The hostel has both private rooms and dorms available. Rooms range in size and sleep between four and fourteen people. Most rooms have air conditioning and ceiling fans and the beds are comfortable.
The hostel offers a variety of amenities for guests. Wireless internet is available. There are laundry facilities, a currency exchange service, and breakfast available as well. Colombian coffee and hot tea are also provided throughout the day. Guests can use the shared kitchen facilities to prepare their own meals and there are several common areas where guests can hang out.
The hostel staff is wonderful and they go out of their way to make sure your stay is enjoyable. This is a clean, safe, and affordable option for travelers to Cartagena, Colombia.
Calle del Pozo # 28 -16 . getsemani cartagena
,
Cartagena
,
Colombia
,
A good hostel for backpackers, students, couples, and small groups.
Dorm Bed:
$
45,000.00
Private Room:
$
50,000.00
Overall Rating:
92%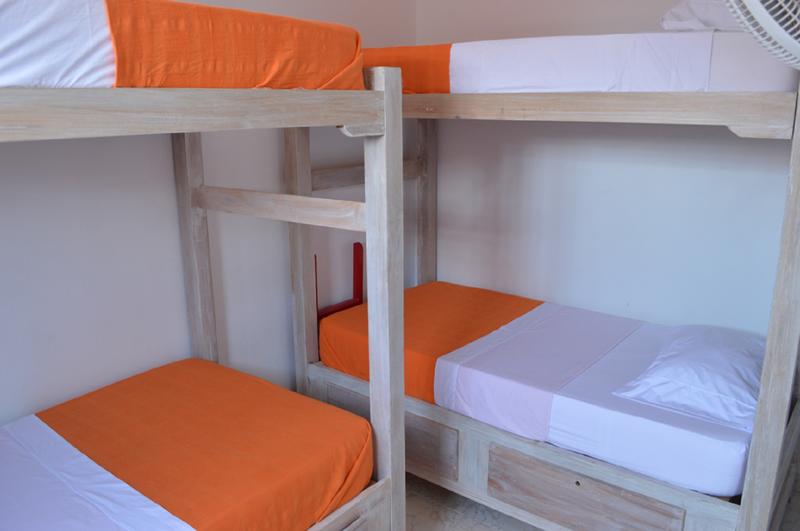 Hostal Santo Domingo Vidal is located just a few minutes away from many of the city's favorite monuments and historic sites. It's housed in a charming colonial style house that mixes modern amenities with old world charm. The rooms are comfortable and up to date. There are private double and three bed rooms that have air conditioning and private bathroom. There are also dorms that sleep up to four people for travelers that are on a tighter budget.
There is a delicious and filling breakfast that is included in the price of the room. The staff are helpful and can help you organize any tours or activities that you might want to participate in. They can also offer directions or recommendations for restaurants around town. In the surrounding area you'll find many great places to eat and explore. This is an affordable, fun, and safe place to base yourself in Cartagena.
Getsemaní, Calle de San Juan 25-72
,
Cartagena
,
Colombia
,
A good hostel for backpackers, students, and solo travellers.
Dorm Bed:
$
11.55
Private Room:
$
27.06
Overall Rating:
88%
One Day Hostel is another popular hostel in Cartagena. It's located just a short walk from many of the city's top tourist destinations and it's also easily accessible with public transportation. The hostel is near many great bars and restaurants. If you want to take advantage of the city's vibrant nightlife, this is a great area to base yourself as well.
The hostel is housed in a colonial style home. There's a real family atmosphere and it's a cozy and comfortable place to spend some time. There are single and double private rooms available as well as four and six bed dorms. Each room has air conditioning and simple but attractive decorations. The rooms themselves can become a bit cramped but there are common spaces available where guests can hang out.
Getsemaní Calle 26 No. 10B-67 Calle de las Chancletas
,
Cartagena
,
Colombia
,
Share This Article