Best Party Hostels in Lisbon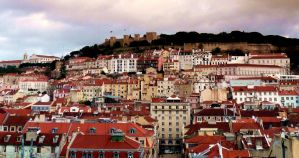 Lisbon is a truly beautiful city and it has a lot to offer visitors in the form of art, cuisine and culture. Many people include Lisbon as a stop on their grand European trip and almost nobody is disappointed. If you're looking for a lively nightlife then these hostels are a great place to start.
How much do hostels in Lisbon cost?
| | |
| --- | --- |
| Average Dorm Price | $18 ($6 to $139) |
| Average Double Private Room Price (in a hostel) | $51 ($16 to $171) |
Dorm Bed:
$
18.53
Private Room:
$
34.41
Overall Rating:
97%
Yes! Lisbon Hostel offers a party almost any night of the week. They have beer discounts and cheap wine is readily available. There's an eclectic crowd that stays here, but everybody is out to have a good time.
The hostel itself has plenty of common space including a common room with bean bag chairs. It even has a king sized bed underneath the television for those who can't make it back to their room. The onsite bar is open until late into the night. This is the place to stay if you're traveling alone and hoping to meet people to party with.
It's also centrally located near many of the city's best attractions, so if you can muster the strength to do some sightseeing during the day, you'll find most attractions are not far away.
The hostel hosts all kinds of free events like free walking tours, pub crawls, and group dinners. Make your reservations early if you're traveling during a peak season.
Rua de Sao Juliao 148
,
Lisbon
,
Portugal
,
Dorm Bed:
$
13.59
Overall Rating:
98%
Home Lisbon Hostel is a great place to socialize and meet other travelers. It has an onsite bar that is always popular, and there's a free breakfast available to all guests. You can also enjoy the free walking tours, and famous homemade dinners that they serve up. All of these activities are the perfect opportunities to meet other guests.
The hostel is located in a 200 year old building that has a living room and full kitchen. There's a nice outdoor patio and large rooms with big windows.
You have your choice of 4, 6, and 8 bed dorms. There are also female only dorms. Every guest has a large and secure locker assigned to them.
The hostel is located in the Baixa district, which is in central Lisbon. It's also easy to reach from the airport and other transportation networks. You can easily walk to the most popular attractions around town and the most interesting nightlife is not far away.
Rua de Sao Nicolau, 13, 2E
,
Lisbon
,
Portugal
,
Dorm Bed:
$
10.46
Overall Rating:
90%
The GSpot Hostel is a self described party hostel that works hard to earn that reputation. They offer all kinds of events to guests and provide a free pancake breakfast, family dinners, barbecues and pub crawls. It's a social environment where it's easy to meet other travelers. There is always something going on, whether it's beer pong or a wine tasting.
The rooms are also quiet comfortable. They're large and have modern furnishings. They also give their guests discounts on tours, restaurants and clubs around town.
Rua Camilo Castelo Branco n 2C
,
Lisbon
,
Portugal
,
Dorm Bed:
$
9.13
Private Room:
$
17.62
Overall Rating:
86%
The staff at Oasis work hard to make sure you love their city as much as they do. They host all kinds of activities that let you see the local side of the city, meet other travelers, and generally have a good time. Among these activities are food tours, street art tours, and insights into the local side of Lisbon. They make sure the hostel is a great place to meet other international travelers, and they're always available to answer any questions you might have. It's a very welcoming environment that is friendly and cozy.
The Oasis staff put a lot of focus into the hostel's atmosphere and they succeed at making your stay here a unique experience. It'll be a memorable visit and you'll be able to see a side of the city that you'd likely otherwise miss.
Rua de Santa Catarina, 24
,
Lisbon
,
Portugal
,
Share This Article