Best Party Hostels in Barcelona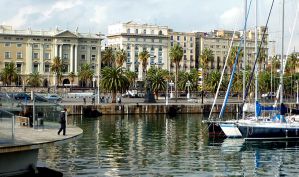 Barcelona is the second largest city in Spain, and it is a top travel destination in Europe. People visit Barcelona for its unique neighborhoods, excellent restaurants, impressive culture, and entertaining nightlife. If you're looking for a hostel that is lively and social, check out any of these hostels. They're perfect for anybody looking for a party.
How much do hostels in Barcelona cost?
| | |
| --- | --- |
| Average Dorm Price | $17 ($9 to $39) |
| Average Double Private Room Price (in a hostel) | $55 ($7 to $664) |
A good hostel for solo travellers, couples, and groups of friends.
Dorm Bed:
$
12.95
Overall Rating:
88%
Kabul Backpackers Hostel is recognized as one of the best party hostels in Europe. The ground floor turns into a club at night so there are plenty of opportunities to meet and socialize with other guests. The dorm rooms are located right above the club, so don't plan on sleeping much if you stay here though. The hostel is also located ideally in the heart of the city. There are plenty of amenities available for entertainment purposes including a pool table, music, a bar, satellite television, a terrace area, and a common room. Other amenities include internet and Wi-Fi, secure lockers, free breakfast, telephones, drink and snack machines, laundry machines on every level, sheet rental, and a baggage room.
This is the perfect setting for anybody who wants to meet other travelers, socialize, and party late into the night. If you're looking for a quiet place to sleep, then this is not your place.
Plaza Real 17
,
Barcelona
,
Spain
,
A great hostel for young, solo travellers.
Dorm Bed:
$
9.90
Private Room:
$
17.90
Overall Rating:
94%
Sant Jordi Alberg is a great place to stay for young travelers who are looking for a fun and entertaining atmosphere. There is no curfew at this hostel so you can come and go as you please. If you're traveling alone, you'll have no trouble finding new friends to hang out with. The self proclaimed "party hostel of Barcelona," there is no shortage of activities here. By staying at Sant Jordi Alberg, you can experience all that Barcelona has to offer including the bars, clubs, and impressive Mediterranean beaches.
If you're hoping to take advantage of Barcelona's famous nightlife, then you can participate in any of the organized parties and nights out through the hostel. The staff are young and know the city well, so they can help direct you towards the best clubs and bars.
The hostel is also conveniently located just an eight minute walk from Barcelona's central square. From there you can catch transportation to almost any part of the city.
C/ Roger de Lluria 40 1-2
,
Barcelona
,
Spain
,
A great hostel for solo travellers.
Dorm Bed:
$
13.00
Private Room:
$
22.00
Overall Rating:
98%
Hostel One Paralelo is located in a building that is specifically designed to be a hostel. It has plenty of social areas that create a very friendly and open environment. There are large rooms that are bright and open with big windows and plenty of natural light. There's also a nice patio area where you can enjoy the meal you prepare in the nearby kitchen. Many guests enjoy hanging out by the jacuzzi and barbecue so there are always people nearby to chat with. It's not a hardcore party hostel, but instead offers a fun and social atmosphere. It's not hard to meet other guests, and there will likely be a group heading out on the town if you want to hit up some bars at night. There's also a television where you can watch sports or DVDs, public computers with internet, and plenty of common spaces.
The staff at this hostel is what really makes it special. The hostel employees both locals and travelers so you can get a mix of perspective. They know the area well, and they also understand the needs of a traveler.
Calle Salvá 62
,
Barcelona
,
Spain
,
Dorm Bed:
$
8.86
Private Room:
$
10.01
Overall Rating:
82%
This hostel is a great place to meet fellow travelers. It has a wonderful rooftop terrace where you can enjoy views of the city. There is also a fitness club, an indoor swimming pool, and a gym. Guests can take advantage of a fully equipped kitchen and a common area that has computers and WiFi, cable television, a pool table, and Wii consoles. You can also grab a bite to eat or a drink in the bar.
The staff is friendly and multilingual so they can help you with any questions you might have. The hostel also works hard to practice eco-friendly behaviors. They recycle and use low-consumption light bulbs throughout the building. The hostel is quite large, so there is no shortage of people to meet and interact with.
Avda. Meridiana, 97
,
Barcelona
,
Spain
,
Share This Article