Spain On a Budget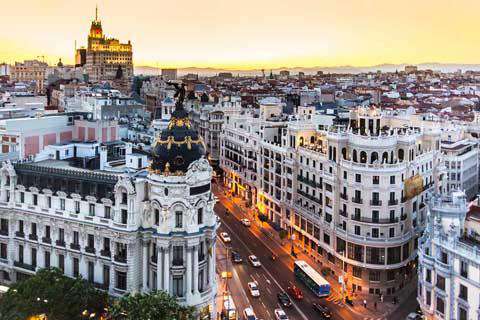 Spain is located on the Iberian Peninsula beside Portugal in southern Europe. It is at the western end of the Mediterranean Sea and has a pleasant climate with warm summers and mild winters. Spain has managed to maintain its unique culture, which is rooted in its history, architecture, art, cuisine, and of course, its people. People go to Spain for a variety of reasons ranging from its beaches, to its shopping, to its vibrant nightlife. There is also a rich catholic history in Spain which is apparent in its fascinating cathedrals and traditional small towns. One of the most popular activities in Spain is to participate in the Camino de Santiago, a 780 kilometer walk from France into Spain and ultimately ending in Santiago de Compostela. Those participating in the walk are referred to as "pilgrims" and the journey is as much spiritual as it is physical.
Spain's coastline has grown in popularity in recent decades to the point that most towns are filled with foreigners during the warm spring, summer and fall months. You'll be hard pressed to find a town that remains undiscovered, but you even in the most touristy cities you can still enjoy the turquoise waters, warm sun, and excellent restaurants and clubs that are in no short supply. Spain's Mediterranean climate offers a wonderful escape if you're visiting Europe during the chilly winter months. This is also a peak time in some areas so it is best to plan ahead and come armed with reservations.
Spain was once a budget travel destination, but it is no more. With the rapid influx of tourism has come a rise in costs for everything from accommodation to food and drinks. Particularly along the coastline you'll find that costs are surprisingly high. To help you keep costs down consider eating a nice lunch out and cooking for dinner. Most restaurants offer a discounted "menu of the day" during the lunch hours so you can enjoy a filling meal for a fraction of the cost. Buses are also much cheaper than trains, so if your schedule allows, consider skipping the train and taking a bus. Spain is also a great country to consider couchsurfing. There's an active community and it's a great way to experience the culture first hand.
At A Glance
There's a surprising amount of things to do in the area during the winter months. If you're hoping to avoid the summer beach crowds, consider heading to some of the great cities during the cooler months. Many of the cultural sights are best visited during the winter when the crowds are at a minimum.


While the trains throughout the country are efficient and of high quality, they do not always go by the high population areas. Many times you will also have to pass through Madrid, even if it isn't on the way. Consider all of your options as sometimes taking a bus can save you both time and money.


If you're driving your own car, watch out for parking fines, particularly in the larger cities. The fees can be quite high and they are rarely lenient when passing out tickets.


English is taught in most schools so if you are having a communication challenge it is best to reach out to a younger person. Even so, you'll do best if you stick to simple words.


If you're looking for a social place to hang out, head to a bar. These are often packed full of people and they're a great way to meet some locals and brush up on your Spanish.
Related:
Looking for a party in
Barcelona
or
Madrid
?
Traveling alone to
Granada
or
Seville
?
Find a
Contiki tour
to Europe.
Top Tourist Attractions
The Alhambra:
This palace is world famous and recognized for its architectural, cultural, and historical significance. It is located in the city of Granada and dates back to the fourteenth century when it was constructed by Moorish rulers.
Gaudi Architecture:
Gaudi took Art Nouveau to the extreme, creating fanciful buildings that have become landmarks. Most of the works are located in Barcelona, but some are sprinkled throughout the country.
Santiago de Compostella:
A city in Galicia that has arcaded streets is filled with charm. It's also the ending point of the Camino de Santiago, a famous pilgrimage that has been taken by religious followers since the ninth century.
Popular Foods
Tortilla de Patata:
This tapa style dish is similar to a potato omelet. It's a favorite in many restaurants is made very thick and fried in olive oil.
Paella:
Paella is a famous saffron rice dish often made with seafood, sausage, and flavored with saffron. It originated on the eastern coast of Spain but is now available throughout the country.
Fabada Asturiana:
Often referred to simply as fabada, this is a bean stew that is lightly spiced and quite enjoyable. It originated in the community of Asturias, but is now found everywhere and is even available in a canned form in most Spanish grocery stores.