Affordable Hostels for Backpackers in Koh Tao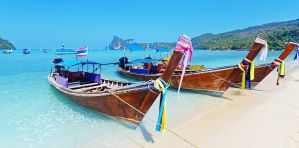 Koh Tao is a small island off the Central Gulf Coast of Southern Thailand. It's part of the Chumphon Archipelago which also includes Koh Samui and Koh Phangan. Koh Tao not only attracts backpackers but also scuba divers and nature lovers. The island offers a wide range of accommodation types for visitors, from the most basic bungalows to more luxurious resorts.
It's easy to find accommodation in Koh Tao once you arrive. Booking after you arrive lets you see what you're getting and usually means you can negotiate the best deal on the price. If you're visiting during the peak season (December to March and July and August), it might be worth booking ahead of time. Most people go scuba diving while they're on the island and most dive schools also have accommodation attached. If you're taking a class through the school you can usually get a significantly reduced price or free accommodation.
Most of the accommodation in Koh Tao is found in either Sairee Beach or Chalok Bay. Sairee Beach is the largest beach on the island. It's located on the west side of the island starting near the ferry terminal. The area has many dive schools, restaurants, and bars. There's a lively nightlife scene in the southern and central areas and a quieter area to the north.
Chalok Bay has a more relaxed vibe with a large number of restaurants and bars. There is a wide range of accommodation from the cheapest bungalows to fancy resorts in this area.
There are a few affordable hostels and bungalows listed below.
How much do hostels in Koh Tao cost?
| | |
| --- | --- |
| Average Dorm Price | $11 ($7 to $20) |
| Average Double Private Room Price (in a hostel) | $34 ($15 to $91) |
A good hostel for solo travellers and backpackers.
Dorm Bed:
$
9.73
Private Room:
$
16.21
Overall Rating:
90%
Summer Hostel Koh Tao is an affordable option for backpackers and budget travelers. It has dorms that sleep up to six or eight people and private rooms include doubles, twins, or three bed rooms. The six bed dorms are air conditioned and the eight bed dorms have a fan. The rooms are simple with beds and security lockers. Dorm beds also include power outlets and a reading light. The hostel also has a very basic kitchen with a microwave, toaster oven, and refrigerator and there's a common room where guests can hang out. Wi-fi access is available.
The staff here are friendly and helpful. They're available all day to answer any questions you might have or help you arrange any number of activities. Options include Thai cooking classes, scuba diving, snorkeling, paddle-boarding, and more. There's also a roof top terrace where you can take a yoga class several days a week.
52/1 Moo 1, Sairee
,
Koh Tao
,
Thailand
,
A safe and comfortable hostel for backpackers and independent travellers.
Dorm Bed:
$
15.51
Private Room:
$
20.57
Overall Rating:
85%
Indie Hostel is another popular option in Koh Tao. It's a relatively affordable and comfortable option in a good location. It's north of Sairee Beach near bars, restaurants, and a 7/11 and it's also close to the beach.
The hostel is relatively modern with very comfortable beds. In the dorms there are "pods" that include a good mattress, a blanket, a power outlet, and a reading light. There's also a safe inside the pod. The privacy curtain ensures you'll get a good nights sleep. The dorms sleep six, eight, or eighteen people. There are also single and double private rooms.
14/143 Moo 1 (across from Choppers and Diza Bar)
,
Koh Tao
,
Thailand
,
A quiet and safe hostel.
Dorm Bed:
$
9.27
Overall Rating:
85%
Koh Tao Central Hostel is another popular option on the island. It's a bit removed from Sairee Beach and its bars and restaurants but it is near the water. The hostel is basic but comfortable. There's air conditioning available in the rooms, wi-fi throughout, and relatively comfortable beds. The dorm beds come with power outlets, a reading light, and a security locker.
The hostel doesn't have an on-site common room, so guests often use the bar across the street as a place to socialize. Even so, it can be a bit difficult to meet other travelers. The hostel staff can also help you organize any number of activities around the island. Discounts for guests are available.
If you're looking for a relaxing place to hang out and sleep then this is a good option. If you're planning to party, then you can probably find somewhere more conveniently located with a more social atmosphere.
Moo 2
,
Koh Tao
,
Thailand
,
Share This Article