Best Party Hostels for the Full Moon Party in Koh Phangan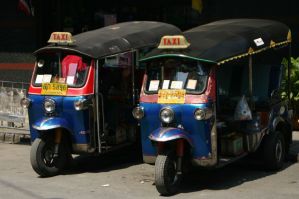 Koh Phangan is one of the top party destinations in Thailand. Most people head to the island for the famous Full Moon Party. The idea of the Full Moon Party began in the mid 1980s in the Haad Rin area and this area is still at the center of the party today. There are bars that line the beach and travelers flock to the area for the alcohol, music, and the seriously intense party scene.
Most people head to Koh Phangan between the months of November and January. In particular, New Years Eve is a popular and busy time to experience the island. There are hotels, hostels, bungalows, and guesthouses all over the island. It's an expensive place to visit and most hostels and hotels require a minimum of a four or five night stay. If you're in town specifically for the Full Moon Party, it's probably best to stay on the southeastern side of the island near Sunrise Beach and Sunset Beach. These areas are close to Haad Rin.
Many people prefer to make reservations online before they arrive. This can be a bit of a gamble because it's hard to tell the quality of the facilities when you're booking. Accommodation in Koh Phangan can be quite expensive and of a significantly lower quality than you'd find in Northern Thailand or Bangkok. Many bungalows and guesthouses also aren't listed through online booking sites so your options are a bit limited if you do make advanced reservations. If you decide to make reservations in advance, we've listed some hostels below. Remember that the quality is always changing so it's best to read the most up-to-date reviews from recent guests before committing to a place. Also, as is common in Thailand, many hostels change management frequently which can effect the quality of the facilities.
If you're comfortable arriving without reservations, it's best to get to town about five days before the party officially begins. As the day approaches, prices get steeper and rooms start to fill up.
How much do hostels in Koh Pha Ngan cost?
| | |
| --- | --- |
| Average Dorm Price | $11 ($0 to $66) |
| Average Double Private Room Price (in a hostel) | $30 ($2 to $197) |
A fun hostel for backpackers, solo travellers, and small groups of friends.
Dorm Bed:
$
5.75
Overall Rating:
96%
Red Boutique Hostel is a relatively small hostel near the ferry port in Thongsala. It offers convenient access to the main town and the markets and it's conveniently located if you're in town during the Full Moon Party. It's a good place to stay if you want to enjoy a fun pre-party before heading out on the town. At other times it has a very chill and mellow atmosphere where it's fun to hang out with other guests.
The staff here are helpful and friendly and they can help you arrange any number of activities or tours. You can also rent motorbikes through the hostel.
99/88 Moo 1, Thong Sala
,
Koh Phangan
,
Thailand
,
Dorm Bed:
$
9.82
Overall Rating:
93%
Smile Hostel is a simple and basic place to stay that is not far from the more popular party hostels, but has a slightly more relaxing atmosphere itself. The dorms can feel a bit crowded and small, but the price is reasonable and the atmosphere is good. The hostel is located in Baan Tai and it's about a ten minute drive from Thongsala Pier. It's also about a fifteen minute drive from Haad Rin.
The staff are friendly and helpful. There's a common area where you can hang out with other guests as well as a bar and a tour desk that can help you arrange any activities.
132/9 Moo 1, Thongsala-Baantai Road Baantai
,
Koh Phangan
,
Thailand
,
A good party hostel for solo travellers and groups of friends.
Dorm Bed:
$
16.39
Overall Rating:
93%
Another fun hostel in Koh Phangan, the Nomad House has an energetic backpacker vibe that comes to life during the full moon party. The hostel is located in one of the island's biggest party areas and it's popular with the party crowd. If you're not in town to drink and party, don't stay here. Groups gather pretty much every night and you can be assured a fun time. If you do want to sleep a little, the hostel is relatively large and it can sometimes be possible to find a quiet area.
The hostel is located in Ban Tai, about four kilometers from Thangsala Pier. In the surrounding neighborhood there is no shortage of parties including Loi Lay Boat Party, Maya Party, the Half Moon Festival, the Black Moon Party, the Jungle Experience, and many other jungle parties. If you want to do some of the activities found in the area, nearby there is elephant trekking, jungle trekking, yoga, kite surfing, and scuba diving.
The hostel has private three bed rooms and a range of dorms to choose from. Dorms sleep four, six, eight, twelve, or eighteen people.
111/12 Moo 1 Ban Tai
,
Koh Phangan
,
Thailand
,
Share This Article