Best Party Hostels in Thailand
With beautiful beaches and enchanted jungles, not to mention cheap prices, Thailand makes an ideal tropical destination for excitement, romance, and music. Visitors from around the world flock to the land of smiles to take everything in from the hot streets of Bangkok to the cool blue waters of The Beach. Each of Thailand's islands may have something unique to offer, but they all have one thing in common: a great time.
The accommodation options listed below are not only great places to make a base as you see the surroundings, but are also good spots to make some new friends and have a great time with them.
How much do hostels in Thailand cost?
| | |
| --- | --- |
| Average Dorm Price | $9 ($0 to $66) |
| Average Double Private Room Price (in a hostel) | $30 ($1 to $665) |
Dorm Bed:
$
350.00
Private Room:
$
500.00
Overall Rating:
87%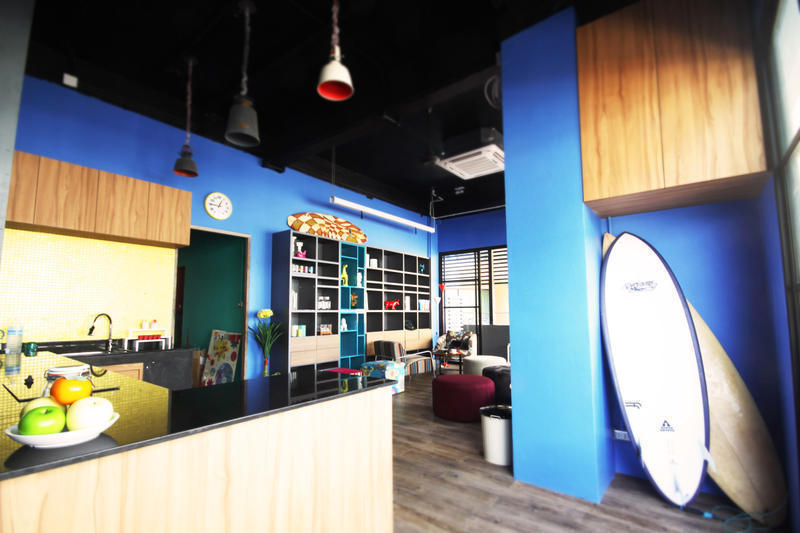 This hostel is the perfect place for guests who are looking to socialize and have a good time. It's only a short stroll to Kata Beach and is just a few minutes from Karon Beach. It's right in the heart of the action and is near many different restaurants, shopping areas, and entertainment options. If you're hoping to meet other guests, then this is the place to be. The staff offer any number of activities for guests, from snorkeling trips to tours or party nights.
There are places around where you can relax, such as a pool, and there is a great lounge area where you can pass some time if you simply want to watch movies. There are party themed nights as well when you can enjoy live music and hang out with the other guests. The on site bar has excellent cocktails at cheap prices.
If you're looking for a fun atmosphere that is social and exciting then this is the place for you. The rooms are all safe and secure and the food is delicious and affordable. The staff will go out of their way to make sure you're having a good time. If you're coming to Thailand to live it up, meet new people, and have a good time, then this is the place for you!
100/20-21 Kata Road Karon Sub-District
,
Phuket
,
Thailand
,
Dorm Bed:
$
6.66
Private Room:
$
11.76
Overall Rating:
83%
This hostel is in a good location for those who are hoping to do some partying along Khaosan Road or Silom, but still want to be a little removed during the night so they can be sure and get some sleep. The hostel is a cozy and clean place with a relaxing atmosphere. There is air conditioning available all day long in the rooms and you can be assured you will have access to a hot shower. There's a roof top deck that many guests use to hang out on and meet some new friends. From there you can enjoy nice views of the city's famous Lumphini Park.
The stay works hard to assure that guests receive all the basics, including a clean room at a low price. This place is a good value for the money. There is also free wireless internet access throughout the property and there are public computers available for use by those who don't have their own laptops.
You can get all kinds of travel information at the travel shop that is located on the ground floor. From there you can make any number of arrangements including plane, bus or train tickets.
5/3 Soi Ngamduplee, Rama IV Road Tungmahamek, Sathorn
,
Bangkok
,
Thailand
,
Dorm Bed:
$
250.00
Overall Rating:
79%
This hostel offers the ultimate backpacker experience. Only a minute walk from Patong Beach and the Andaman Sea as well as surrounding bars, clubs, and restaurants, this place is right in the middle of the action. It's a great value for the money and it appeals most to travelers who are looking to have a good time. If you're looking for a good party, then this is the place to be. It has many different amenities available to guests such as tour bookings, organized activities and more. Guests also have access to a wireless internet service as well as free movies, a book exchange, and more. It's a friendly and fun place for those who are looking to have a good time and spend some time on an absolutely beautiful beach. There are also motor bikes and car rentals available if you're hoping to get out and explore the surrounding areas. Furthermore, the staff takes cleanliness very seriously, and it shows!
140 Taweeeong Rd. Patong beach Kathu
,
Phuket Patong Beach
,
Thailand
,
Dorm Bed:
$
9.23
Overall Rating:
92%
This recently opened hostel is located in the heart of activity in the city of Bangkok. It's near many of the most important must see attractions including the Grand Palace, Khao San Road, the Temple of Dawn, Wat Pho, the city's best nightlife and some of the more interesting shopping areas. The decor of the hostel is laid out in a Thai home style and there is a very fun and social atmosphere to the place. There are many different communal areas where guests can enjoy relaxing.
The hostel strives to meet the high standards set forth by guests. There are many different amenities available and you are assured to have a comfortable bed, clean room, hot showers, and wi-fi internet access throughout the facility. Public transportation is also conveniently close by as well. The building is surrounded by gardens given it a lovely setting.
Other amenities available to guests include lockers with locks, linens and towels, luggage storage, internet access, guidebooks and more. It's prime location make it a perfect option for visits who want to enjoy the vibrant nightlife and party scene that Bangkok is so famous for.
5 Tani Rd. (Banglampoo) Taladyod Phranakorn Bangko
,
Bangkok
,
Thailand
,
Dorm Bed:
$
6.56
Private Room:
$
6.56
Overall Rating:
90%
If you're looking for a place to enjoy the Full Moon Party, then this is the place to be. It's a central located hostel that is right in the middle of Haadrin Village. It's near many different shops and restaurants. It's also just a short two minute walk from the famous Full Moon Party. Both the pier and the beach is nearby as well. Amenities for the hostel include free wi-fi access, a safe where you can store your valuables, mineral water, free towels, discounts to many nearby restaurants and much, much more. There are 57 beds available so you are sure to meet other guests who are out to have a good time.
While most people come here to party, there are still many other activities that you can enjoy. These include ATV tours, elephant trekking, boat trips, snorkeling, fishing, and bicycle. You're sure to be entertained during your entire time here and you'll leave having memories that will last a lifetime.
95/16 Moo 6, Haadrin Village Baantai,Suratthani
,
Koh Phangan
,
Thailand
,
Dorm Bed:
$
32.85
Overall Rating:
90%
This is a great place to stay if you're in town for the famous Full Moon Party. They have all kinds of amenities for their guests. These include wi-fi throughout the hostel, discounts on bar drinks for guests, maps of the area, a buffet dinner that is served on full moon night, air conditioning in all of the rooms, lockers, linens and towels, wooden beds, and more. There are dorms that are available with six beds in a room.
This is the perfect place to stay if you're into live music and having a good time. It attracts party goers and a young crowd that is great for socializing. It's also just a short distance from some of the best beaches in the area. There are plenty of things to do both during the day and at night.
There's also a lounge, bar and cafe where can pass some time. Music is often playing whether it's day or night, and drinks are always available for a cheap price. This is undeniably a party hostel, but it also offers high quality facilities that help keep everyone happy.
Haad Rin, 123/13 Moo 6
,
Koh Phangan
,
Thailand
,
Share This Article