Armenia On a Budget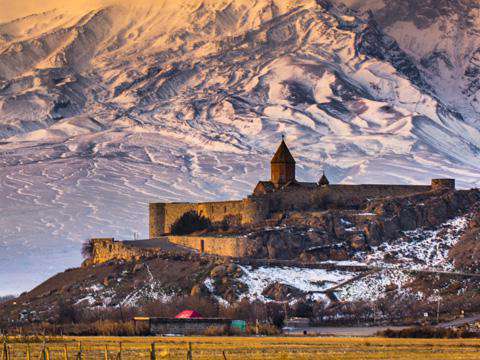 Armenia sounds like duduk, tastes like an apricot, and intoxicates like a brandy. No one can even imagine that a small country may have such a rich culture and history that counts thousands of years. Once you get acquainted with this country you will fall in love with Armenia and its nation.
The Republic of Armenia, Hayastan, is one of the countries of the South Caucasus. It is located on the Armenian Highlands. Armenia locates only the tiniest part of its historical lands that once covered 400.000 sq.km. The first settlements found on the territory date back to 90.000 BC. Armenia was the first in many things. Here is a fact: in 4th century BC, it has adopted details of Hellenistic civilization without interacting with Greek culture. During that period throughout the territory of Armenia were built Hellenistic theatres and temples.
The ancient territory of Armenia is called the Cradle of Civilization. Scientifically it was proved that first men appeared on the intersection of Euphrates and Tigris rivers, on the land called Eden, on the Armenian Highlands. In the Old Testament Noah's Ark landed on Mount Ararat and his descendants emigrated those lands. In fact, Armenians are the descendants of Noah's son Japheth.
Another fact about Armenia. It was the first country in the world to adopt Christianity as a state religion. The transition from paganism to Christianity was rather dramatic; all the pagan temples were ruined and Armenia has lost an invaluable part of history and culture.
The capital of Armenia is Yerevan, a beautiful ancient city built of pink tuff. Besides of being so beautiful and romantic, it is one of the oldest cities. Well, it is older than Rome, for sure. Yerevan has appeared on the place of
Erebuni fortress
(also called Arin Berd, Fortress of Blood). The fortress was built in 782 BC by Urartian king Argishti I.
That was just the brief historical info about Armenia, if you are interested in more detailed information you'll need to travel around the country with an experienced guide. Try to find some relable tour operators that will arrange a high quality journey for you. May be here you will be able to find some options that will be suitable for you -
araratour.com
.
Top Tourist Attractions
Armenia is often described as a museum on the open air. Almost all popular and important attractions are associated with religion such as ancient monasteries, churches, and holy places. In fact, if you spend
three days in Armenia
, then you'll most likely end up seeing many of these stunningly beautiful places. Yet in the great list of Christian churches, there is a single piece of a pagan temple that has not been demolished. Garni temple is built in the classic Greek style and looks like a small copy of famous Parthenon in Athens. The temple to sun god Mithra is a unique architectural masterpiece that presents the high level of development of civilization.
One of the most impressing and mystic places in Armenia is Karahunj, so-called Armenian Stonehenge. The stone monument presents more than a hundred symmetrically placed stones. Most of them have perfectly polished holes at the top. There are many theories about the origin and the purpose of the stone monument. There is a theory that it is an observatory of 5th century BC. There is another theory that proves Karahunj is older than Stonehenge and is part of the group of similar monuments spread across the world.
Among the most important Christian monasteries to be visited is Mother See of
Holy Etchmiadzin
, the first church built right after the adoption of Christianity. In the museum of Etchmiadzin are kept priceless relicts like the piece of Noah's Ark and the spear that pierced Christ.
Every single Armenian Church and monastery is unique in its own way. One of such unique architectural masterpiece is IX century Tatev monastery built on the edge of the deepest Vorotan gorge.
These are only the smallest part of the things you will see in Armenia. Cultural tours will be spiced up with amazing views of mountain ranges and highest peaks, rocky gorges, waterfalls and lakes.
Popular Foods
National cuisine of Armenia is as old as the nation. Everything starts with the bread. Traditional Armenian bread is lavash, oval-shaped pita bread that is made in tandyr. In 2014, lavash was included in the list of UNESCO Intangible Cultural Heritage. The process of baking is a ritual. Women gather around tandyr, sing songs and treat everyone with hot lavash with greens and Armenian cheese.
The next attribute of traditional Armenian table is tolma, the most popular national dish. It is made of minced meat with spices and grape leaves. Next to tolma you may see a large plate of barbecue assortment, lamb, pork, veal, and fish khorovats. The distinguishing feature of national cuisine is meat; almost all dishes are made of veal and lamb. They are super tasty and fatty. Armenia is a mountainous land with cold winters. People cooked fatty meat dishes that could satisfy and warm on a cold day.
Armenia can be proud of not only tasty cuisine but also the sweetest fruits. Hot sun and fertile land give juicy fruits and the queen of the fruits is Armenian apricot. With June starts the sweet parade of seasonal fruits and finishes in October, with the grape harvest.
As a conclusion, let us say that today's Armenia presents a deep contrast between modern technologies and the traditions of thousands of years. This amazing contrast is the key that makes the country so attractive.