Bangladesh On a Budget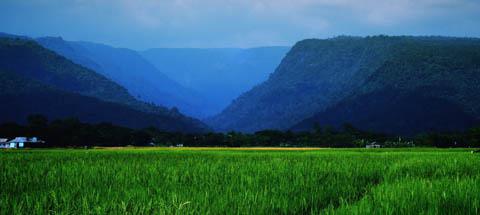 Located in South Asia, Bangladesh borders the Bay of Bengal, India, and Myanmar. Bangladesh is not the most popular travel destination, but those who venture here are rewarded by a beautiful culture and welcoming people. Although Bangladesh is a poor country, the people welcome foreigners into their homes with genuine hospitality and selflessness. The major industries in the country include ready-made garments, textiles, pharmaceuticals, agriculture, ship building and fishing. The culture dates back thousands of years and the country has much to offer visitors. It has the world's longest beach, man mosques, a large mangrove forest, and many tribal villages. There is also interesting wildlife for those with the patience to seek it out.
Bangladesh has a subtropical monsoon climate with six seasons. These seasons include winter between December and January, spring from February to March, summer during April and May, monsoon through June and July, autumn in August and September, and late autumn in October and November. Although strong cyclones are rare, when they due hit the country they are devastating to the people, infrastructure, and power grid.
Bangladesh sits on the deltas of several large rivers that flow from the Himalayas. This creates a low lying plain that is prone to flooding. The Ganges meets the Jamuna and later joins the Meghna, all of which eventually empty into the Bay of Bengal. The highest point in the country is Bijoy at 1,231 meters above sea level. The rivers ensure that the soil is fertile, so agriculture is a major industry in the country.
At A Glance
Flights in Bangladesh are generally affordable, particularly if you book well in advance. This is the most comfortable and convenient way to travel around the country, and because of the size of the country, most flights are less than one hour. Air routes operate via Dhaka and there are several airlines that fly domestically. Online booking is only available for some airlines.


Buses can be crowded and uncomfortable, but they are a fascinating way to explore the country. It is best to avoid the low cost buses, which are identifiable because they are in such poor condition. These buses are more prone to accidents and breakdowns. Alternatively, there a air conditioned, modern bus services that connect most major cities. Companies include Green Line, Shyamoli, SilkLine, and Shohagh. Accidents are still common, but your comfort level will be much improved.


The only train operator in Bangladesh is the state run Bangladesh Railways. Prices are good and comparable to bus prices, but the trips are usually slower. Trains are usually more comfortable than buses but 1st class seats or at least sulob class (2nd class) are recommended.


Bengali is the national language of Bangladesh. Many Bangladeshi speak limited English at best. Particularly in rural areas, it is beneficial to know at least some Bengali. If you're leaving the cities, having a guide who speaks both Bengali and English would be useful. Most tour packages include this service but confirm this before you make the booking.


Shopping in Bangladesh requires a significant amount of negotiation, even in places where prices are marked as "fixed". There are many places to pick up local handicrafts or souvenirs. Aarong is one of the largest outlets in Dhaka, Chittagong, Sylhet and Khulna. Bangladesh is also one of the biggest ready-made garment manufacturers in the world. They export clothing for many brands including Nike, Adidas and Levis. While most of these goods are exported, some can be found in shopping areas like Banga Bazaar and Dhaka College.
Related:
Looking for a
hostel in Delhi
or
Goa
? Heading to
Kathmandu
or want a
party in Tel Aviv
?
Top Tourist Attractions
The Sundarbans:
This UNESCO World Heritage Site is the largest littoral mangrove belt in the world. It covers 80 kilometers and goes through both Bangladesh and India. The area also has some of the last remaining sections of jungle that once covered the Gangetic plain. Today it is a wildlife sanctuary.
Cox's Bazar:
This town sits along the longest stretch of sea beach in the world. Covering 120 kilometers of coastline, the gold sand makes this the most popular beach town in Bangladesh. There are high end hotels and many restaurants that are crowded during the peak season between October and March.
St Martin's Island:
This is the only coral island in Bangladesh. It's a quintessential tropical island that is lined with coconut palms and a mellow atmosphere. It's a clean and relaxed place to visit and is located in the Chittagong Division about 10 kilometers southwest of the southern tip of the mainland.
Popular Foods
Bangladesh cuisine is quite flavorful and often heavily spiced. Rice is a staple throughout the country and mutton is a common meat. Fish, vegetables, lentils, and chicken are also common ingredients. Preparation techniques can vary by region, but the dishes are usually quite good and somewhat comparable to those found in India.
Hilsa:
This freshwater fish is considered the "national fish" of Bangladesh. It's many fine bones make it difficult to eat, but the flavor is good if you can get around with bones. It's found throughout the country and there are regional preparation techniques so it's worth trying in different parts of the country.
Korma:
Korma is usually made with some form of meat that is cooked in a mild, yogurt based sauce. It is prepared with ghee instead of oil and is often flavored with poppy seed paste. In the south, coconut milk is often added to the dish.
Bhorta:
This preparation style is usually done with vegetables such as potatoes, beans, mangoes, papaya, pumpkins and sometimes even dal. The vegetable is boiled and then mashed together with red shallots, chili, mustard oil and other spices.