Barbados On a Budget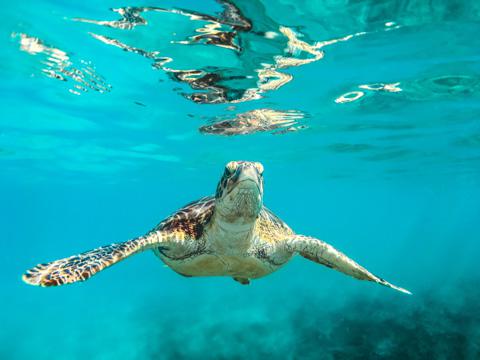 The Caribbean island of Barbados is located northeast of Venezuela. The country remains closely tied to its British roots. Cricket is the national sport and afternoon tea remains popular. Historical homes create much of the character on the island and the unique pink and white sand beaches contrast the dramatic turquoise waters for a stunning effect.
There are eleven parishes in Barbados which can be divided into four distinct regions. Bridgetown is the capital city and together with the surrounding areas of Saint Michael Parish, this first region is the most populous part of the country. Central Eastern Barbados includes the parishes of Saint Andrew, Saint George, Saint John, Saint Joseph and Saint Thomas. This region is along the east coast of the island which is also the rugged Atlantic side. Western Barbados includes the parishes of Saint James, Saint Peter and Saint Lucy. This is along the calm, Caribbean Sea side of the island. Finally, Southern Barbados includes the parishes of Christ Church and Saint Thomas. This region also houses St. Lawrence Gap, a lively area full of bars and restaurants, Oistins, and Grantley Adams International Airport.
Grantley Adams International Airport is the largest international airport on the island. It is located 13 kilometers east of Bridgetown and there are buses and minibuses that travel from a stop across the street from the airport to Bridgetown, Holetown, and Speightstown.
If you're arriving by cruise ship then you will likely dock in the Bridgetown deep water harbour. There are plenty of taxis waiting as you and there are also shuttle buses that travel to and from downtown Bridgetown for a reasonable price.
At A Glance
Vehicles drive on the left hand side of the road in Barbados. Taxis are abundant and are generally reasonably priced. You must negotiate the price before you get in the vehicle though as they do not use meters. If you're not sure how far away your destination is, ask an employee at your hotel what the cab rate should be before beginning to negotiate a ride.


There is an extensive bus system in Barbados. It is one of the cheapest ways to travel around and is very easy if you're going along a popular route. The public buses are operated by the Barbados Transport Board and are blue in color. Private buses are yellow or white and can have a festive atmosphere. Public buses require exact change while private buses will give you change (and often accept US dollars). If you want to go to more off the beaten path destinations you will likely want to hire a car.


The country's official language is English, but many locals also speak Bajan which is an English based creole language. This dialect uses many West African idioms and expressions. Generally, communication in Barbados is easy and straightforward.


Many people travel to Barbados for its popular watersports. Surfing is popular and one of the best places to go is Soup Bowl, which is on the eastern coast. The south coast also has great surf, with a spot at Silver Sands even being part of the world windsurfing tour.


The local currency is the Bajan dollar, which is locked to the US dollar at a 2:1 ratio. Most restaurants and shops that cater to tourists will accept US dollars. There are many duty free shops that cater to visitors and cruise ship passengers. Jewelry stores are common and Cave Shepherd department store has a wide variety of goods. Many people choose to buy rum on the island as it is excellent quality.


There are a wide range of accommodation types available in Barbados. Whether you're looking for small guest houses, bed and breakfasts, luxury accommodation, or resort like villas, you will have plenty to choose from.
Related
Looking for a
party hostel in Costa Rica
or
Cancun
? Looking for a
budget hostel in Mexico
or
Costa Rica
?
You can also learn about
all-inclusive resorts in Barbados here
.
Top Tourist Attractions
Andromeda Botanical Gardens:
These gardens are both peaceful and beautiful. They are found in Bathsheba on the eastern coast in the parish of St. Joseph. The pathways wander by orchids, palms and bougainvillea and let you see peaceful streams and small ponds.
Kensington Oval:
Cricket is a popular activity throughout Barbados and Kensington Oval is the place to go see a match. Even if there are no matches when you're in town, consider swinging by anyway. It dates back to 1882 and has a gift shop where you can buy Cricket memorabilia and souvenirs.
Barbados Museum:
This museum is found in St. Michael in the Garrison Savannah area. It has information about the history of Barbados, nature, wildlife, archeology, housing, art, military, and Barbados' African roots.
Popular Foods
The cuisine of Barbados has been influenced by a variety of countries such as England, Portugal, Spain and West Africa. The food is typically made from local food options such as rice, fish and guava. Today, many restaurants offer local specialties at reasonable prices.
Coucou & Flying Fish:
This dish is a favorite in Barbados. It's made with corn meal, okra and flying fish. It is topped with a sauce that is made from tomato, onions, chives, thyme, fresh pepper, garlic and more. The fish is prepared by either steaming, frying or grilling it.
Pepperpot:
This traditional dish actually originated in Guyana but has become popular in Barbados. It is a stewed meat dish that is made with spices and hot peppers. A variety of meats can be used but pork, beef or mutton are the most popular. The stew is generally served with bread and butter. (
Pepperpot Recipe here
)
Cutters:
This local sandwich dish is made from salt bread and is filled with a variety of savory fillings. These include flying fish, ham, and cheese options.