What sets them apart?
This brand new hostel has a terrific location and plenty of luxurious perks. Within a short distance of the beach and the Gothic Quarter, you're close to everything here. And with some amazing lounge areas including a nice terrace and a music creation studio, there's plenty of space to relax.
Hostel Personality
Who's staying here?
Younger backpackers make up the majority of guests in this hostel. Since dorm bunks are in all of the rooms, including the private rooms, this hostel is designed for budget travelers looking for luxurious and comfortable amenities.
Insider Tip
As this is a new hostel, you might need to take the initiative yourself to meet up with other guests. But there's plenty of great places to do so, and the staff is hosting more and more events for the guests.
Unite Hostel Barcelona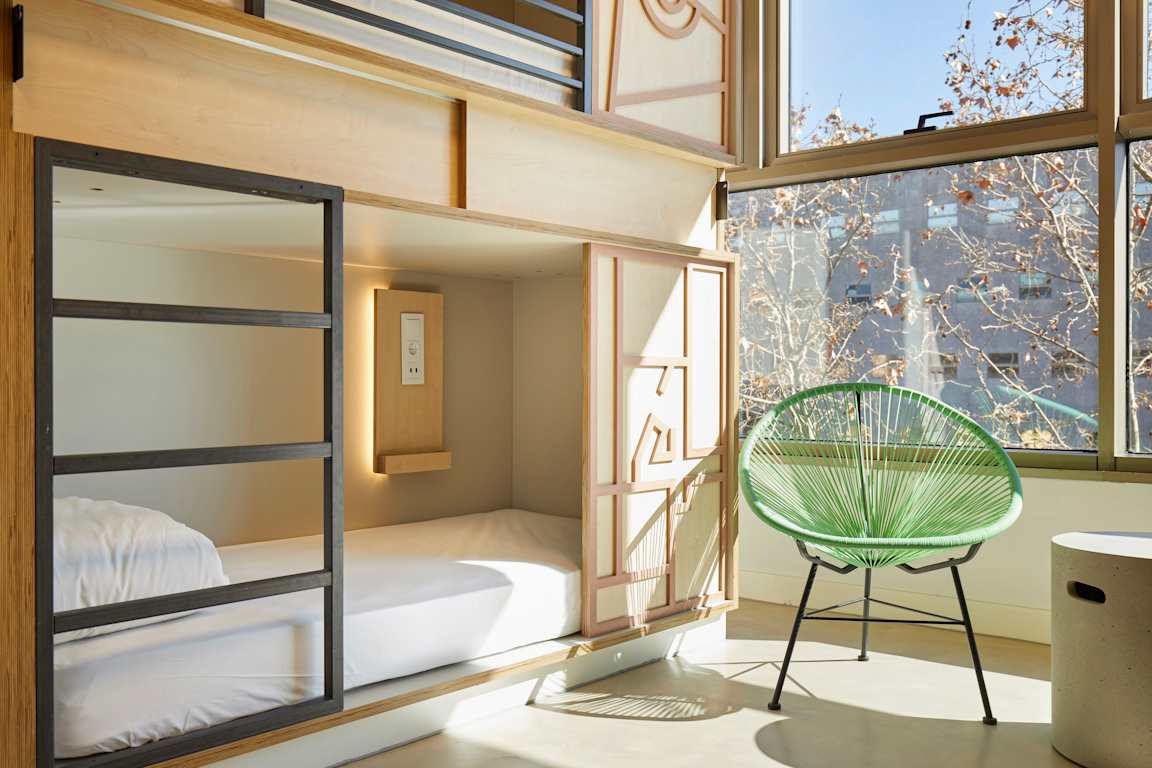 This brand new hostel has lots of space, modern bunks, amazing common spaces, and a fantastic location. With a modern lounge area, a music creation space, a coworking space, and a nice kitchen, there's plenty of room for everyone to relax and have fun. The dorms are also very modern with some very fancy bunks.
The beach is close by, and so is the metro station which can whisk you into the Gothic Quarter or anywhere else in central Barcelona within a few minutes.
The Facilities
Dorms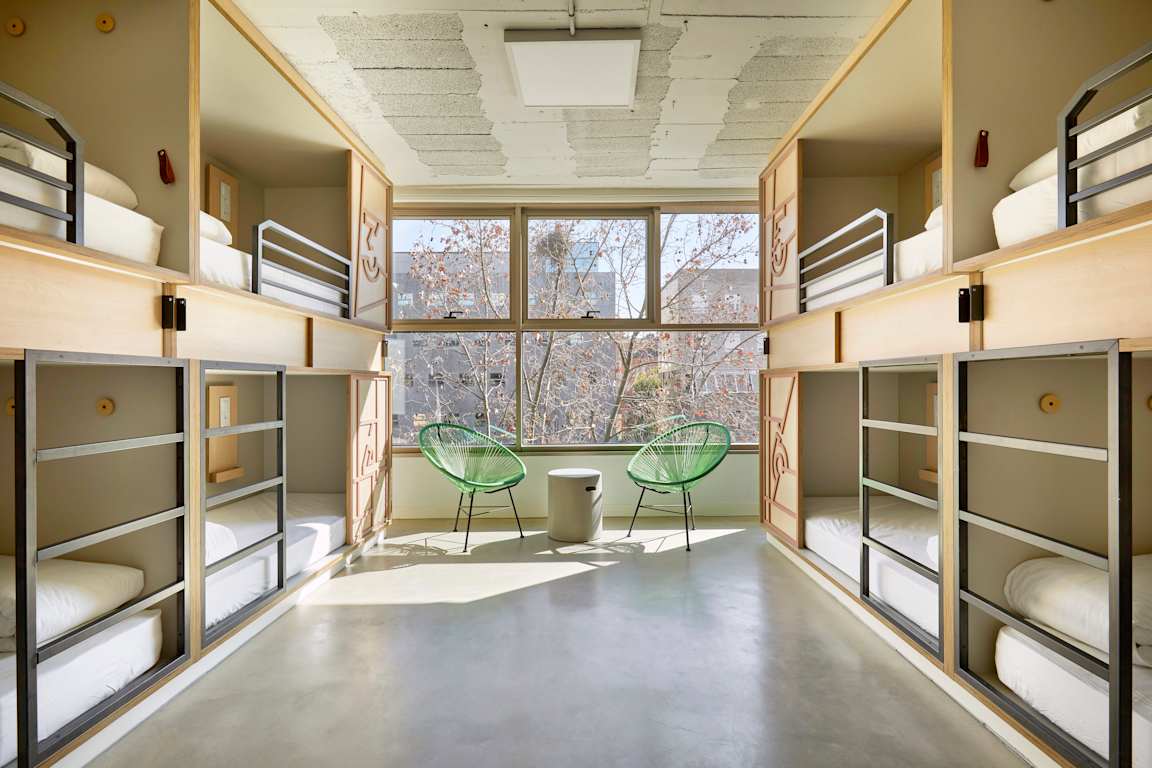 The dorms have to be seen to be believed. The bunks are modern, custom-built, and very elegant - if you can believe that a bunk bed can be elegant, that is. They have nice built-in sliding-door shelves for storage, lights, plugs (with USB plugs, too), and hooks for clothes and towels. Linens are included.
The dorm rooms themselves have a decent amount of space, large windows with plenty of light, and comfortable seating. They also have ensuite bathrooms which are very modern. The entire hostel has central air conditioning.
The rooms are all 8-bed bunk rooms. Female-only rooms are available. And since this hostel is quite large, you'll always have other guests to mingle with.
Private Rooms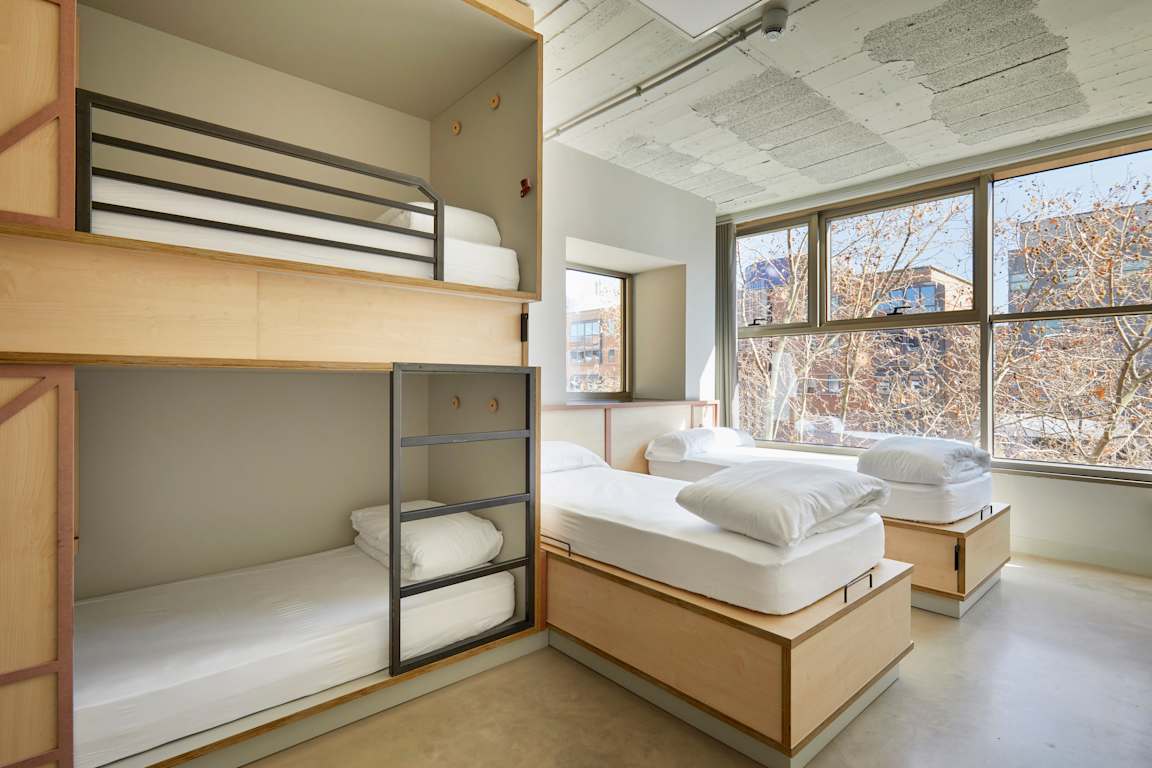 Private rooms at the Unite Hostel are essentially the same as the dorms. Four and 8-bed rooms are available. The 8-bed rooms are just regular dorm rooms (see description above) which you can rent out for your own private group of friends.
The four bed-rooms have 2 bunks and two regular twin beds.
All private rooms have ensuite bathrooms, linens, large windows, and some other extra furnishings such as seats and small tables.
Bathrooms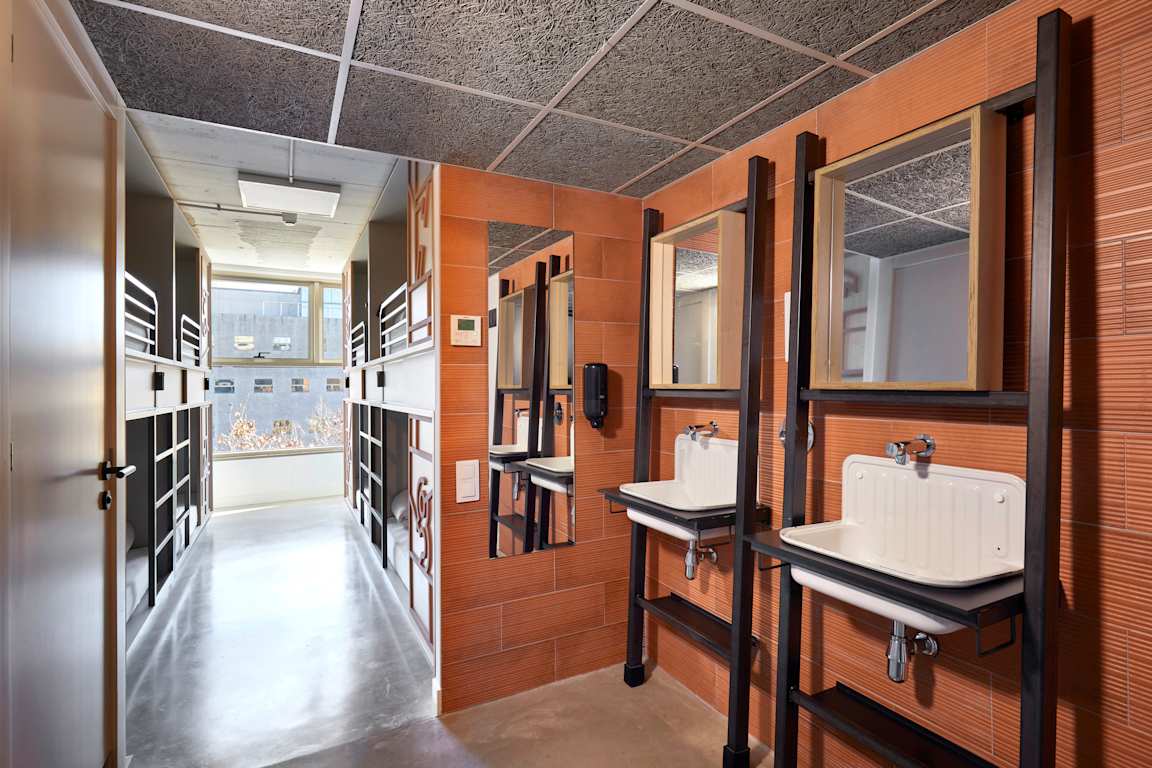 As this is a new hostel in a modern building, everything here is modern, nice, and comfortable. You don't have to worry about any old plumbing or broken pipes here. The decor of the bathrooms is also nice with a modern industrial feel. All of the bathrooms are attached to the dorm rooms, so you don't have to go down the hall. They even throw in some little bottles of shampoo and conditioner.
Bar
Just off of the lobby on the ground floor is a restaurant and bar. This makes for a nice spot to grab a drink or a meal with your friends from the hostel.
Common Areas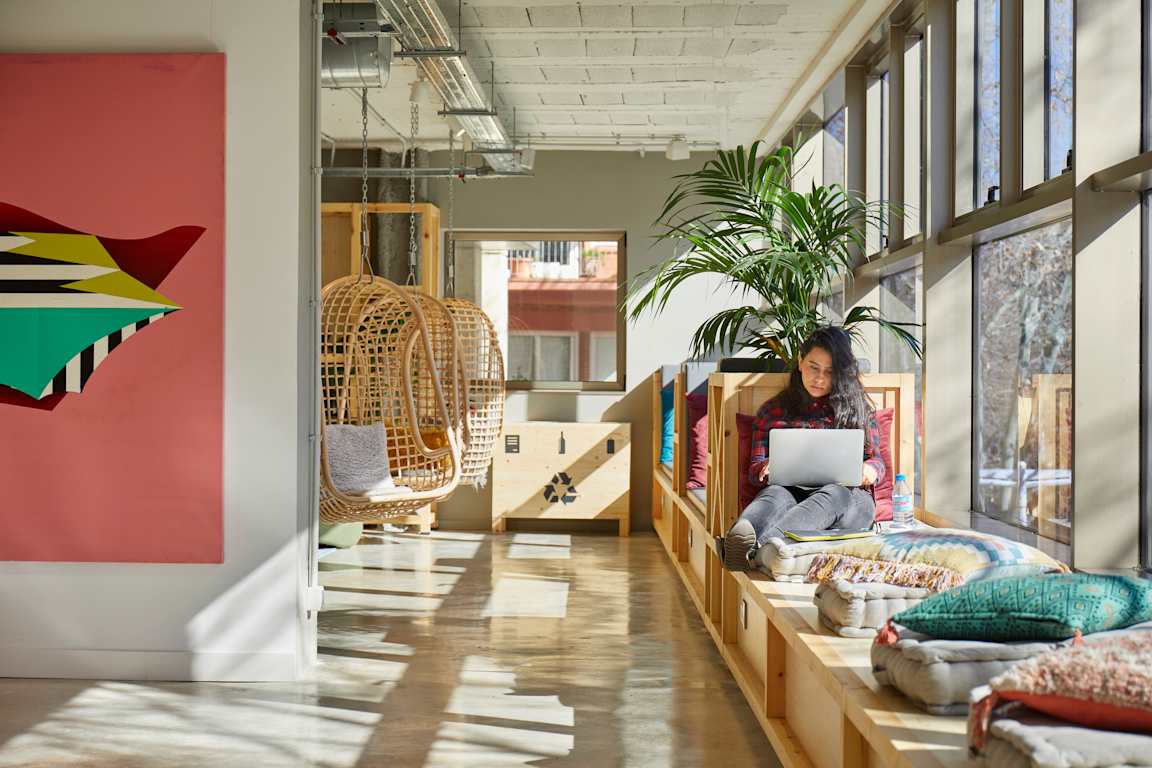 The common rooms here are fantastic and numerous. The main
lounge area
has plenty of comfortable seats, a piano, large window seats with basket chairs, lounge seating by the windows, and more. The adjacent open space doubles as a
yoga studio
for the frequent yoga classes and can also be used for more impromptu parties. The nearby
coworking room
has tables and chairs for those that want to get some work done in a setting with a more professional atmosphere. This is also a good area to host a meeting.
The large
kitchen and dining room
is fully stocked with stoves, pots and pans, microwaves, and refrigerators. The morning breakfast is served here, and they have plenty of seating for everyone. Throughout the day, this is a nice spot to cook your own meals or meet up with friends to plan your day or night out in Barcelona.
But perhaps the most amazing part of this hostel is the
electronic music creation room
(Room 9, as they call it). It is here that guests can try their hand at becoming a DJ or listen in on others, have a dance party, or just chill.
Other parts of the hostel are laid out as an
art gallery
for budding artists with partnerships in the community.
Outdoor Space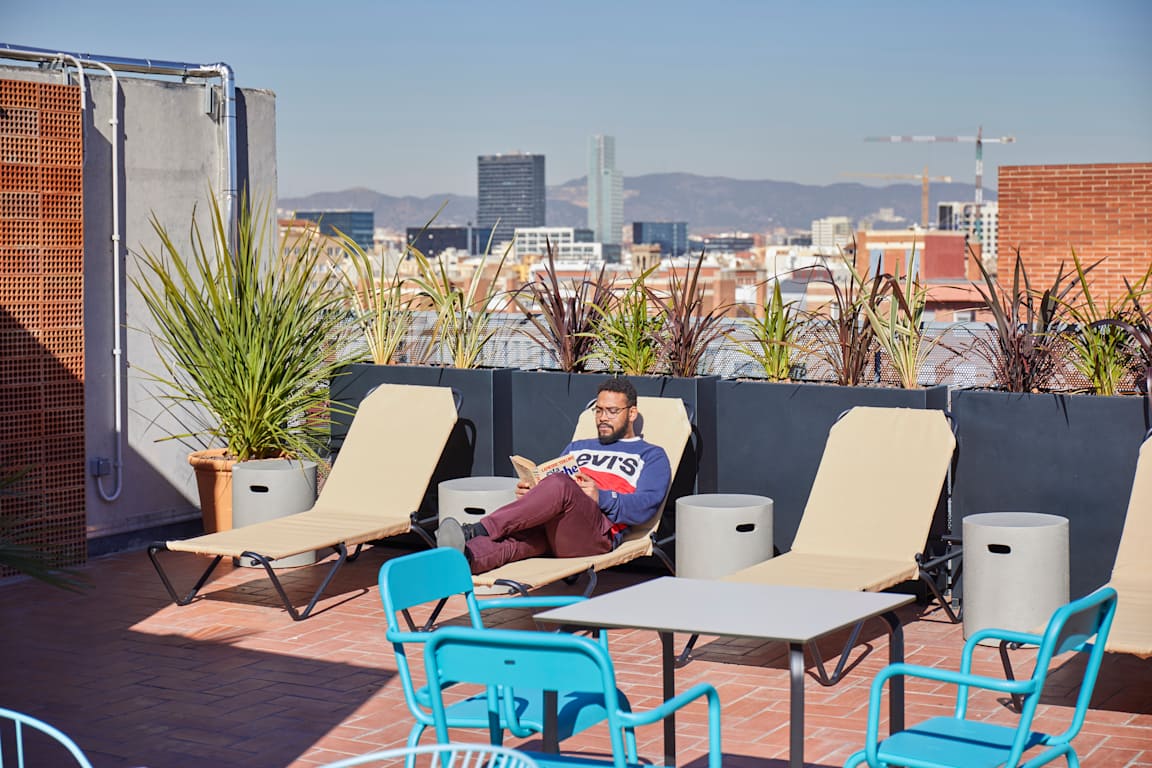 The rooftop terrace and adjoining sun-room is a very nice area to relax, soak up some sun, view the Barcelona skyline, and meet your fellow travelers.
The Location
El Poblenou
The El Poblenou section of Barcelona is near the beach, full of modernist buildings mixed in with new development, and has plenty of restaurants, shops, and bars.
What's Nearby?
The overall location of this hostel is ideal for exploring the city as well as enjoying the beach. Unite Hostel is only 2 blocks from the beach, and 3 blocks from the nearest metro line. The surrounding neighborhood is fairly modern, as this section of Barcelona has been revitalized in recent years. But if you're looking for a more traditional European atmosphere, then fear not, because from here you can actually walk into the Gothic Quarter in about 20 minutes. To get there you can cross through the Parc de Ciutadella (with a zoo). Or, just take the metro.
The surrounding neighborhood is full of bars, restaurants, shops, and a few other fun attractions such as a casino on the beach, the boardwalk, an escape room, the marina (sailboat excursions!), and a few theaters.
Nearby Transportation
The closest metro station, only 3 blocks away, is Ciutadella Villa Olimpica station (Line 4). From here you can zip through central Barcelona. In just a few stops you will go through the Gothic Quarter and up into Eixample crossing by Plaza de Catalunya. Another nearby station, Marina, is on Line 1 and can take you north or south through the city center.
A number of bus routes also pass through the hostel's neighborhood.
Activities
As a newer hostel, the staff is very keen to get the activities going to make sure all of their guests are having fun. Morning
yoga classes
are offered, and a terrific breakfast is offered for a small price. They also organize small concerts and parties at the hostel (usually associated with the previously mentioned music creation room).
Amenities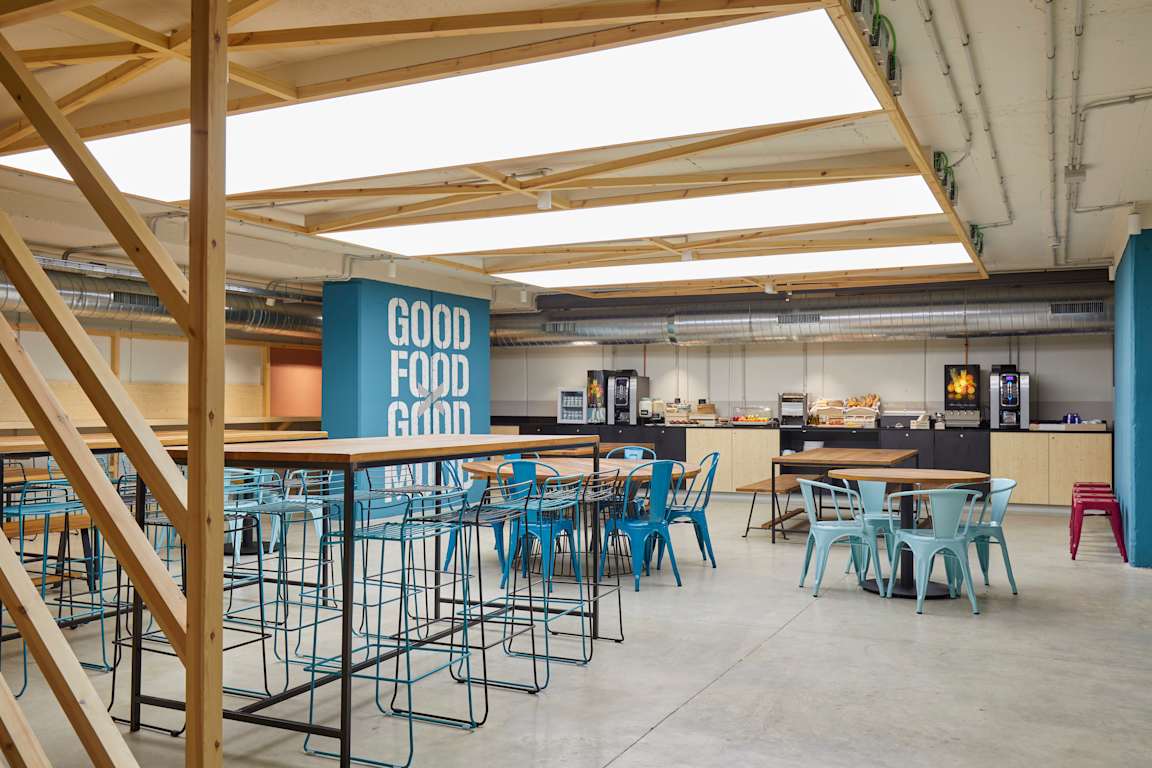 The list of perks in this hostel is long! Other than the terrific rooms and amazing common areas, they offer breakfast for a small fee and a fully stocked community kitchen. Luggage storage is available for a fee, too. They have free Wi-Fi, hair dryers, shampoo, bike rentals, 24/7 check in, and more. The hostel is also wheelchair accessible.
Staff
The staff are friendly and helpful, and doing everything they can to make sure that this amazing new hostel becomes one of the best in Barcelona. They can help with any need that arises.
Heads Up
As a large hostel, it may be hard for some travelers to get to know others, as it tends to lack a small community feel. The hostel also has a policy about not allowing alcohol (this is the law in Barcelona), but there is a bar on the ground floor if you want to have some drinks. And plenty of other bars are nearby, too.
Unite Hostel Barcelona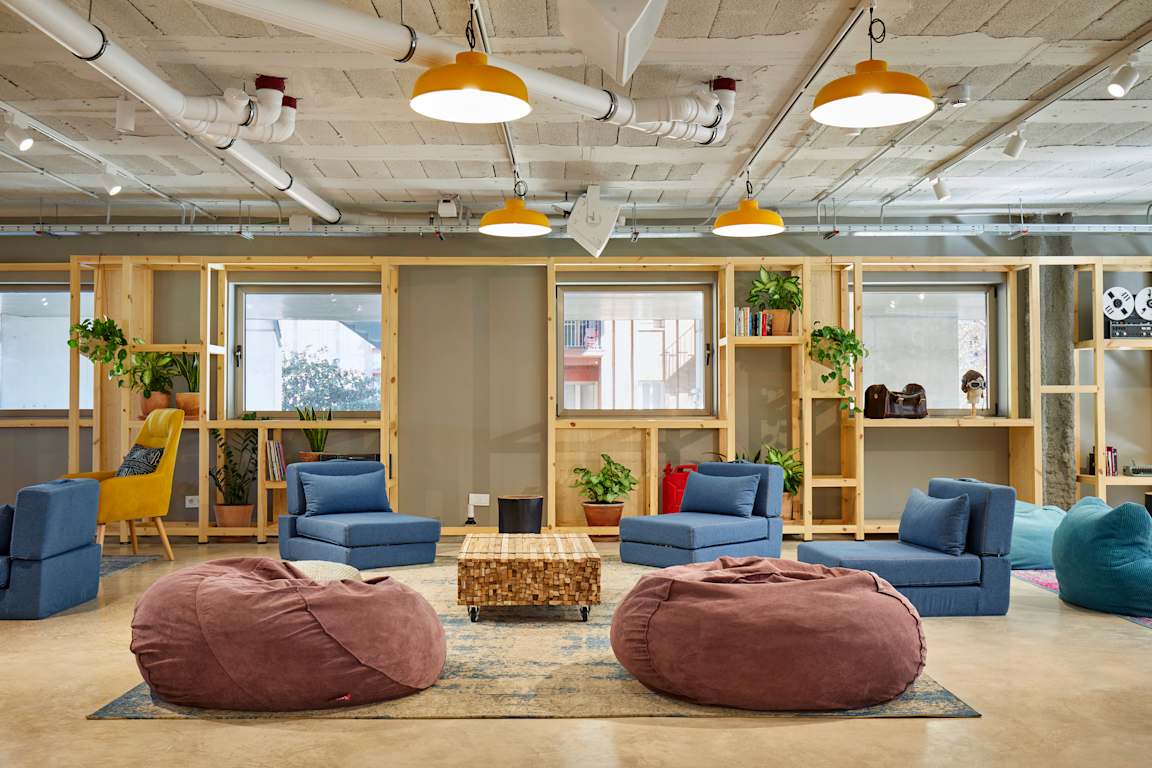 Do you have a favorite hostel that you would like to review? Let us know!