Belarus On a Budget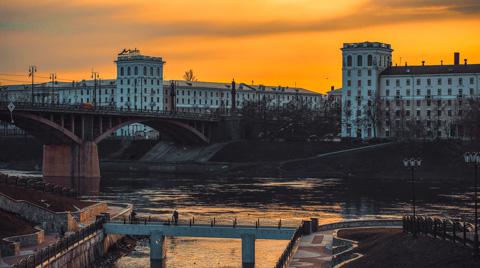 Belarus is a landlocked country of Eastern Europe, sharing borders with Russia, Ukraine, Poland, Lithuania, and Latvia. It is best known for its Stalinist architecture, many historic churches, grand fortifications, monuments, and wild forests.
Top Tourist Attractions
Minsk is the capital city of Belarus, centrally located. Situated on the Svislač and Niamiha rivers, it was the capital of the former Byelorussian Soviet Socialist Republic from 1919-1991. It is a modern city dominated by monumental Stalinist architecture with many of its museums, theaters, and other cultural attractions lining Independence Avenue (Praspyekt Nyezalyezhnastsi). Minsk is also one of six regions that make up Belarus. The other five include:
Brest - Located in the western part of Belarus, the region is home to the city of Brest which has a fortress memorial for World War II, several 19th-century churches, and a railway museum. Other towns and cities include Kamianiec, which has a well-preserved 13th-century tower, and Pinsk, which is perhaps Belarus' most remarkable city with churches, monasteries, and secular buildings from 17th to 19th centuries.
Gomel - A region in the south-eastern part of Belarus whose main city is Homieĺ with many historic locations and classicist monuments, Gomel is also home to Pripyacki National Park.
Grodno - Situated in western Belarus, Grodno is home to Hrodna, one of the oldest cities in Belarus with a 12th century church, an old castle, and numerous remarkable buildings from late 17th to early 20th century. Other important towns include Lida, Mir, and Navahrudak.
Mogilev - Located in the eastern part of Belarus, the region is home to the cities of Mahilioŭ and Babrujsk, both of which have many Soviet-time buildings.
Vitebsk - Vitebsk is a region in the north-eastern part of Belarus, whose main city is Viciebsk, a picturesque city that combines Polish heritage with Imperial Russian and Soviet architecture.
At A Glance
Most visitors entering Belarus are looking to see the sights of Minsk, Grodno, or Brest. A few attractions of Minsk include the Belarusian Great Patriotic War Museum which commemorates World War II, the iconic Gorky Park sports and recreation facility with an ice rink and open-air theater, Minsk Botanical Garden, Minsk Zoo, and the Belarusian National Arts Museum.
Grodno is known for the 11th-century Old Grodno Castle which was once the seat of a dynasty of Black Ruthenian rulers, descended from a younger son of Yaroslav the Wise of Kiev. Also unique to Grodno is Bialowieża Forest, one of the last and largest remaining parts of the immense primeval forest that once stretched across the European Plain. It is a nature reserve, park, and home to the European bison.
The best of Brest is probably Brest Fortress. A celebrated site of Soviet resistance during World War II, the fortress showcases a museum, bullet-riddled Kholmsk Gate, and several war monuments. Other Brest attractions include the open-air Railway Museum, which displays historic locomotives, and the Berestye Archaeological Museum, which preserves a 13th-century Slavic village.
There are also a number of well-preserved medieval castles in Belarus. One of these is Mir Castle (located in the Grodno region), which dates from the 16th century and was built in the Belarusian Gothic style, with later facade additions in the Renaissance style. Nesvizh Castle (in the Minsk region) is another impressive example of castle architecture, originally a Polish residence. Both Mir and Nesvizh Castles are UNESCO World Heritage Sites.
Popular Foods
The staple meals for Belarus largely consist of meat and potatoes. Potato is especially central to Belarusian cuisine and is served in many shapes and forms-incorporated into salads, served as a side, shaped into patties, baked into puddings, and much more. The most popular among the Belarusians is traditional draniki (also known as "latkes"), which are thick pancakes prepared from shredded potatoes usually served with sour cream. As far as meat goes, beef and pork are the most popular, typically served with vegetables like carrot, cabbage, black radish, or peas, and of course, potato. Salted pork fat is also common. Beyond meat and potatoes, Belarusians do eat some fish, preferring dishes like yushka (fish-based soup), galki (fish-balls in broth), and also baked or boiled river-fish. Onions, garlic, parsley, dill, caraway seeds, and pepper are the main seasonings and are used moderately in cooking. Mushrooms (dried, salted, or pickled) are also well-used, as are berries like bilberry, wild strawberries, red whortlberry, raspberries, and cranberries.
Transportation
As of February 12, 2017, citizens of 80 countries and territories (including European Union member states, the United States, and others) are allowed to visit Belarus visa-free for up to 5 days, applicable to visitors entering and leaving through the border checkpoint at Minsk National Airport, the main way of entry.