Bermuda On a Budget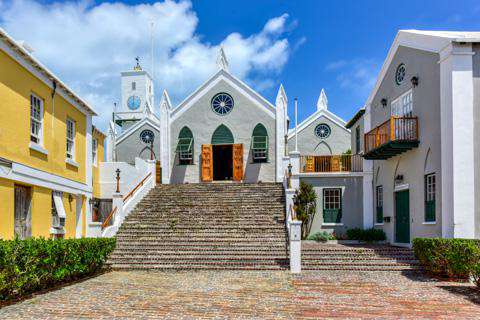 Located in the Atlantic Ocean, off the coast of North Carolina and north of the Caribbean, Bermuda is a self-governing British overseas territory. It is divided into nine parishes. St. George's Parish is where you will find the historic Town of St. George and the Island of St. David's. The Crystal Caves and the Bermuda Aquarium are located in Hamilton Parish and Smith's Parish has Flatts Village, Spittle Pond Nature Preserve, and Devil's Hole Aquarium. Paget Parish has many resorts as well as Elbow Beach, and Bermuda Botanical Gardens. If you're interested in golf head to Warwick Parish and the best beaches are found in Southampton Parish. Other parishes include Devonshire, Pembroke, and Sandys Parishes.
The City of Hamilton, located in Pembroke Parish, is the capital, while St. George is the historical capital and the oldest surviving English New World town.
Bermuda is made up of about 138 islands and islets along an east-west axis. The major islands are connected by bridges. You'll find most of the best beaches in the southern part of the territory and most of the islands are made up of low hills and complex waterways.
Bermuda has a subtropical climate with hot and humid springs, summers, and falls, but cool winters. Water temperatures are also quite cool during the winter months. Similar to the southeastern coast of the United States, the Gulf Stream does keep water temperatures warmer than you might expect.
At A Glance
There is an excellent bus service which travels throughout Bermuda. This bus service connects most parts of the islands to the city of Hamilton. Buses are comfortable with air conditioning, and are popular with locals and tourists alike. Bus stops are marked by pink and blue painted poles. Pink is used for buses heading into Hamilton and blue for those heading away. Alternatively, there are passenger ferries which travel around Hamilton Harbour and the Great Sound.


Motorized bicycles and mopeds are a popular and fun way to explore Bermuda. It's easy to find a place to rent a moped and the prices are fair. Travel is on the left side of the road which can be a little tricky for U.S. visitors.


A fun way to experience Bermuda is by walking along the former Bermuda Railway. It was dismantled in 1948 but many sections still exist in the form of a walking trail that connects St. George Town in the east through Pembroke Parish near the City of Hamilton and on toward Somerset Village in the west. There are incredible views along the path and it is an experience worth having.


If you're interested in shopping, it's best to head to Front Street in Hamilton. It's easy to walk around this area, but several of the larger department stores have recently closed. Other shopping areas are found in St. George as well as Dockyard, which has a small shopping mall.


During a Thursday and Friday in August the entire territory shuts down for cricket. This tradition dates back to the early 1900s. Businesses close (including tourist attractions) and many locals set up tents to enjoy the activities. The event lasts through the weekend and it's a great experience if you happen to be in town for the festivities.


Many people visit Bermuda as part of a cruise. This is particularly common during the summer months, with cruises departing from Baltimore, Boston, Bayonne, New York, Charleston, Norfolk, Miami, and Philadelphia. Popular stops for cruise ships include Hamilton, Saint George, and the Royal Naval Dockyard.
Related:
Looking for a
party hostel in Costa Rica
or
Cancun
? Looking for a
budget hostel in Mexico
or
Costa Rica
?
Top Tourist Attractions
Town of St. George:
This town is the former capital of Bermuda. It is considered the oldest, continually inhabited English settlement in the new world and has been declared a scenic UNESCO World Heritage Site. It dates back to 1612 and has quaint, winding streets that are lined with British Colonial architecture. There are many fountains, gardens, and squares, making it a wonderful place to explore.
Bermuda Maritime Museum:
This museum warrants a half a day visit to explore the Royal Naval Dockyard. There are old, limestone storage buildings that have been redeveloped into a tourist attraction and shopping area by the Bermuda Government.
Bermuda Aquarium, Museum, and Zoo:
This aquarium offers visitors a 140,000 gallon replica coral reef and is one of the area's most popular attractions. There are more than 300 birds, reptiles and mammals as well as 200 species of fish.
Popular Foods
Food in Bermuda takes advantage of the accessible seafood. Dishes are often simple and include boiled rice or black-eyed peas. Chowder is a favorite among locals and tourists. There are also a handful of British pubs around if you want to experience the British influence. Restaurants near the cruise ship docks tend to be the most expensive so if you're looking to save a little money, head further away.
Fish Chowder:
This Bermuda favorite is a chowder that is seasoned with a sherry pepper sauce and dark rum. It can be found throughout the territory.
Shark Hash:
A unique Bermuda favorite, Shark Hash is made with minced shark meat and spices and is usually served on bread.
Codfish Brunch:
This is a traditional Bermudian breakfast. Codfish is boiled with potatoes and Bermuda onions and served with sliced Bermudian bananas. If you stay at a bed and breakfast, you'll likely get to sample this breakfast. Most restaurants also serve a variation of it.