Bhutan On a Budget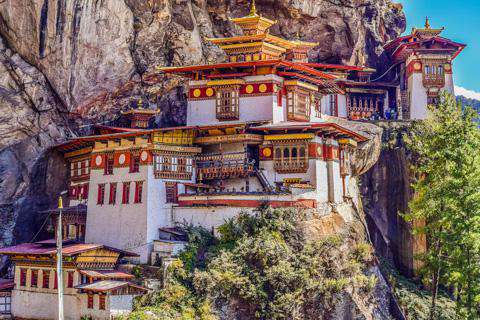 Bhutan is no ordinary place. It is the last great Himalayan kingdom, shrouded in mystery and magic, where a traditional Buddhist culture carefully embraces global developments. Bhutan, a Buddhist kingdom on the Himalayas' eastern edge, is known for its monasteries,
dzongs
(fortresses), and dramatic landscapes that range from subtropical plains to steep mountains and valleys. Bhutan offers amazing Himalayan landscape, where snow-capped peaks rise above shadowy gorges cloaked in primeval forests. Taking up prime positions in this picture-book landscape are the majestic fortress-like dzongs and monasteries. This unique architecture sets the stage for spectacular tsechus (dance festivals) attended by an almost medieval-looking audience. There's so much to see and do here, it's sure to be a trip you'll never forget.
Top Tourist Attractions
There are numerous sights and attractions to be seen in Bhutan, whether your interests are natural beauty, historic sights, or cultural wonders. Hundreds of monasteries dot the landscape in some of the most pristine and remote areas. Dzongs also dot the countryside and were built without the use of cement, nails or plans. The dzongs are ancient fortresses that now serve as the civil and monastic administration headquarters of each district. Apart from the architecture, which in itself makes a dzong worth visiting, they also hold many art treasures.
In addition to the amazing sights below, new visitors should check out
this great guide to Bhutan here
that covers a variety of travel topics.
Chendebji Chorten: This religious building was supposedly constructed to calm the evil spirit of a giant serpent.
Taktsang Monastery
(Tiger's Nest), Paro: This temple, built beside a 1,200 meter cliff in 1692 is one of the most significant Buddhist sites in the world and one of the most visited sites in Bhutan. Guru Rinpoche visited here during his second visit to Bhutan in the 8th century. Legend says he arrived on the back of a winged tigress, giving the site its name of Tigers Nest.
Kurje Lhakhang, Jakar: This temple was built around a cave and it has a body print of Guru Rinpoche embedded in its wall.
Tashichho Dzong: This Buddhist monastery and fortress is located on the northern edge of the city of Thimpu. Thimpu is located on the western bank of the Wang Chu.
Regions
Western Bhutan
The western area includes Thimphu, Paro, Haa, Wangdue Phodrang, Punakha and Gasa. In the western part of the country, you can attend the summer festival of Haa and delve into the wonders of the ancient living culture of the Haaps (People from Haa). You can also visit temples, dzongs and museums or attend a textile festival that brings to life the rich culture of Bhutanese weaving. Western Bhutan is home to some of the country's finest museums, and you'll not want to miss the opportunity to learn about our storied history and traditional culture. Paro museum (Tadzong), displays hundreds of artifacts revealing the history and culture of Bhutan, In Thimphu, let the Folk Heritage museum enthuse you with an in-depth look into a typical farmers' livelihood.
Central Bhutan
Central Bhutan is where you'll find a variety of historical and religious sites. You'll find many ancient temples and monasteries in the Bumthang district and the Trongsa district has much political significance. Popular landmarks in this region include Kurje Lhakhang, a temple dating back to 1652, Tamshing Lhakhang, dating back to 1501, and the sacred lake of Mebar Tsho.
You'll find much great natural beauty in the central part of Bhutan. There are many alpine and sub-tropical forests and the Thrumshingla National Park is known for its rare bird species.
Eastern Bhutan
Eastern Bhutan is a less visited part of the country, so it offers a truly authentic experience. If you're looking for adventure then this entire region has no shortage of natural beauty, beautiful cliffs, and untouched forests. You'll find a wide range of altitudes and climates, making for an unpredictable and varied experience. This region is also where you'll find some of the country's most ancient spiritual traditions including Animistic and Bon religious rituals. If you want to enjoy a longer trek or unmatched adventure, then this is the region to visit.
Activities
Trekking: Many people visit Bhutan for the impressive treks. Many are quite challenging but well worth the effort. As you get to the higher regions you'll find fewer places to stay or restaurants where you can eat, so make sure you travel with the proper equipment.
Festivals:
Tshechu
, held during the late summer and fall seasons, is the largest religious festival in Bhutan, but Thimphu Tshechu is the most famous festival, gather a crowd of nearly 30,000 people. The ceremonies are known for the dances of the masked monks.
In addition to the older festivals in Bhutan, there are also many newer festivals in the region like the annual Nomad's Festival and the Matsutake Mushroom Festival in Ura, Bumthang. The Haa festival illustrates many Shamanic rituals and a variety of folk dances. The rare Himalayan flowers are a unique sight as well. A trek to Nob Tsonapatra offers a unique perspective on the legends of the area. In Thimphu you can witness the newly introduced Takin Festival, MICE & GNH conferences, meditation and wellness facilities.
Archery: This is the national sport of Bhutan. You'll find many archery competitions all over the country each weekend.
Hot Stone Bath: this is a unique experience in Bhutan where riverside rocks are heated and then put into a wooden tub with Artemisia leaves. The rocks heat the water and fill it with minerals.
Read more:
A guide to backpacking solo in Bhutan
Popular Foods
Bhutanese food has one predominant flavor: chili. This small red condiment is not only added to every dish but is also often eaten raw since chilies are considered a vegetable. So, if you don't like spicy-hot food, make this abundantly clear before ordering a meal. Otherwise, you'll be spending the next hour dousing your mouth with cold yogurt or milk. Rice is a staple with every meal. Vegetable or meat dishes cooked with chili and/or cheese comprise the accompanying cuisine. Hot-pot and Western European food is also now available in some restaurants in Thimphu where French fries, pork or beef ribs, and pizza are served.
Transportation
Paro International Airport is the only entry point to Bhutan by air. It is located in the south west of the country and served by the country's flag carrier Druk Air and by the private airlines Bhutan Airlines. There are three land border crossings located along southern border to India only. Phuntsholing in the west, Gelephu in the central region and Samdrup Jongkhar in the east. No border crossings are open along the Chinese northern border. Road permits are also required; however, these are processed by your local tour operator, along with your visa. Buses into Bhutan are available from Kolkata, Siliguri, and Phuentsholing. The Tourism Council of Bhutan operates the daily tariff for all tourists entering the country. It is not possible to enter Bhutan as a tourist without paying this tariff except if you are from India, Maldives, or Bangladesh. For these three countries all the visitor requires is to produce their identity card of their country. The only other options for visiting the country are to receive an invitation by a Bhutanese citizen, where proof of the relationship must be presented on applying or through a NGO. Your local tour operator will provide a vehicle and driver for the duration of your stay. This cost is included in the daily tariff. However, traveling by local or inter-district bus or taxi can also be organized. As the public transport running between towns in Bhutan is infrequent, hitching is a very common way to get around. The thumb in the air symbol, however, is not recognized, and you will need to flag down a passing vehicle in order to get one to stop.