Botswana On a Budget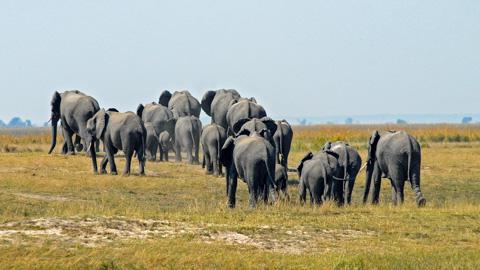 The land locked country of Botswana is located in Southern Africa. It's bordered by Namibia, South Africa, Zimbabwe and Zambia. The economy is one of the strongest in Africa and is centered around tourism and diamond mining. Botswana is an expensive destination and is therefore less popular than some of the other nearby countries. The country has kept prices high in an effort to conserve the area's wildlife, but still benefit financially from tourism. This country appeals to those who want to enjoy a wildlife safari without the tourist crowds that are so common in many other national parks. In particular, the Okavango Delta and Chobe National Park are exclusive and expensive destinations. If you'd like a budget option though, there are some available.
Visitors to Botswana come for the wildlife and the national parks. The most famous parks are Chobe National Park, Moremi National Park found in the Okavango Delta and the Central Kalahari Game Reserve. The country is also home to the San, or bushman, population.
For independent travellers, there is a high level of service and significantly less poverty than the countries found to the north. Botswana offers a great combination of excellent service with an "off the beaten path" atmosphere.
There are three major regions in Botswana. The Kalahari Desert has a very low population and is in the western part of the country. Okavango-Chobe, to the north, is where you find the Okavango Delta, Chobe National Park, and Moremi National Park. The southeastern part of the country has the highest population density as well as the capital city of Gaborone.
At A Glance
Most people fly into Botswana. The main airport, Sir Seretse Khama, is in Gaborone and most flights come through Johannesburg, but it is possible to get direct flights from Cape Town, Harare, and Nairobi. Maun is a popular tourist destinationa and also has a limited number of international flights. Because Maun is more than 1,000 kilometers away from Gaborone, a direct flight may be beneficial.


Most directions in Botswana are given in terms of landmarks. Street names and addresses are not well recognized. Public transportation is inconsistent outside of major cities, but with a combination of coaches and combies, it's possible to get around most of the country. Where public transportation is lacking, hitchhiking is common. Use caution when you hitchhike as this form of transportation can prove dangerous.


Botswana's official languages are English and Tswana. English is used when people are conducting business, and it is very common in urban areas. In rural areas English is usually not spoken. Tswana is the primary indigenous language in the country and is most people's first language. Near the Zimbabwe border, Kalanga is frequently spoken.


Accommodation is generally found in larger towns and cities, but if you're visiting national parks there are some secluded game lodges that are quite nice. In general, most hotels do not fill up in cities, but if you're hoping to stay at a game lodge, reservations are recommended.


Internet cafes are common in most towns and the speed is reasonable, although slower than that found in South Africa. Wireless internet can be found in the more expensive cafes that are geared to the expat population. Game lodges usually don't offer internet access.
Related:
Looking for a
hostel in Marrakesh
,
Cape Town
,
Nairobi
, or
Zanzibar
?
Top Tourist Attractions
Okavango Delta:
This is where the Okavango River widens into the world's largest inland delta. It is also one of the most impressive wildlife spots in southern Africa. It is surrounded by the Kalahari desert so the swamps and water channels attract animals that come from thousands of kilometers away. The delta triples in size during the July and August floods.
Chobe National Park:
This national park is popular for its impressive wildlife viewing. It has a large population of elephants, but there are also many other favorites including zebras and lions. This national park is expensive to visit, meaning the crowds are less and the wildlife viewing is incredible.
Makgadikgadi Pans National Park:
This national park is famous for its bleak salt pans, which attract a large number of birds. Year around, the bird viewing here is incredible.
Popular Foods
The food of Botswana is comparable to that found elsewhere in Southern Africa, although regional variations are common. The people take great pride in their beef, so it is often of very high quality. Other common meats include lamb, mutton and chicken. Common grains include sorghum and maize, with wheat and rice being imported from outside the country.
Seswaa:
Also called Chotlho, this is a popular, traditional meat dish in Botswana. It is generally served for special occasions and is traditionally prepared by men. The meat is mashed up and heavily salted and cooked in a three legged iron pot. It simmers in salt and water until it is soft.
Vetkoek:
This traditional dish is found throughout Southern Africa. It's a fried dough bread that is usually served with minced ground beef or sweetened with syrup, honey or jam.
Bogobe:
This is a form of porridge that is made with either sorghum, maize or millet flour. The flour is mixed with boiling water until it forms a soft paste. It is then cooked slowly and it is sometimes sweetened with milk and sugar. The unsweetened version is often eaten with meat or vegetables.