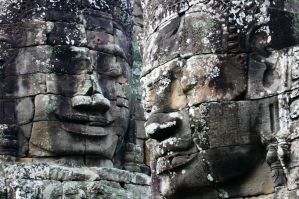 Siem Reap, Phnom Penh, and Sihanoukville are popular destinations on the well beaten Southeast Asian backpacker trail. Their popularity means that there is no shortage of amenities and activities for tourists, and these towns' nightlife will not disappoint.
Although most visitors come to Cambodia to explore the famous Angkor Archaeological Park, the country itself has become its own type of destination. There are a wide variety of bars, restaurants, and cocktail lounges in all of these destinations where visitors can hang out until the late hours of the night after exploring all of the cultural and historical sites. For backpackers and budget travelers, Pub Street, in downtown Siem Reap is the place to go for cheap beers and happy hours. Sok San Road is also a popular destination. It's just across from Pub Street and it's lined with a large number of bars and restaurants.
If you want to take advantage of Cambodia's nightlife and also want a cheap place to stay, you'll find a wide variety of guesthouses, hostels, and budget hotels. Prices are often negotiable, so if you're willing to be flexible, you can sometimes find a great deal. Like elsewhere in Southeast Asia, there are always new places opening and older places closing. It's a good idea to talk to other travelers on the road before you arrive. Often times guidebook recommendations become quickly dated so recent visitors usually offer the best references and recommendations. Also, once a hostel finds itself in a popular guidebook like Lonely Planet, they often raise their prices and let their quality slip.
The hostels below are among the most popular party hostels in Cambodia. If you're in the area to party, then these places are where it's at. They have a strong reputation and fill up quickly, so advanced reservations are recommended.