Cambodia On a Budget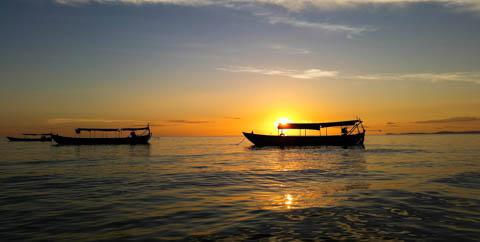 Cambodia is a beautiful country located right between Vietnam and Thailand. It has a tragic history, but has grown in popularity among travelers in the last decade. The most famous sight in Cambodia is Angkor Wat, located just outside of the tourist town of Siem Reap. Many people cross over from Thailand for a few days to visit Angkor and then go directly back to Thailand. While Angkor alone is very much worth the trip, these visitors miss so much of Cambodia. Outside of Angkor Wat, the country is a popular destination for bicycle tours because the landscape is beautiful and relatively flat. Many people arrange these organized biking tours before they leave for their vacation. If you're more interested in solo travel, it is just as easy to bike through the country independently. Other interesting places to visit in Cambodia include the area's beaches which are far less touristy than the nearby Thailand. Probably the most popular beach in Cambodia is at Sihanoukville. Phnom Penh is the country's vibrant capital city with a lot of history, many temples, and a very welcoming population. If you can, try to time your trip so that you can go to a festival, of which the city has many.
Cambodia is a very cheap travel destination, even by Southeast Asian standards. It's not difficult to find comfortable hotels at a reasonable cost. Food is also quite cheap and in the main tourist towns there are many restaurants eager to please the visiting crowds. There are restaurants that offer western food options ranging from pizza to pasta or burgers. If you're on a budget you'll do better to avoid these western options. They're often far more expensive than the Cambodian food and never quite as good. It's possible to book private transportation between cities at a cheap cost, but the public transportation is surprisingly good and very affordable. Part of the experience is taking the local buses and interacting with the locals.
Although Cambodia is no longer an undiscovered country, there are still many undiscovered parts to this country. Allow yourself plenty of time to explore and you will be thrilled to see everything that Cambodia has to offer.
At A Glance
Many people cross into Cambodia from Vietnam on an organized tour. It is often cheaper, and no more difficult to arrange this transportation on your own. Many of the Vietnamese tours will simply drop you off at the Cambodian border and put you on public transportation anyway, so if you feel comfortable coordinating this yourself you will safe yourself some money.
If you're interested in doing some socially responsible shopping then keep an eye out for stores that display the Heritage Friendly Business Logo. These stores are certified by the Heritage Watch program which works to assist the Cambodia's art, culture and development. Stores that display the logo are actively giving back to the community in a positive way, so you can feel good about where you money is being spent.
Negotiating is a fun pass time in Cambodia. You can really negotiate for almost anything including your hotel room, meals out, and souvenirs. The trick is to make it lighthearted and fun. View it as a game and you're less likely to get frustrated with the experience. If the shopkeeper or vendor tells you that prices are set, then they likely are and it's best to respect that. If they're willing to negotiate then keep the tone light and you'll likely get a good deal.
Cambodians generally only accept bills that are in good condition. Often time vendors will try to pass of their torn money on foreigners. It will be very difficult to find a place that will accept such a bill. If someone tries to give you change with a rough looking bill, request another one. This is acceptable practice. If you receive worn out money from an ATM go into the bank immediately and ask that they change it out for you. Otherwise, you are unlikely to find a place that will accept the money.
Many people choose to volunteer with an organization during their time in Cambodia. It is very important to choose a reputable organization to work with. Do plenty of research and ask lots of questions before committing any time or money to an organization. Find out where the money will go and how it will be used. Find out what you will be doing with your time there, and make sure you are not displacing local workers by accepting a volunteer position.
Related:
Looking for a
hostel in Vietnam
or
Cambodia
? Find
party hostels in Vietnam
or
Siem Reap
or find the best place to stay if you're
traveling alone to Ho Chi Minh City
.
Top Tourist Attractions
Angkor Wat:
Angkor Wat is by far the most popular tourist destination in Cambodia. You can easily spend several days in the area exploring the impressive temples. To cover the entire area you must either hire a tuktuk or rent a bicycle, either of which are fun options. Make sure you don't miss the sunrise, which is the most dramatic times to visit the temples.
Sihanoukville:
Sihanoukville is a port city that offers a lovely beach resort. It's a nice alternative to Thailand's more chaotic nearby beaches. Although still very relaxed in nature, there has been recent development efforts in the area that has taken away some of the area's charm.
Tonle Sap:
Tonle Sap is the largest freshwater lake in all of Southeast Asia. The lake is fascinating because the water flow changes direction twice a year. The lake size also changes dramatically over the course of the year depending on the season.
Popular Foods
Cambodian food is heavily influenced by both Vietnamese and Thai flavors. Many of the dishes have curry base and are served with either rice or noodles as a staple. The food is generally not spicy, particularly when compared to its Thai neighbors, but you can often get dishes made with spices upon request.
Amok Trey:
This popular fish dish is made with coconut milk and curry and served with spices. It's often prepared in a coconut shell, giving it a festive flare. It's often prepared during the popular Water Festival.
Bok L'hong:
A traditional Khmer dish, this is a green papaya salad. It's a surprisingly savory salad that has a crunch to it because the papaya is often slightly under ripe with a tangy punch.
Caw:
Caw is a chicken stew dish made with caramelized palm sugar. It's makes a hearty and delicious meal option.