Havana On a Budget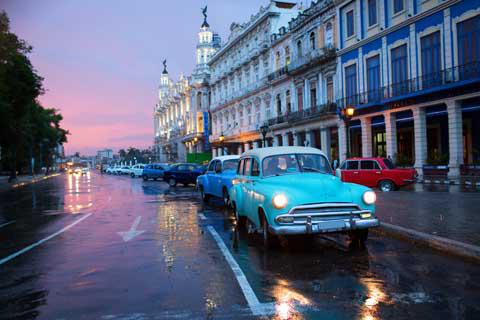 The city of Havana is at the top of most peoples' bucket list - mostly because of the allure of a forbidden land. Before the Communist revolution, Cuba was a popular tourist destination. Since it has reopened in the 1990s, it has drawn tourists from all over the world (except the US).
This capital city is a land trapped in the past. With 50 years of neglect, when you step off the plane, prepare to step back in time. A trip to Havana is meant for those with truly open minds - and when they arrive they'll be swept away.
Sights
Recently, Cuba has become open to travelers from the U.S., but only through specific travel agencies and tour companies. One of the best ways to get here is to
take a cruise to Havana
. This way you can have a terrific experience on the boat while also enjoying the culture and history of Havana.
And here's
everything you need to know if you're traveling to Cuba as an American
.
There are so many things to see in Havana, you won't even want to blink. This city is of course the starting point of
a perfect Cuba itinerary
Begin your sightseeing in the harbor side district of Old Havana. In 1982, the region was named an UNESCO World Heritage Site. A simple stroll through this part of town is sure to enchant any traveler. The Spanish colonial streets are lined with bookshops, churches, colonial palaces and monuments all free to explore.
For a more unique view of the city, head over to the Plaza de la Revolucion. While you're here, note the gorgeous obelisk of the memorial to Jose Marti and then take the 129m lift up to seethe city as a whole.
Some travelers get overwhelmed and yearn for a bit of peace and quiet. For those moments, head to the Garden memorial to Diana, Princess of Wales. Surrounded by wrought-ironed gates and filled with gorgeous flowers, it's the perfect spot to rest and reflect.
To learn another aspect of Cuban history, visit the
Castillo de Real Fuerza
. This is the oldest bastioned fortress in the New World, and is now home to Cuba's maritime museum. Walk through and learn the details of the country's maritime history with amazing artifacts along the way. And then visit more of
Havana's many great museums
while you're exploring the city, too.
Activities
There are so many things to do in Havana after you've taken in all the sights. For example, you won't want to miss a day of shopping at the Centro Antiguos Almacenes de Deposito San Jose craft market. Located in an old warehouse on the harbor side of the island, you'll find rows and rows of artwork, crafts and souvenirs like cigar boxes, domino sets and trinkets. Furthermore, Havana is also a base of exploration for the rest of Cuba. Check out this great
guide to all of the best places to visit in Cuba
.
Why not take a tour of Havana in style? Really get the pre-revolutionary experience riding around the city in a 1950s American Chevy. Tours offer a full, historical information of Havana while riding into the past.
For a bit more adult humor, attend one of the country's Tropicana cabaret shows. Scantily clad dancers perform tantalizing high kicks and different sketches are meant to entertain. Plus, your admission fee includes a quarter bottle of rum.
To continue in the adult fun, don't miss a chance to tour the Havana Club Rum Factory. This is one of Cuba's most famous rums. Most of the exhibits are subtitled in English and fairly simple to understand. It's rum, what more do you need? And if you're looking for even more ideas, check out this great
list of things to do in Havana
.
Food and Dining
When dining in Havana, expect to spend a lot of money. In fact, the locals will find it odd if tourists want to eat where they do. You can still enjoy authentic, traditional Cuban food, but be on guard when eating out in Havana. Be sure the price of the meal is clear before ordering and don't fall for made-up taxes on the bill - like a tax for eating in a certain establishment. And don't forget to enjoy the various seafood dishes offered.
Transportation
Getting around Havana should be fairly simple. Taxis will be the most convenient way around the city, but be aware that the only legal taxis are the official government run taxis. They are harder to locate, but less of a hassle. The illegal taxis are prone to price gouging so negotiate at the beginning. Also, note if you try to take an illegal taxi somewhere where there will be police, like the airport, they will drop you off 200 meters away to avoid being caught.
The bus system does run across the city, and is fairly simple. However, expect serious overcrowding. If your bus comes along and is full, you may have to wait a while for the next one.
Driving yourself is an option, but be careful. Road signs are unclear and traffic can be kind of dangerous. Riding a bike is always a great idea in Havana, so long as the weather is agreeable.
Related
Looking for a
party hostel in Costa Rica
or
Cancun
? Looking for a
budget hostel in Mexico
or
Costa Rica
?