Dominica On a Budget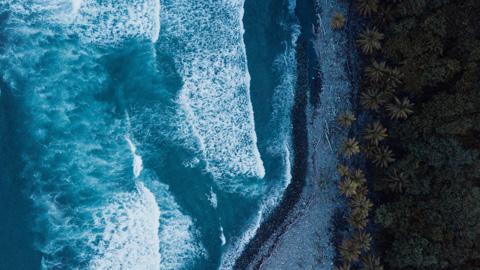 Don't confuse Dominica with the other Caribbean island, the Dominican Republic. Dominica is located between the Caribbean Sea and the North Atlantic Ocean about half way between Puerto Rico and Trinidad and Tobago. Dominica is referred to as "The Nature Island of the Caribbean" because it has an impressive diversity of flora and fauna. Much of the wildlife on the island is protected by the country's impressive national park system. If you are a nature lover, then this is a wonderful place to visit.
The island itself is very mountainous. It has volcanic peaks that are dramatic and scenic. They are often topped with crater lakes. Perhaps the most impressive is Boiling Lake, which is the second largest thermally active lake in the world. The highest point on the island is Morne Diablotin, which reaches 1,447 meters in elevation.
The island's climate is tropical. Temperatures stay moderate because of the northeast trade winds, but the island is prone to heavy rainfall. Be on the lookout for flash floods, which are a concern during heavy storms. The island may be affected by hurricanes during the late summer or early fall months.
Dominica was the last Caribbean island to be colonised. France originally held a presence but lost control to Great Britain in 1763. Today there are about 3,000 Carib Indians that still live on the island. This is the only pre-Columbian population that is left in the eastern Caribbean.
At A Glance
Dominica has two airports. Most commercial flights arrive at Douglas-Charles, previously named Melville Hall. This airport cannot accommodate jet aircraft and night landing only began in 2010. The island is accessible through San Juan, Antigua, Barbados, St. Maarten, Martinique, Guadeloupe and a few other Caribbean hubs. The other airport is Canefield.


There are ferries that travel to Dominica from both Martinique and Guadeloupe. These ferries run most days of the week and arrive in Roseau. The fare is approximately 120 euros. Cruise ships have increasingly begun to visit the island as well. Cruise ships usually dock at a large pier that is directly in front of the downtown area, but if that pier is occupied then they dock about one and a half miles away in the industrial port.


A car is very helpful if you hope to explore the island in detail. Although it's small, the roads weave their way around the mountains making for tricky and sometimes dangerous trips. Driving is also on the left hand side of the road. You can rent a car from the rental agencies found at both airports. If you decide not to rent a car you can travel by either bus or taxi. Buses are slow and uncomfortable, but a decent option if you have plenty of time and very little money.


If you're in the market for souvenirs, a popular handicraft is the Carib made baskets. Make sure that the local materials used to make the baskets are allowed to pass through customs in your home country. Other souvenir options include local music. Jazz, reggae, calypso and soca are all popular genres. There are vendors that sell items along the main cruise ship dock. Another block inland there is an open air market that has the highest diversity of items.


English is the official language of the island. Some French is also spoken by many residents.


Fresh squeezed grapefruit juice is found all over the island. Coconut water is also a common drink. Sorrel is another local specialty. It is made with the flowers of a hibiscus plant that is common in Jamaica. You can pick up these drinks up from many vendors along the side of the road.
Related:
Looking for a
party hostel in Costa Rica
or
Cancun
? Looking for a
budget hostel in Mexico
or
Costa Rica
?
Top Tourist Attractions
Valley of Desolation and Boiling Lake:
This destination can be reached with a long and difficult hike. It should take about eight hours round trip, including driving to and from the trailhead. The scenery is stunning and it is worth the effort. It is best to hire a guide though because the area is prone to flash floods and the small rivers become overpowering during rainstorms.
Trafalgar Falls:
You can view these falls with only a short hike, but if you want to swim in the pool it's a difficult and long trail to reach the bottom. It's worth it though if you want to bath in natural pools of hot sulfured waters. You do need a pass to access the site, which will cost you US$5.
Syndicate National Trail:
This trail is a nice half hour walk that allows you to see parrots and the island's beautiful tropical rainforest. If you don't have a car it is also a two hour walk on a farm road to reach the trail head. You may be able to hitch a ride with a farmer.
Popular Foods
Dominica cuisine is heavily influenced by Creole cooking techniques. The dishes use local produce to make Caribbean favorites with a local twist. The cuisine is most comparable to that found on St Lucia and Trinidad. Breakfast is an important meal on the island and often includes saltfish and a dough that is fried in oil. Chicken, beef and fish are the most common meats, and they are often prepared with local vegetables.
Stew chicken:
Chicken is probably the most popular meat on the island. It is often prepared into a stew with onions, carrots, garlic, ginger and thyme. It cooks for a long time until a thick sauce forms. Rice and peas are often served on the side.
Roasted Breadfruit with Salted Codfish:
This popular Creole dish is common throughout the Caribbean. Like elsewhere, Dominica's version has its own flavor based on locally available ingredients and seasonal produce.
Tasty Bakes:
This snack is available around the island at roadside stands. It's also served in small restaurants with fried chicken or fish and chips. Tasty Bakes are fried dough that is made with flour, water, sugar, and a little salt. It's usually served with a cold drink.