Saaremaa On a Budget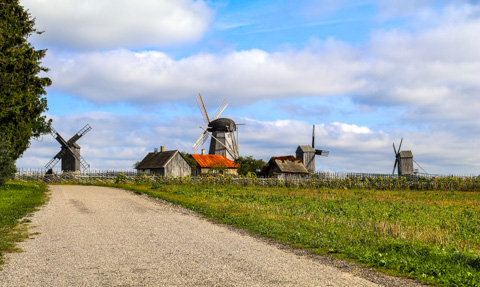 Saaremaa is the largest island in Estonia and it has a unique and rural atmosphere that makes it an interesting place to visit. Saaremaa has remained rural and frozen in time due to its isolated location, particularly during Soviet occupation when it was used as a military base. The island still has working windmills, hand placed stone walls, and old stone churches that feel like you've stepped back in time.
Kuressaare is the area's capital, and the main town on the island of Saaremaa. The town itself has a recorded history back to 1381. Today it's a pleasant small town with a lovely market, some interesting restaurants, and a small beach. It's a great base for exploring the island of Saaremaa. The town also a nice castle with a moat, and a quaint residential area.
Most people travel to Saaremaa during the peak summer months when the weather is at its warmest. If you're going to be visiting town during this time it is best to make reservations in advance. Earlier or later in the season when the weather is not as pleasant, you will find the crowds less and the prices generally lower. Unfortunately, many places will be closed so you may struggle to find accommodation or restaurants to eat at. Many local residents have rooms available for rent and if the tourist crowds are not high you can easily negotiate a very cheap price. Most rooms come with a sauna, making for a very relaxing vacation. Many also have their own kitchen so you can head to the market and pick up some fresh seafood and then prepare your own meals.
Sights
Many of the sights on Saaremaa are found in the town of Kuressaare, but if you want to experience the real atmosphere for the island, you need to get into the countryside. There you will find windmills, old churches, agriculture, and a rural atmosphere unlike anywhere else.
Within the town of Kuressaare the main sights include the Kuressaare Castle and the Saaremaa Museum. Both are well worth a visit. Around the island of Saaremaa it is worth visiting several of the churches. Popular ones are Kihelkonna Church, Kaarma Church of Saints Peter and Paul, Karja Church and Jamaja Church. Also go by the Angla Windmills, Loode Oak Forest, Asva Fortified Settlement, Bear Lake, the Kaali meteorite craters, Panga cliff, Pidula manor and Puhatu springs.
Neighborhoods
Saaremaa is the largest island in Estonia, measuring 2,673 square kilometers. The island's capital and main town is Kuressaare, which has about 15,000 residents. In total there are about 31,000 residents on the entire island. Although interesting landscapes, parks, and countryside are spread throughout the island, most visitors choose to stay in the town of Kuressaare, as this is where you will find most of the hotels and lodging options, restaurants, and transportation options.
Activities
There are several villages and national parks worth exploring on Saaremaa. Koguva Village on Muhu Island is the country's best preserved village. Vilsandi national park, along the western coast of the island is a popular destination if you are interested in birding. It's an international bird sanctuary with over 250 recorded bird species.
A popular festival is the Saaremaa Opera Days, which is held during the month of July.
Food and Dining
Most food options are found in the town of Kuressaare. If you're planning to explore the island for the day, it's best to pack a picnic meal, as your dining options will be very limited.
There's an outdoor market in the center of Saaremaa that is a great place to try some homemade specialties, especially the homemade smoked salmon. If you rent a room in someone's home, it will likely be equipped with a kitchen and you can pick up some local seafood at the market and prepare a meal that is delicious and affordable. There are also a handful of restaurants around town that serve up some great meals. Popular options include Restaurant Everest, Cafe Kessu, Diner Rehekook and Trahter Veski.
Transportation
You can easily reach the town of Kuressaare by bus from Tallinn, but once you're on the island there is very limited public transportation. You really need access to your own car if you're hoping to explore the whole island. There are a couple of small places you can rent cars from. All cars are manual so it is important you be comfortable driving a manual car.
Because the island is relatively flat with almost no traffic, it's also a great place for biking. You can rent bicycles in Kurassaare for a reasonable price.
Related:
Traveling alone to
Moscow
,
St Petersburg
,
Stockholm
or
Riga
and need a hostel?
Looking for a
party in Copenhagen
or
Tallinn
?
Looking for
budget hostels in Scandinavia
?
Train and Bus Prices
The best prices for buses and trains in Estonia
can be found on Omio
(formerly
GoEuro
). They let you search across all train, bus, and plane routes throughout the region.