Search Results
360 Hostel Barcelona Arts&Culture
100%
match with your search criteria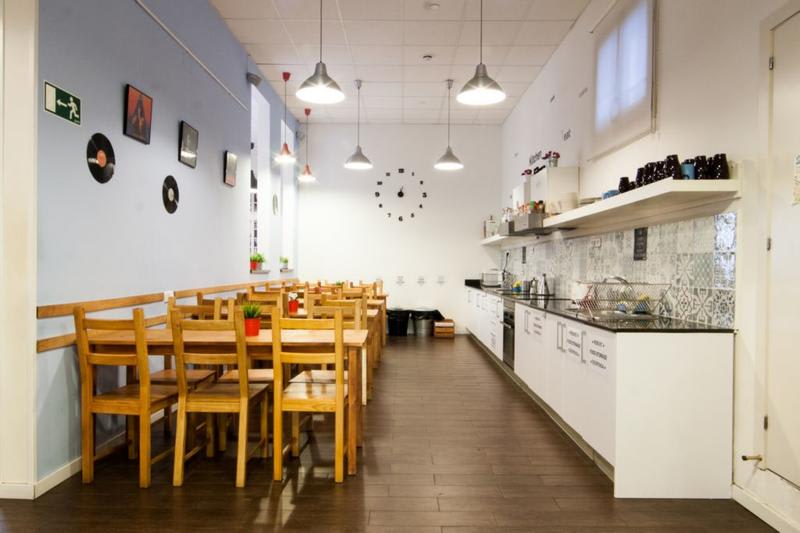 Just to avoid confusion, this is the "Arts & Culture" location of the 360 Hostel Barcelona (which is located a few blocks away). Both hostels have similar personalities and amenities, but what sets the Arts and Culture hostel apart seems to be the desire of the guests to get to know one another in a friendly, social, and relaxing way that creates a comfortable and enjoyable personality to the hostel. (Not that the other 360 Barcelona isn't social, it's just a different vibe).
At this hostel, the list of amenities is long, and the daily activities provided by the staff are numerous and fun. All of the guests seem to join in for the nightly dinners (usually paella or tapas), which then lets everyone get to know each other, make plans for the next day, and more. Various walking tours are also offered to let you get to know Barcelona.
The building itself is old and charming, but with modern updates. Rooms and hallways have old tiled floors, and the small balconies overlooking the street remind you that you're in old Europe, as if some horse drawn carriages will soon arrive to take you around Barcelona.
And the location is also amazing, too, but we'll discuss that more below.
Guests
Activities
Amenities
Overall Rating:
97%
Barcelona Central Garden
100%
match with your search criteria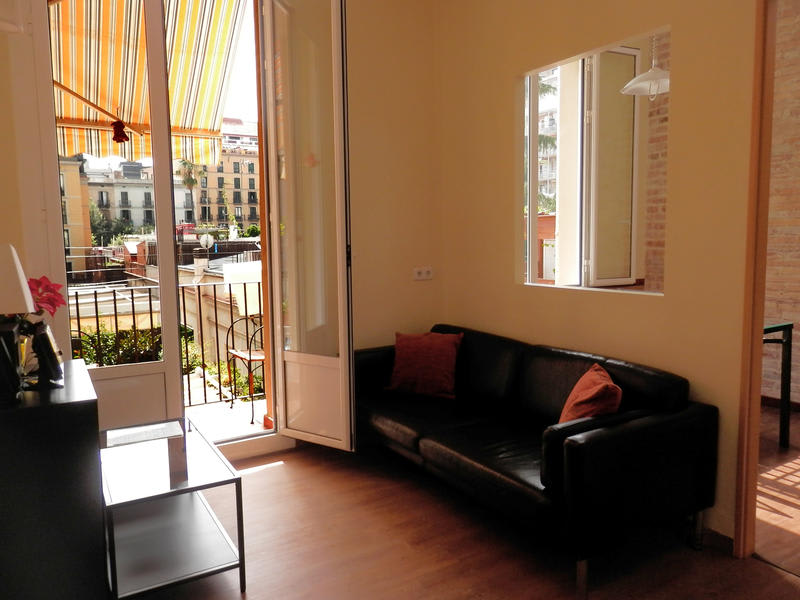 This small, quaint hostel is the perfect place to meet other travelers, soak up the Barcelona atmosphere, and enjoy a relaxing retreat in the heart of the city. This is not a party hostel, but it does enjoy a chill backpacker vibe. The atmosphere is welcoming and inclusive and it's easy to make friends here.
The hostel organizes a variety of fun activities for guests where it's easy to get to know each other, but if you want a quiet nights' sleep you'll appreciate the strictly enforced quiet hours. If you want a social atmosphere without the party hard scene, then this hostel is for you.
Guests
Activities
Amenities
Overall Rating:
96%
Yeah Hostel Barcelona
100%
match with your search criteria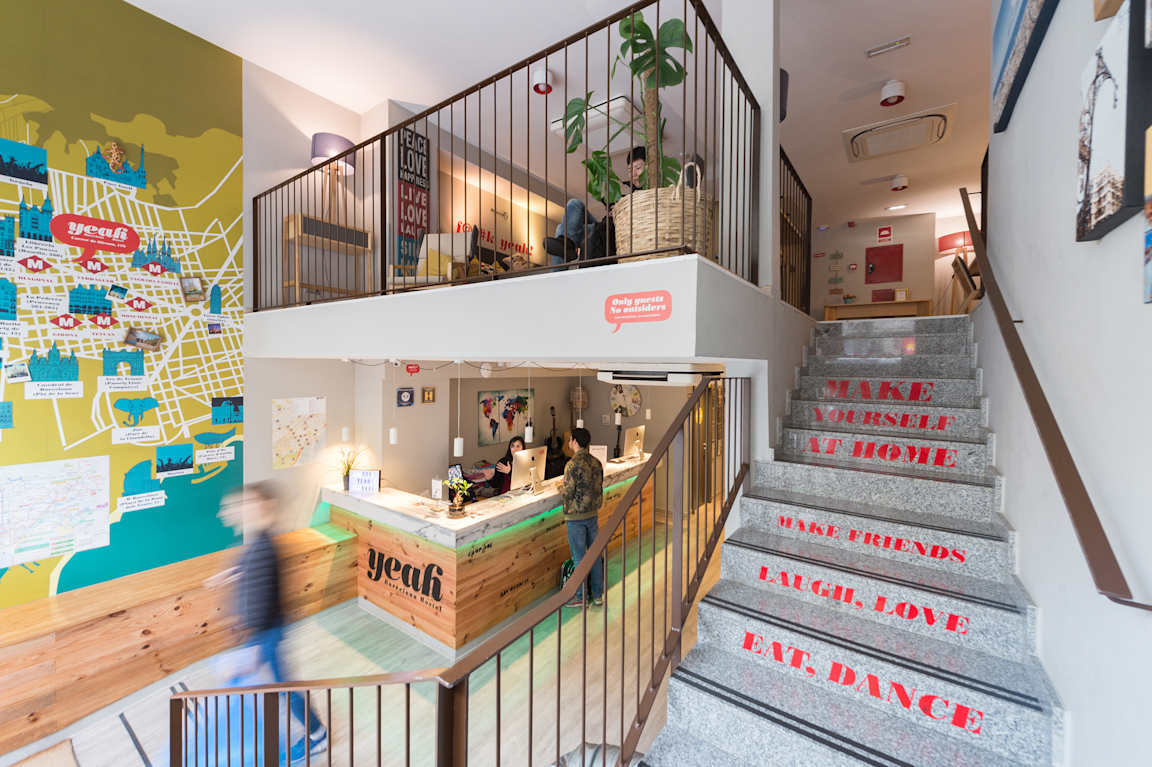 If you're looking for a social vibe, but not an over the top party hostel, then this is a great option. It's perfect for people traveling alone who want to meet others as there are a number a fun activities hosted by the hostel. The rooms have more space than the average dorm rooms in Barcelona. There's even a small pool on the rooftop terrace which is the perfect way to cool off after a hot day exploring the city. This hostel is reliably clean and comfortable, so it makes a perfect budget-friendly option for many types of travelers.
Guests
Activities
Amenities
Overall Rating:
96%
Rodamon Barcelona Centre
100%
match with your search criteria
Rodamon Barcelona Hostel is a perfect combination of a boutique hotel-style facility with backpacker affordability. The hostel is one of a small chain of hostels found in several cities in Europe. Despite it's hotel like atmosphere, the hostel has plenty of common space where guests can sit back with a good book and relax before heading back to their room for the night. This is a nice alternative to the popular party hostels found around Barcelona, and if you've had your fill of drinking games and late night festivities, then this place offers the perfect alternative.
The staff are helpful and professional, the breakfast is affordable and filling, and the rooms are reliable and quiet, all for a backpacker's budget.
Guests
Amenities
Overall Rating:
96%
Fabrizzios Terrace Hostel
100%
match with your search criteria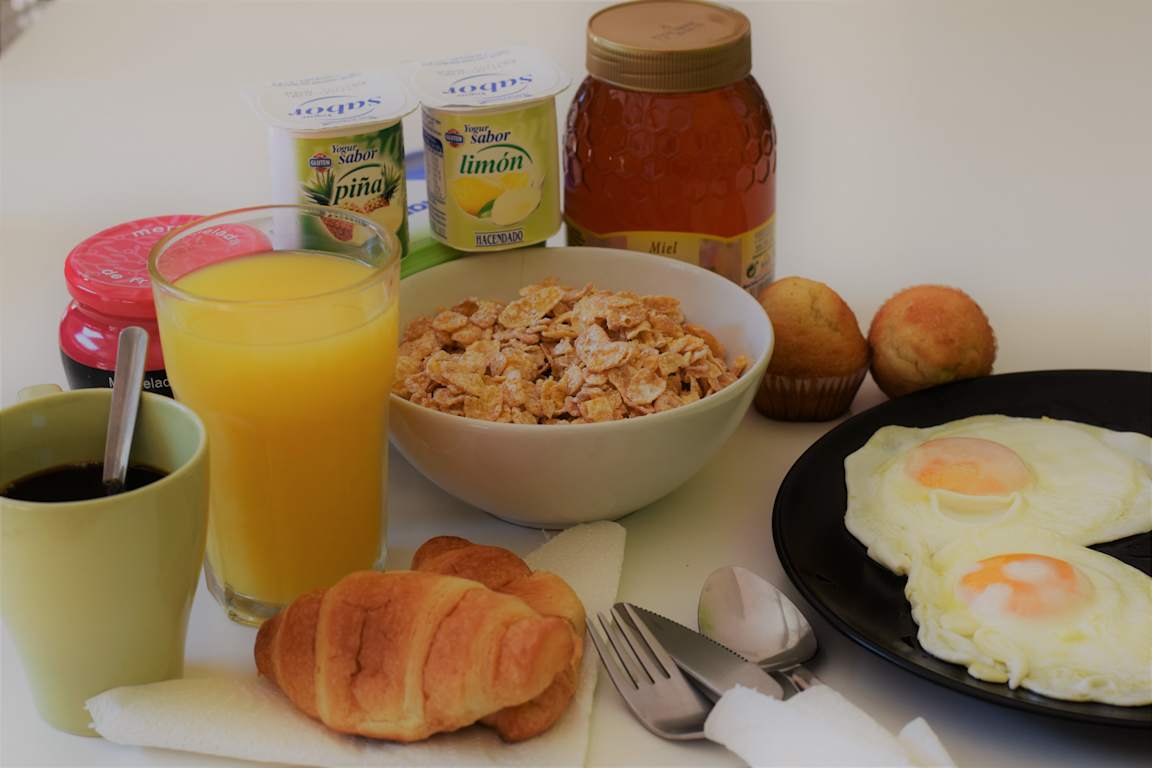 If you're hoping to stretch your money, then this is the place to stay. The prices are good, the rooms are large and reliable, and the all-you-can-eat all day breakfast will help keep your food budget down. They sometimes provide dinner as well.
With a central location near the metro, the entire city is accessible. This hostel has a welcoming vibe without being particularly social, so if you want an affordable place to crash without the pressure to party, then this is a good option. They do offer a handful of fun events so it is possible to meet other guests, but most people stick to their own group.
Guests
Activities
Amenities
Overall Rating:
96%
Fabrizzio's Petit
100%
match with your search criteria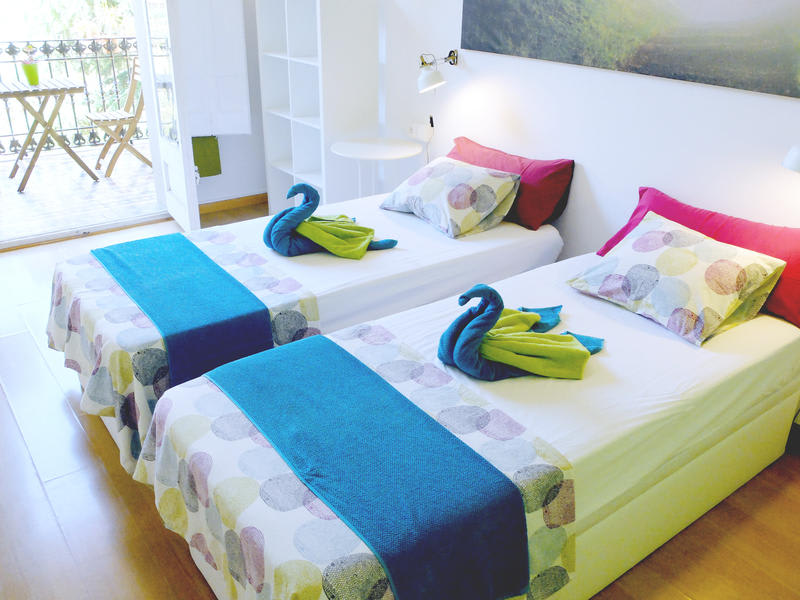 Every now and then you find a hostel that stays with you because of the people, the atmosphere, and the experience. This is one of those hostels and it is truly a favorite in Barcelona. Fabrizzio's Petit really does seem to have it all.
The hostel is small with cozy rooms and a family like atmosphere, so it's really easy to meet other guests. The beds are comfortable, the showers are great, and the activities are fun. Whether this is your first hostel experience or one of many, this hostel will likely become one of your favorites. It's one of those places that you remember long after your trip, so if you're looking for more than a place to crash for a few nights, then this is definitely it.
Guests
Activities
Amenities
Overall Rating:
96%
Sant Jordi Hostels Rock Palace
100%
match with your search criteria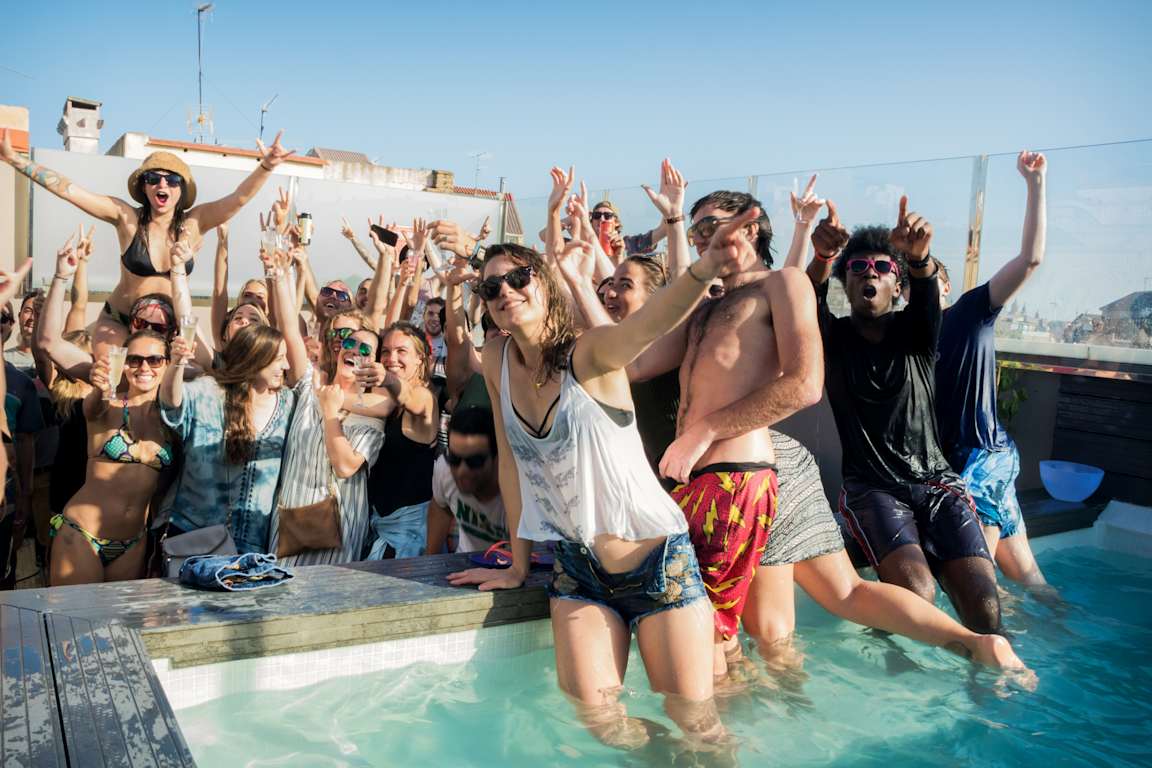 This posh and "boutique style" hostel has plenty of luxurious amenities and a fun party-oriented vibe. It's usually full of younger travelers looking for a great time at any time of the day. With Rock music themed decor, modern dorms and bathrooms, a perfect location, and a rooftop terrace with a small pool, this hostel provides so many great benefits for guests.
A variety of activities are offered to help everyone socialize at all times of the day. The breakfast is terrific, and is served in the shared kitchen. The kitchen itself is very nice and makes for a social area in and of itself for those that want to cook meals to save some money. Dinners are offered in the evenings, and the previously mentioned pub and club tours are very popular. All of this, combined with the social atmosphere in the dorms, make this hostel comfortable, clean, exciting, and adventurous for any traveler looking to have a great time in Barcelona.
Guests
Activities
Amenities
Overall Rating:
95%
Sant Jordi Alberg
100%
match with your search criteria
With a reputation as being a very social party hostel, Sant Jordi Alberg is one of the most sought-after hostels in Barcelona. As the winner of numerous awards for being one of the best overall hostels in the entire world, this place will not disappoint. The friendly and helpful staff seem to be at the core of the overall quality of the hostel, as they go above and beyond to help guests in every way possible.
This hostel is part of the Sant Jordi chain of hostels, so if you've stayed at another Sant Jordi, you will probably be familiar with the amenities and overall quality of service. Sant Jordi is one of the largest hostel chains in the world, and it's quite easy to see how they have been so successful once you experience a few nights here. The chain itself has a bit of a reputation for being party-themed, and this location in Alberg is no exception.
Guests
Activities
Amenities
Overall Rating:
93%
Bed & Bike Barcelona
100%
match with your search criteria
With an amazing common area, relaxed social vibe, and plenty of activities to help guests get to know one another, this hostel gets rave reviews and plenty of repeat visitors. From the name it's obvious that the Bed & Bike hostel has a bicycle theme, but don't worry, it's for everyone and not just people interested in bikes. (After all, Barcelona is a very bicycle and pedestrian friendly city.)
With
free
organized dinners every evening, the guests truly get to know each other here and make some new friends very quickly. Staying here will help you meet others if you are a solo traveler or even if you're in a small group. The entire place is kept very clean, and the common area is large, fun, and full of great features like a terrific kitchen, TV with Netflix, and a pool table.
Guests
Activities
Amenities
Overall Rating:
93%
360 Hostel Barcelona
100%
match with your search criteria
The 360 Hostel Barcelona aims to be your home away from home during your stay in Barcelona. With similar amenities and personality to the nearby 360 Hostel "Arts & Culture" location, you really can't go wrong if you stay here. Dorms and common areas are very spacious, the building is old and charming yet refurbished and modern, and the staff is super friendly. Various free activities keep the guests entertained and meeting others, especially at the well-liked free nightly dinners of paella and tapas. During these events, guests fill up the large kitchen area, help cook, and get to know one another. This creates the ideal hostel environment where people from around the world meet up and plan their adventures in Barcelona.
Guests
Activities
Amenities
Overall Rating:
93%
Change search parameters