The Best Beach Hotels in Cozumel
Where to Stay for an Oceanfront Vacation in Cozumel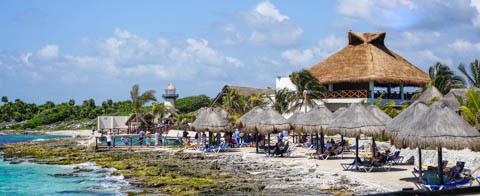 Cozumel, Mexico is a stunning coastal area known for its great beaches, oceanfront location, as well as its scenic ocean views. When searching for the best beach hotels in Cozumel, visitors often seek a variety of amenities and luxuries like a fun pool, easy to reach location, gym or fitness center, free parking, water sports, a restaurant, and perhaps even a kitchen inside the room. If you're a family traveling with kids, a kid-friendly atmosphere is a must, while couples seeking a romantic getaway would probably prefer a spa, hot tub, and beautiful ocean views. We've analyzed many of the oceanfront hotels near the water in Cozumel, and with so many options to choose from, finding the perfect beach resort or hotel can be overwhelming. So, we have identified the top hotels by the beach in Cozumel based on guest ratings and key criteria. From smaller beachfront hotels to luxurious resorts, these hotels offer the best accommodations for travelers looking for a top beach hotel experience. So, if you're deciding where to stay at the beach in Cozumel, we've found the perfect hotel stays on the beach for your trip. Whether you're looking for a family-friendly environment or a romantic getaway, this area has something for everyone, and the best beach hotels in Cozumel offer the ultimate in comfort and relaxation. So, let's get started!
The island is lined with beautiful beaches and you'll find great snorkeling and tourist-friendly amenities. Some of the best beaches are Playa Punta Morena, Playa El Cielo, and Playa Chen Rio.
(Prices are listed in U.S. Dollars.)
Also, take a look at the Beach hotels in nearby destinations: Playa del Carmen, Cancún, Tulum, Isla Mujeres, and Puerto Morelos.
For more terrific hotel ideas in Cozumel, make sure you also see Best Hotels for First Time Visitors in Cozumel, Best Hotels for a Weekend Getaway in Cozumel, Best Hotels for One Week in Cozumel, Best Hotels for One Night in Cozumel, or Best Hotels for Scuba Diving in Cozumel.
How much do beach hotels and resorts cost in Cozumel?
Cozumel
Average Beach Hotel Price
Visitors will find a large range of terrific beach hotel choices when planning a visit to Cozumel, Mexico. The price of these beach hotels can vary according to location, type, and amenities. The average beach hotel price in Cozumel, Mexico based on data from 7 hotels is an affordable $174. If you're interested in more information about hotels here, see our guide to hotel prices in Cozumel.
The average prices of our suggested beach hotels by star rating:
5-star hotels: $170
4-star hotels: $177