The Best Hotels for One Night in Cozumel
Where to Stay for a Quick Stopover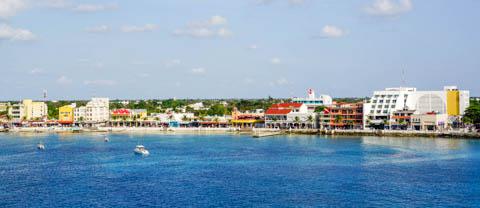 If you're planning a one-night stay in Cozumel, you'll want to make the most of your limited time in the area. That's why we've analyzed all of the hotels in Cozumel, Mexico to help you find the perfect place to stay for your short stopover. Whether you're looking for affordable rates or luxury accommodations, you'll find it here. Cozumel offers a wide range of hotels, from cozy and comfortable 3-star hotels to extravagant 5-star hotels with first-class amenities that are perfect for a single night. So, you're sure to find the perfect place to suit your needs to make the most of your one-day trip. The hotels that we've selected offer all the amenities you need to make your stay relaxing and enjoyable, such as comfortable rooms, a prime location for sightseeing, and excellent restaurants nearby. Additionally, we've focused on finding hotels that offer a range of amenities to help you unwind, such as pools, fitness centers, or spas, all of which are important for a one-night stay. Our selection of hotels ensures that you can have an enjoyable and comfortable stay, no matter your budget. So, whether you're in town for business, pleasure, or just a quick getaway, we've got you covered with our list of where to stay for one night in Cozumel.
For the best shopping head to Plaza del Sol, the Royal Village Shopping Center, or Los Cincos Soles. Expect cruise ship crowds and no shortage of tourists.
(Prices are listed in U.S. Dollars.)
Also, take a look at the One-Night Trip hotels in nearby destinations: Playa del Carmen, Cancún, Tulum, Isla Mujeres, and Puerto Morelos.
For more terrific hotel ideas in Cozumel, make sure you also see Best Beach Hotels in Cozumel, Best Hotels for First Time Visitors in Cozumel, Best Hotels for a Weekend Getaway in Cozumel, Best Hotels for One Week in Cozumel, or Best Hotels for Scuba Diving in Cozumel.
How much do hotels for a one-night stay cost in Cozumel?
Cozumel
Average One-Night Trip Hotel Price
Visitors will find a large range of terrific one-night trip hotel choices when planning a visit to Cozumel, Mexico. The price of these one-night trip hotels can vary according to location, type, and amenities. The average one-night trip hotel price in Cozumel, Mexico based on data from 7 hotels is an affordable $168. If you're interested in more information about hotels here, see our guide to hotel prices in Cozumel.
The average prices of our suggested one-night trip hotels by star rating:
5-star hotels: $141
4-star hotels: $177
3-star hotels: $187