Akureyri On a Budget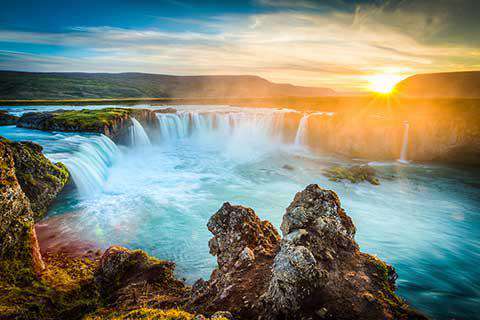 Akureyri is the largest town in the northern region of Iceland, and is often considered the unofficial capital of the north. The town is a popular fishing port and is often used as a basecamp for visiting the more rural surrounding area. Akureyri is known for their great art scene, beautiful architecture, and stunning natural scenery.
The climate in Akureyri tends to be cold and wet year round, with temperatures rarely going above 60° Fahrenheit. Temperatures tend stay between 20-30° F from October-April, with the most snowfall and rainfall happening during this time. May-August tend to be drier and slightly warmer, with temperatures in the 40's and 50's.
Sights
Akureryi offers a fantastic art scene, especially in the Listagilio which translates to art canyon, is an area full of art galleries and shops. After wandering through Listagilio, you can follow the winding lanes of the town and enjoy the eclectic buildings. One such building is the Akureyrakirkja Church whose 1940's architecture juxtaposes that of the more traditional surrounding buildings.
Explore the city's history at Gasir, a medieval trading post which comes to life in July when locals recreate what it would have been like hundreds of years ago. From here, you can head to the Laufus, an old rectory from the 1840's that are often considered to be the inspiration for Icelandic architecture.
Neighborhoods
Akureyri is a fairly small city, despite it being the largest town in the northern region of Iceland. It does have a downtown, or town center, where you'll find beautiful architecture, art galleries, tourist offices, and restaurants. Outside of the town center, on the outskirts of the city, is the conference center and a few of the natural attractions.
Located far north of Akureyri is Grimsey Island, which is home to fisherman and about one million seabirds! Aside from it's stunning natural landscape, Grimsey is a great place to experience crossing the Arctic Circle.
About 20 miles north of Akureyri is Hrisey Island, a beautiful little island with a small village. There are three walking trails, amazing viewpoints for bird watching, and even tractor tours during the summer.
Activities
Some of the best activities in Akureyri involve taking advantage of the incredible natural surroundings, especially at Glerardalur Valley. The Valley is surrounded by some of the highest mountains in Iceland with the Glera River running through it. You can get a map of the area from The Touring Company in Akureyri, who will also be able to tell you the best viewing points and difficulty level of each trail!
During winter, you can ski at the nearby Eyjafjordur Fjord, which is great for both cross-country and downhill skiing. In the summer, head over to Sulur Mountain where you can spend the day hiking and exploring the area while also getting breathtaking views of Akureyri. At the end of summer, in early September, there's the annual Arctic Run on Grimsey Island which is the only run in the world where you cross the Arctic Circle! Then, end running day with a viewing of the Northern Lights which can be viewed in Akureyri from September through April.
Food and Dining
Being a major fishing port, you'll find incredibly fresh seafood wherever you go in town. There is also a strong emphasis on using natural, organic, Icelandic ingredients at many of the restaurants throughout the area. Restaurants in Akureyri vary from pub food, to fish and chip shops, to more international fare like Spanish tapas. The city also has a lively nightlife scene, with almost as many bars and clubs as there are restaurants! Bars range from discos to low-key pubs to swanky lounges.
Transportation
Car Rental Prices
Compare prices across all major rental companies:
Akureyri is connected via the ring road, which is the single highway that runs around the country. Using a rented car or taking a bus from Reykjavik or Egilsstaoir are some of the easiest ways to get into the city. There is also a domestic airport nearby which takes flights from Air Iceland, as well as occasional flights from Copenhagen.
You can easily navigate Akureyri on foot or use their free bus system, SVA. Keep in mind, the buses often have limited hours, especially on weekends, so walking is usually the most efficient option. There are just a few taxis in town which you can find at the taxi post in the center of town.
Related:
Traveling independently and looking for a
hostel in Iceland
?
Are you organizing group travel and need a place to stay in
Reykjavik
?
Train and Bus Prices
The best prices for buses and trains in Iceland
can be found on Omio
(formerly
GoEuro
). They let you search across all train, bus, and plane routes throughout Europe.