What sets them apart?
Hostel Celica is a very unique and unusual place to stay with a name that means "cell". In the past, it was a former military prison for more than 100 years but now it has been transformed into 20 prison cells - rooms, each designed with a completely unique and artistic touch. Each cell tells its own story. A different group of local and foreign artists was chosen to design each cell and participated to transform the hostel. Today this is one of the most visited hostels in Ljubljana.

Once there were grey rooms but today the rooms are colorful, modern, nice and cozy. Some of the hostel's architectural details are leftover from the prison in the past, like the prison bars on windows and doors.
Hostel Personality
Who's staying here?
I believe that the hostel is mostly visited by those who love some new experiences, as it is not a "boring" or common hostel. Maybe for those loving and expressing themselves through art, music, for young or leisure travelers, solo or group travelers who want to have some fun and enjoy.
Hostel Celica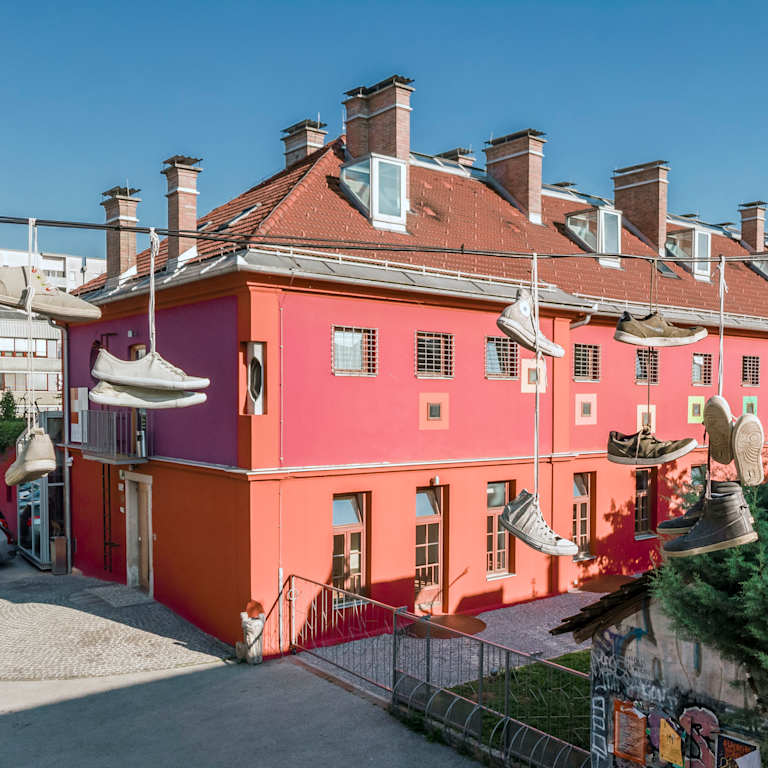 Hostel Celica boasts cultural vibe:
- hostel gallery Srecisce ("Meeting point") offers new art exhibitions each month, literary discussion, philosophy, workshops, debates, presentations, poetry readings and more;
- a small museum of the history of the building;
- the Point of Peace with a message of openness and acceptance.
As said before, the hostel's special feature is an artistic movement, which means it offers weekly cultural and music events, visited by locals as well. There are held live concerts with a variety of music genres played by local and foreign artists, also jam sessions.
What makes this hostel different from others is also an awareness of sustainability and the environment. The hostel has received many awards for its good quality work. Their respect for the environment is demonstrating through zero plastic in the entire hostel. There are no plastic bottles in the bar, neither plastic containers. The water is offered in glass bottles. There is even regulation of shower time. Furthermore, they promote recycling, waste sorting and composting, taking into account energy consumption by using energy-efficient light bulbs, adjusting heater levels, etc. What's more, they promote local - locally produced food, homegrown fruits and vegetables, collaborate with local manufacturers and producers.
Hostel Celica offers various areas for relaxation and socializing. There is an Oriental cafe, Western cafe, Eduardo's bar, Slovenian Restaurant, Summer garden with hammocks. They offer self-service breakfast with local ingredients and weekly and daily menus of Slovenian dishes. The food is appropriate also for vegetarians, vegans. At night is especially lively with culinary evenings organizing in the hostel. Tortilla evening, BBQ evening held outside in the garden, chicken party, picnic party and burger evening, Easy Sundays with special cocktail theme nights.
You can enjoy shisha sessions, beer pong and other events, so even if you're traveling solo, here you won't be lonely.
They also offer a 3-day organized tour around Ljubljana city. The package includes a welcome drink, breakfast, accommodation, bike rental for one day, tourist tax, entrance fees for Ljubljana Castle content, Escape Castle, audio guide or use of Nexto app to view the Ljubljana Castle.
The Facilities
Dorms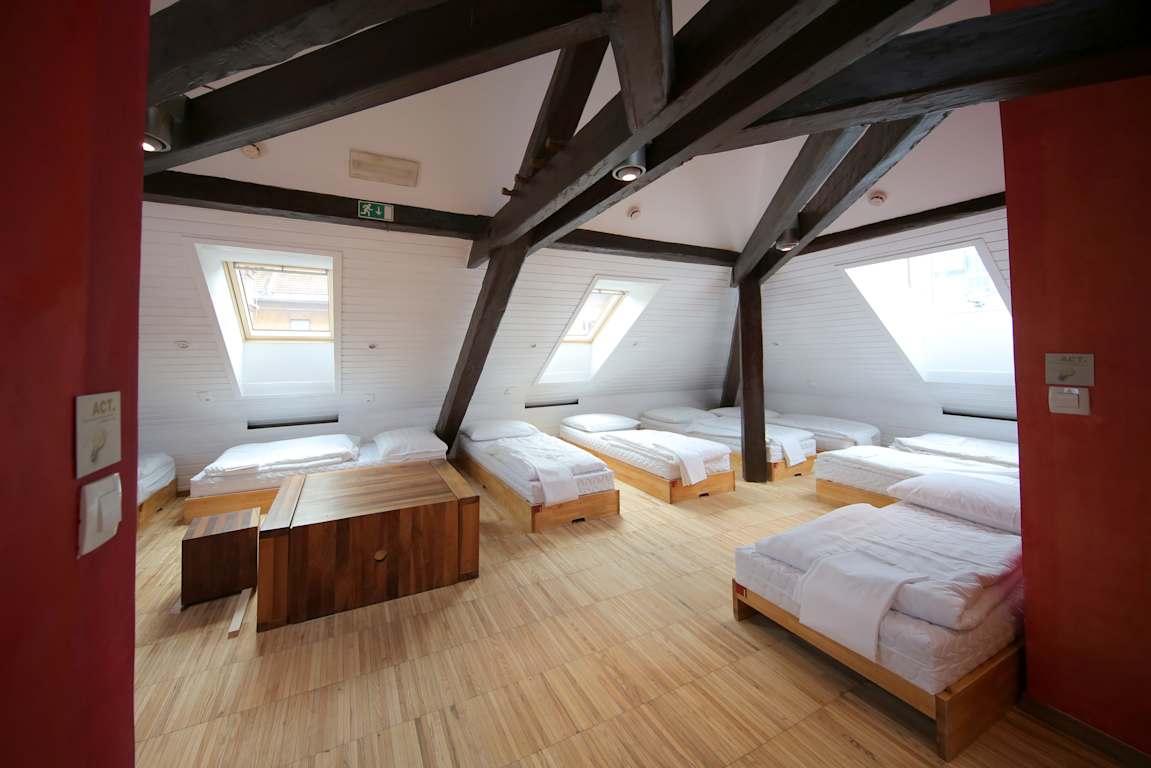 The Cilica has multi-bed rooms (4- and 5-bedded rooms) in the attic with air conditioning, free Wi-Fi, free bedding and towels, reading lamps, en suite bathrooms, storage lockers and a shared kitchen. The most social room in the hostel are the 7- and 12-bed dorms. All the rooms have the original bars on the doors and windows to give you that historic "prison" feeling (as this hostel is a historic prison).
Private Rooms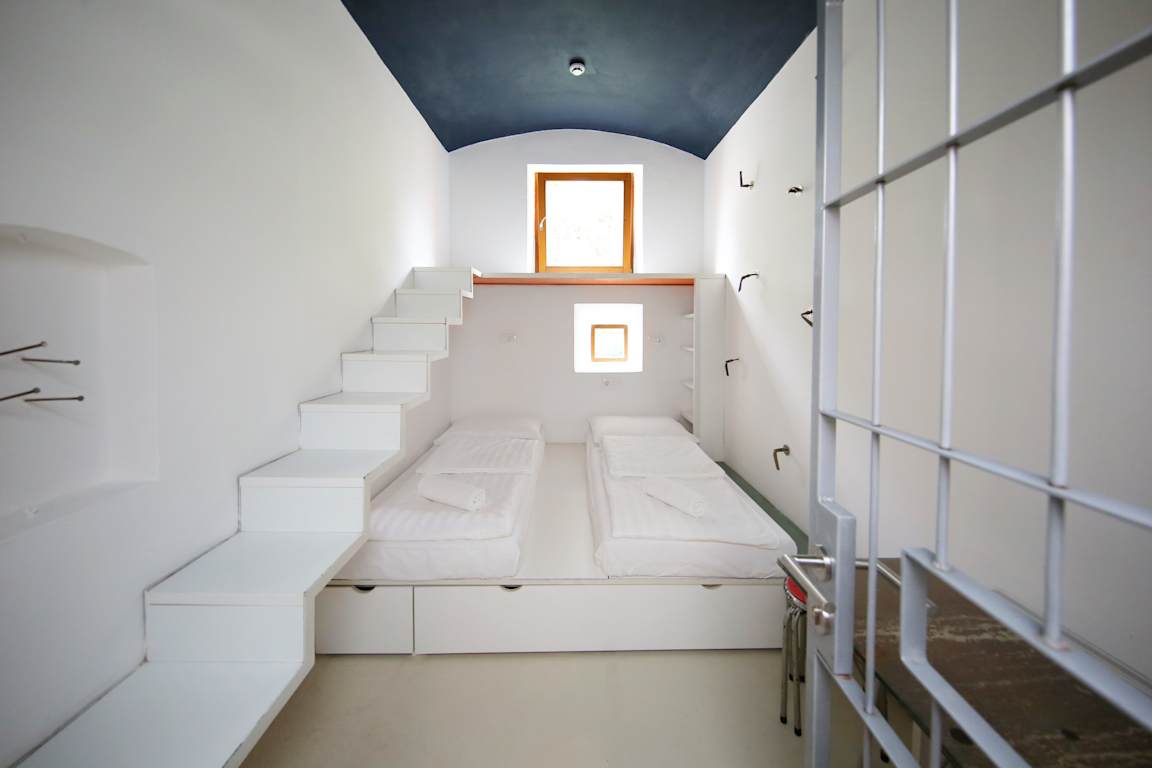 There are 92 beds and 20 former prison cells/rooms that are now modern, colorful and filled with interesting artistic details. Each prison cell is different and unique, so you can choose what best suits you (Scandinavian design, eco-friendly colors, wooden elements, etc…). You can choose from double, triple rooms with air conditioning, bed linen, towels, shared bathroom and free WiFi.
Bathrooms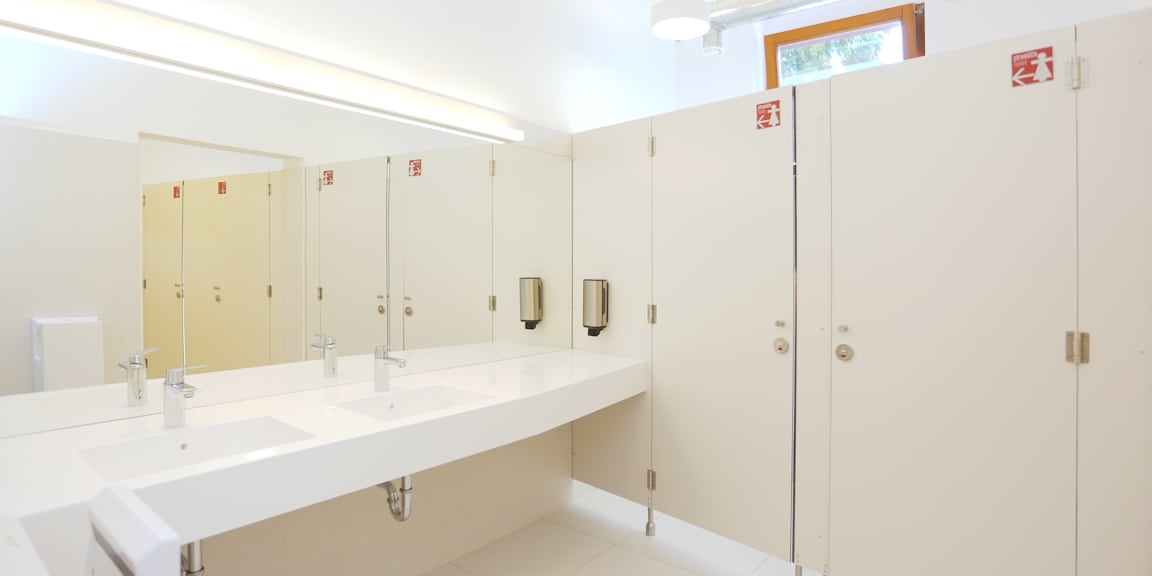 The bathrooms are modern, clean, renovated, and comfortable.
Restaurant
The on-site cafe and bar provides food and drinks. It is also a great place to relax and meet up with others. Plenty of planned events happen here, too, including parties, art events, concerts, and workshops.
Common Areas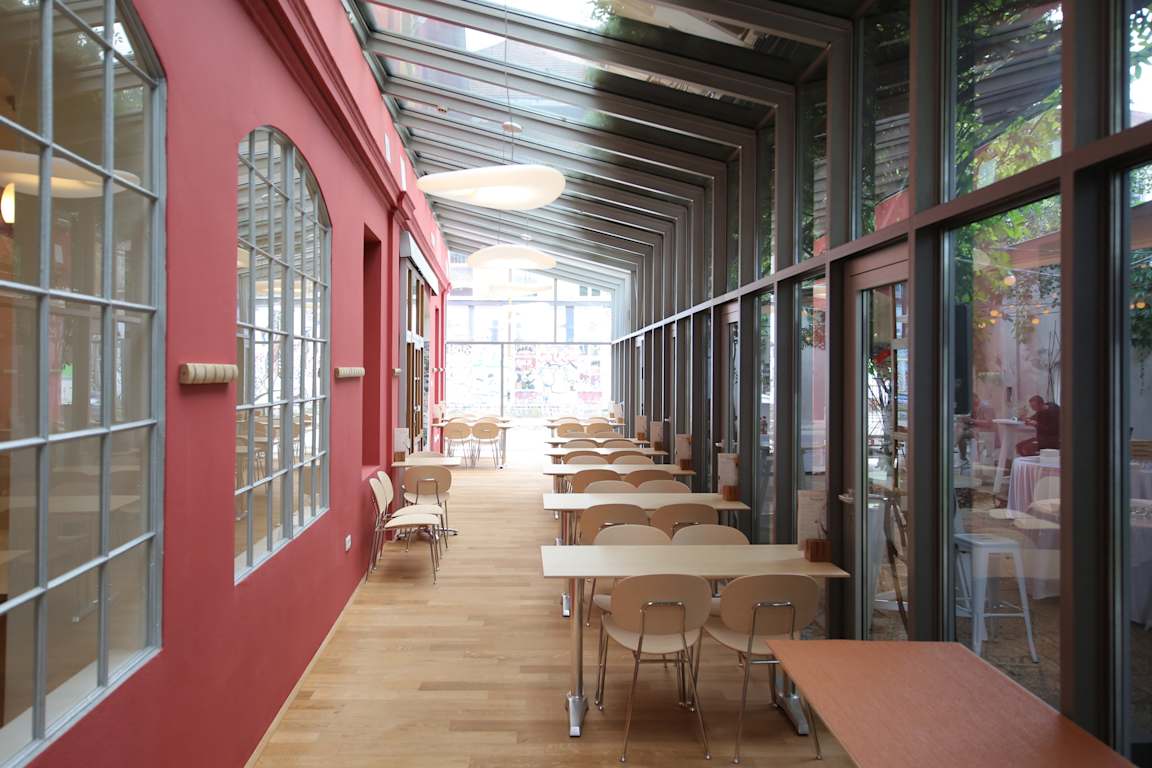 The common areas are comfortable. Plenty of space is available for those that want to relax and play games, or do a little work on the laptop, or eat and drink. A nice outdoor patio with tables is available, as is a very large common area with modern seating, plus the previously mentioned cafe and bar area.
The Location
Central Ljubljana
Ljubljana's historic center is full of beautiful architecture, shops, restaurants, old churches, and a stunning castle. Visitors can spend hours wandering around the narrow alleyways, public squares, and local homes taking in the classical European atmosphere.
What's Nearby?
The hostel is at a great location - in the city center of Ljubljana, only 300 meters from the main train and bus station and only a couple of minutes away from Presern square, the very heart of the city center and other main sights in the city. The hostel stands within the Metelkova mesto artistic and cultural zone that brings numerous artists and visitors, locals and tourists likewise. It is one of the best-known attractions of the city and famous for its numerous clubs, bars, galleries and very particular architecture. It hosts a regular program of concerts, art performances, exhibitions and festivals.
Nearby Transportation
About 15 minutes away is the funicular that goes up to the castle. The main train station is also a very short walk from this hostel, which is quite convenient!
Amenities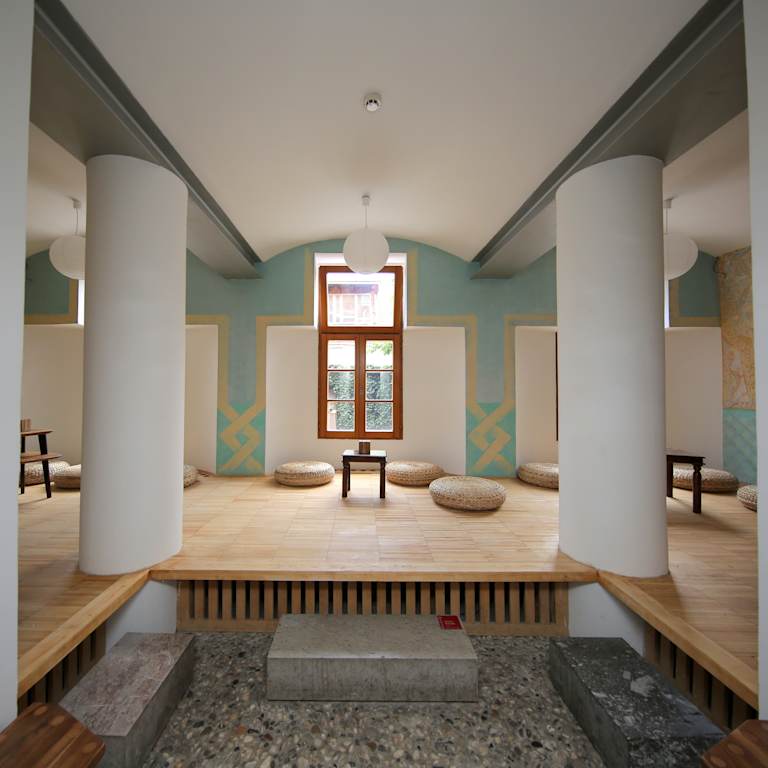 A breakfast buffet is available for a small fee, and it is terrific.
Other amenities that the hostels offer are a washing machine, tumble-dryer, bicycle hire, disable facilities, communal kitchen, Wi-Fi in the lobby/reception area, airport transfer, trips and tours around Slovenia.
Staff
The staff is a young group of people who love art, culture and have awareness of sustainability. They are friendly and very helpful. The hostel is managed by the public institute Ljubljana Castle with the aim of organizing a mix of cultural, artistic tourist products.
Due to its unique place and design, the hostel received multiple awards, also #1 hippest hostel in the world by Lonely Planet.
Heads Up
The thing that might bother a traveler is the cleanliness of toilets and rooms and no curtains on windows which might wake you up as the sun comes up. Furthermore, in the middle of the night, there might be noisy (parties in the hostel and in the neighborhood), so if you need a good rest maybe this is not the right place to stay.
Hostel Celica
Reviewed By
Leo and Neza from Safari Nomad have traveled around the world and share their advice and adventures on their blog. You can read their suggestions about
things to do in Ljubljana here
.
Do you have a favorite hostel that you would like to review? Let us know!