Ljubljana On a Budget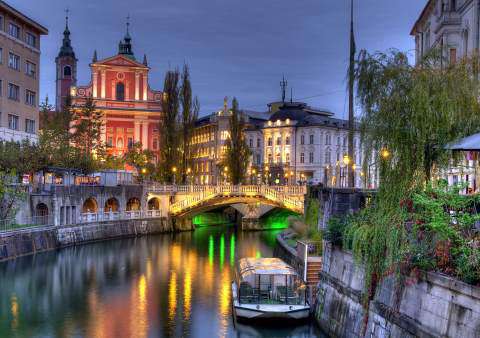 Most people don't travel to Ljubljana to see specific sights, as there aren't many famous attractions around town. Instead, this is a city that is about atmosphere. It's a city that you explore and immerse yourself in completely. You meet the people, you go to the clubs, you find the interesting restaurants. That is the best way to learn about Ljubljana.
Ljubljana is also a city defined by its seasons. During the fall months the city overflows with university students. They keep the atmosphere energetic, enthusiastic, and filled with culture. The winter months can be cold and long, but come spring, the city is ready to open back up. After months spent indoors, the city comes to life with events and festivals that fill the plaza. There are concerts and festivals that linger through the summer months, when the weather is at its prime. During this time you'll also see street performers who provide entertaining outdoor shows for both adults and kids. Streets shut down for festivals that bring residents and tourists alike into the downtown area. This is a wonderful time to come and be part of the city.
A visit to Ljubljana is about atmosphere and culture, not checking attractions off of your list, so throw out your itinerary and let yourself get lost in the city's character.
Sights
Although most people don't often visit Ljubljana for the sights, it's still a nice city and there are a handful of places worth checking out. Triple Bridge is a scenic area near Preseren Square. The Old Town is located between Castle Hill and the Ljublijanica River. It has two squares and is a great area to walk around.
Ljubljana Castle
is also worth a visit. Be sure and climb the tower for the view. Tivoli Park and Ljubljana Zoo are also worth checking out. Good museums in the area include the Architecture Museum of Ljubljana, the Museum of Modern Art, the National Gallery, the National Museum of Slovenia, the National Museum of Contemporary History, and the Slovenian Museum of Natural History.
Neighborhoods
Popular areas of interest for tourists include the Old Town, Krakovo, Metelkova City, Castle Hill, and Tivoli Park. The Old Town is located between Castle Hill and Ljubljanica River. It has two squares; Mestni trg (City Square) and Gornji trg (Upper Square). It's a great area to see medieval buildings, cafes, and restaurants. Krakovo is a part of town that has a village feel. It is between the city center and the Trnovo suburb. Metelkova City is an area where alternative artists, various subcultures, and youth gather. It's located about five minutes by foot from the main train station. There are old military barracks that now house artists, bars and nightclubs. It gets particularly crowded on Fridays and Saturdays.
Activities
Popular activities in Ljubljana include taking in a show, going to the opera, going to the puppet theater, or going to Water City of Atlantis, which is a water park.
Nightlife is also popular in this dynamic city, as it is full of bars, clubs, and concerts.
Ljubljana also makes for a nice base to explore the surrounding countryside, small towns, and other nearby attractions. Consider one of these
incredible day trips from Ljubljana
to visit Kamnik, Predjama Castle, Vintgar Gorge, Skofja Loka, or many other beautiful destinations.
Food and Dining
If you're looking to grab a bite to eat, the downtown area has plenty of cafes with outdoor seating during the summer months. There are many restaurants around town that offer traditional Slovenian food. One quintessential Slovenian experience is to try a horse burger at the Hotel Horse. It's cheap and good, particularly after a late night out. Pizza, falafel, and burek are all available and cheap as well. The quality is usually reasonable to good.
Transportation
If you're in town during the warmer months, a nice way to explore the city center is on foot. You can pick up a detailed map at the tourist information center which is beside the Central Market. They also have bikes for rent, which is another fun, and more efficient way to explore the city. Some hotels also have bikes for rent. The price is typically about five euros for the day or one euro for two hours.
If you're not up for biking or walking, or the weather isn't ideal, then the bus system is generally efficient and cheap. There are 26 bus lines that usually run every 5 to 10 minutes, less so on the weekends or during the summer. You need to buy an Urbana card from any of the self service stations near the large bus stops before you board the bus.
Taxis are also in abundance and offer a good way to reach your destination quickly. If you call a taxi and order it by phone, then it is usually cheap, however if you flag one down on the street then they will likely charge you far more. It is almost always best to call a taxi by phone.
Related
Are you a student or backpacker headed to
Switzerland
or
Austria
?
Need a hostel in
Zurich
or
Vienna
?