Luxembourg On a Budget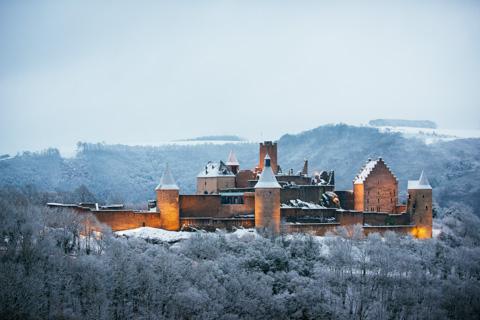 Luxembourg is a completely landlocked country located in the Benelux. It is bordered by Belgium, France and Germany. It's location make it a mixing bowl of the Germanic and Latin cultures. Luxembourg is the only remaining grand duchy in the world. A grand duchy, also referred to as a grand dukedom, is a territory that is headed by a monarch who is either a grand duke or grand duchess. Luxembourg is also the second smallest state in the European Union.
The economy in Luxembourg is based on steel, finance and technology. This economy thrives, in part, because of its location in the middle of Western Europe near many influential economies. It is one of the top three richest countries in the world, and the cost of living and travel expenses reflect this. The country also packs a surprising amount of natural beauty into its small space, making it a fascinating and fun place to visit.
The climate in Luxembourg is similar to that found in nearby countries. Winters may be mild, but January and February are the coldest months and temperatures can fall to -15 degrees Celsius. Summer can be quite hot, with July and August being the hottest months. It is not uncommon for temperatures to reach about 30 degrees Celsius. Summer is the peak season for travel but the most comfortable times to visit is during the spring and fall months. Luxembourg's National Day is on June 23rd.
Luxembourgs terrain is mostly made up of gently rolling hills and valleys. The northern area becomes slightly mountainous and there is a steep slope down to Moselle flood plain in the south.
At A Glance
Because Luxembourg is such a compact country, you can generally reach any destination from the capital in under an hour. Train coverage is quite comprehensive in the south but the north is limited to only on main line that runs from Luxembourg City to Mersch, Ettelbruck, Wilverwiltz, Clervaux and Troisvierges and on into Belgium.


A comprehensive and reliable bus service is available within the city and the most useful line for tourists is 16 which connects the town to the airport via Kirchberg. The 18 connects the town to Kirchberg and Auchan. Bus tickets are also valid on the train and vice versa. You can purchase them from the driver and they are valid for up to 2 hours. All day tickets are also available.


Luxembourgish is the national language of the country, but French is the administrative language. Luxembourgish evolved from the German dialect and shares many similarities. German is commonly heard in the media, in the court system and throughout the region. It is also taught in schools. Road signs, menus, and information centers usually offer information in French, but German is the most common in the region that borders Germany.


Luxembourgs currency is the Euro. Every country on the euro issues its own coins, which are valid throughout the eurozone. Luxembourgish coins are among the rarest of the euro coins, even in Luxembourg itself, so if you stumble upon one, it's worth holding on to as a collectable or simply a souvenir of your trip.


The young population generally drinks local or imported beer and there are a decent number of breweries around. The most popular are Diekirch, Bofferding, Battin and Mousel. White wines that are common in the Moselle Valley include Riesling, Pinot Gris, Pinot Blanc, Rivaner and Elbling, among others.
Related:
Looking for a party? Find a
hostel in Amsterdam
,
London
, or
Paris
.
Traveling alone to
Brussels
?
Find a
Contiki tour
to Europe.
Top Tourist Attractions
City of Luxembourg:
This historic city is a must-see. The old town has a large number of sites including the Gothic Revival Cathedral of Notre Dame, the town fortifications and the Grand Ducal Palace. Several areas in the old town are UNESCO World Heritage Sites and the cobbletoned streets, historic architecture, and impressive setting high on a cliff all make the city a unique place to visit.
Echternach:
This is the oldest city in Luxembourg and is also home to the basilica of the Abbey of Echternach. This is where the patron saint of Willibrord is buried. Echternach is also perfectly located to serve as a base for exploring Mullerthal. There are plenty of places to hike, bike and explore.
Vianden
This village has the medieval Beaufort castle, which is a popular destination for tourists. It can get quite crowded in the summer, but is well worth a visit as it is nicely situated within the forest, near a lake with swans. The fairy tale setting make it a romantic and beautiful place to wander.
Popular Foods
Luxembourg cuisine includes large amounts of pork and potatoes. It is heavily influenced by the cuisines of Germany and central Europe, but French pastries are common throughout as well. Local restaurant often have French entrees available and Italian food is often available at any of the many Italian restaurants.
Judd Mat Gaardebounen:
This is the unofficial national dish of Luxembourg. It is smoked pork neck that is served with boiled broad beans and often has potatoes on the side. It goes perfectly with a local beer on the side.
Gromperekichelchen:
Translated to mean "Potato Biscuits", this dish is a fried shredded potato cake. It is made with onions, shallots and parsley and is commonly served at outdoor events such as fairs, festivals or markets. It makes for an excellent snack on a cold winter day.
Eisleker Ham:
This ham is served cold and common in the mountainous northern region. The ham is marinated for several weeks before it is smoked for a few days. It is sliced thinly and served with chipped potatoes and salad.