Macao On a Budget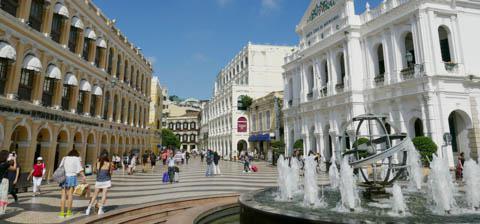 Located in China, Macau is a Special Administrative Region and one of the world's most densely populated regions. Until 1999 it remained an overseas territory of Portugal. It sits across from Hong Kong, along the Pearl River Estuary. Because it was so recently relinquished as a colony, it still has a significant amount of visible colonial history. The old city still looks very European, which you can see during a walking tour. Despite this architectural influence, the majority of the city's population is native Chinese.
In addition to the city itself, Macau also includes the islands of Taipa and Coloane. These islands are connected to Macau by bridges, and they are connected to each other by a causeway. This causeway is known as the Cotai Strip. Taipa has a major residential area and also houses Macau's international airport. Coloane is less developed and has mountainous terrain. There are a couple of beaches and a few hiking trails you can explore. There is also a resort and golf course. Cotai Strip is where you will find many of Macau's casinos. Many of these are large and western in style.
Macau's climate is subtropical and the summers are hot but the winters are mild. Mid-summer to autumn is typhoon season and a major typhoon can shut down the city. It is best to plan your visit accordingly.
At A Glance
Gambling is the biggest revenue source for Macua. Visitors from both mainland China and Hong Kong make their way to the city to try their luck at the casinos. In the past, Casino Lisboa was the most famous casino in town, but the Sands Casino has quickly gained a reputation since its opening in 2004. You'll find most of the casinos along the waterfront on the southern side of Macau Peninsula. In 2007 the Venetian Macao, the largest casino in the world, opened here, and it has been followed by several other new additions.


Most people enjoy exploring the Macau Peninsula on foot. The city is very compact and easy to walk through. There's a pedestrian sidewalk on most streets but like many cities in China, the sidewalk can get quite crowded. The streets don't seem to be laid out in the most obvious pattern so you are likely to get lost. This is always part of the fun though. If you find yourself in Cotai, it is not advisable that you walk though as the streets are long with no real sights aside from the fronts of hotels.


Macau's official languages are Cantonese and Portuguese. Cantonese is the most frequently spoken language and Mandarin is much less common. Those who work in the tourism industry will likely speak a decent amount of Mandarin and some will speak decent English as well. Do take note though that English is not as widely spoken in Macau as it is in Hong Kong. Portuguese is no longer taught in schools so it is rarely spoken by locals. It is often on signs and maps.


The pataca is the official currency of Macau. It is pegged to the Hong Kong dollar and many places accept both the pataca and the Hong Kong dollar. It is virtually impossible to exchange patacas for any other currency outside of Macau, even in Hong Kong so make sure you spend or exchange any extra money before leaving the city.


There is free wireless internet access throughout the city. The system is known as the wifigo system and you can also use the encrypted service wifigo-s. The username is "wifigo" and the password is "wifigo".
Related:
Looking for a
hostel in China
?
Traveling alone to
Beijing
or
Hong Kong
or want to party in
Shanghai
?
Top Tourist Attractions
Rua da Tercena:
This street is located near St Paul's Cathedral behind Senado Square. It's a little out of the way so it avoids some of the tourist crowds but still offers unique art, architecture and flea markets. It has a great character and is a wonderful place to take a stroll.
Macau Heritage Walk:
A large part of the Macau Peninsula has been designated as a UNESCO World Heritage site and the best way to explore it is by doing the Macau Heritage Walk. This walk will take you by many of the historic buildings, the Sao Paulo Cathedral, the Fort and the Macau Museum.
Bodhisatta Avalokitesvara:
This statue is an interesting combination of Chinese and European cultures. It's located next to the sea near the Sands Casino and MGM Grand and it shows a Chinese deity in a distinctly European design that can even be compared to statues of the Virgin Mary in Europe.
Popular Foods
Despite Macau's Portuguese history, it can be difficult to find authentic Portuguese food away from the high end restaurants. Instead, stick to the Macanese and Chinese cuisines, which are excellent and ubiquitous. In general Macanese food has been influenced by the Portuguese and Chinese as well as African and Southeast Asian traders.
Pato de Cabidela:
This is a traditional Portuguese dish that can be found at a variety of restaurants in Macau. It is a stew that is made of chicken with blood and herbs. It is usually served with rice. Although it sounds a little intimidating, it's actually quite good.
Galinha a Portuguesa:
Although the name, Portuguese-style chicken, makes you believe it has Portuguese origins, this dish is actually completely Macanese. It is a chicken that is served with a coconut curry and it can be found throughout the city.
Beef Jerky:
Beef Jerky can be found on the street that leads up to the Ruins of St. Paul. There are vendors around who will gladly hand out free samples. Make sure you try it before you buy, as the quality can vary. In general, this jerky is more moist and fresh than most jerky outside of Macau.