The Maldives On a Budget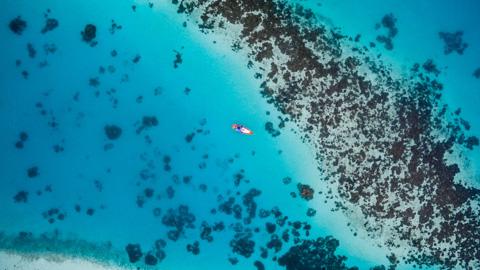 The Maldives is a tropical nation located in the Indian Ocean, consisting of ring-like coral islands or atolls. It is a popular destination for honeymooners, as well as for visitors interested in scuba diving or snorkeling explorations along the unique reef ecosystem.
At a Glance
The Maldives consist of 20 administrative atoll groups, only ten of which are open to tourism. The naming of these groups are complex as they have traditional names as well as code names that are easier to remember and used most often by tourists. The 10 that are open to tourism include Lhaviyani (Faadhihpolhu), Raa (Maalhosmadulu Uthuruburi), Baa (Maalhosmadulu Dhekunuburi), Kaafu (North and South Male Atoll), Alifu (Ari), Vaavu (Felidhu), Meemu (Mulak), Faafu (Nilandhe Atholhu Uthuruburi), Dhaalu (Nilandhe Atholhu Dhekunuburi), and Seenu (Addu). The code names, most used by the general public, are listed in bold. Of these ten, Kaafu is the most popular and most developed with tourism. It is home to the capital (Male), the airport island (Hulhule), and most Maldivian resorts. The second most popular group of atolls is Alifu, located just to the west of Kaafu. Here there are many additional resorts that can be reached by seaplane in 20-30 minutes, or speed boats, which take several hours. Seenu is the southernmost atoll group, which is home to Gan International Airport, and has a series of four islands connected by a causeway. The second largest city in the Maldives is also located here. The remaining atoll groups, which are not open to tourists, consist of Gaafu Alifu, Gaafu Dhaalu, Gnaviyani, Haa Alifu, Haa Dhaalu, Laamu, Nyavinani, Seenu, Shaviyani, and Thaa.
Many people flock to the Maldives to enjoy the serenity of their own personal water bungalow at one of the main resort destinations.
The next most popular activities are scuba diving and snorkeling. Since the islands are actually coral reefs, located far away from any mainland, the water is crystal clear and the underwater wildlife is abundant. Prices for diving excursions vary from resort to resort, but generally can range between $50-$100 USD, depending on whether or not you have your own gear, boat usage, guides, etc. Another option is to stay on a
Liveaboard dive boat in the Maldives
for several days. This way you can have all of your meals and sleep on the boat. Then, you just spend the entire time scuba diving whereever the boat takes you. For more information, check out this
guide to the best liveaboards in the Maldives
.
Surfing is another popular activity during a visit to the Maldives. The best period for surfing here is between March and October, with the biggest waves occurring in June, July, and August. The unique setting of the Maldives' turquoise waters has become a draw for surfers, divers, snorkelers, swimmers, sunbathers, and honeymooners alike.
Top Tourist Attractions
While Kaafu and Alifu are the most popular atolls for tourists seeking out a tranquil bungalow escape, there are several other locations throughout the tropical nation that are frequented for different reasons. Hanifaru Bay, for example, in the Baa atoll is one of the Maldives' most famous marine sites. Especially notable is one of the largest seasonal gatherings of manta rays in the world. Whale sharks are also seen seasonally, especially during monsoon when many species gather to feed on plankton that have washed into the lagoon. Another noteworthy site within Baa is the
Blue Hole
, which is very popular with snorkelers and scuba divers, who have the opportunity to experience a coral-lined underwater chimney that gradually narrows from 22 meters to seven meters. As a whole, the Baa atoll is an UNESCO Biosphere Reserve, meaning its waters are protected, which has allowed for an abundance of more than 200 species of coral and over 1,000 species of reef fish.
Popular Foods
As far as the resorts go, breakfast is almost always included and visitors can opt to purchase package deals that can include lunch and/or dinner buffet. (Check out
Dhigurah Island Beach and Diving Resort
if you're looking for one of the nicer places to stay.) Typically the food here is European or Asian to meet the expectations of guests, but there are options outside of the resorts that will have a wider range of local offerings. Being an island nation, the Maldives mainly serves up cuisine that revolves around fish (mas), drawing heavily from Sri Lankan and south Indian traditions. Tuna (kandu mas), in particular, is widely used, and dishes are often hot and spicy, served with rice, and flavored with coconut. Curries (riha) are also popular and usually served with roshi (unleavened bread) and other local flatbreads. A few additional Maldivian specialties include:
mas huni: a common Maldivian breakfast that consists of shredded smoked fish with grated coconuts and onions
fihunu mas: barbequed fish, basted with chili
bambukeylu hiti: breadfruit curry (breadfruit is from a flowering South Pacific tree, potato-like in flavor)
hedhikaa: snacks that are usually fish-based and deep-fried
bajiya: a pastry stuffed with fish, coconut, and onions
gulha: pastry balls stuffed with smoked fish
keemia: deep-fried fish rolls
kulhi borkibaa: spicy fish cake
masroshi: mas huni (see above) wrapped in roshi bread and baked
theluli mas: fried fish cooked with chili and garlic