Micronesia On a Budget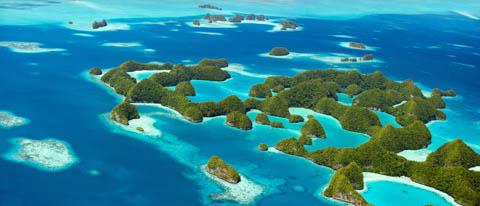 Micronesia is an archipelago in Oceana that consists of thousands of small islands in the western Pacific Ocean. While the islands have been settled for millennia, earliest known contact with Europeans occurred in 1521, when Ferdinand Magellan reached the Marianas. Since then civilizations have grown and evolved, many cultures thriving in the tropical marine climate.
At a Glance
There are several groups of islands, several regions that make up the area of Micronesia.
The Federated States of Micronesia
is the first group, comprising of over 600 islands known for their palm-shaded beaches, wreck-filled dives, and ancient ruins and temples.
Kiribati
is the next group with beautiful beach scenery and abundant traditional culture, especially on the outer islands. Then there are the
Marshall Islands
, a group of atolls and reefs halfway between Australia and Hawaii, as well as the island
Nauru
which is also the world's smallest independent republic.
The Northern Mariana Islands
are actually in political union with the United States and have great opportunities for scuba diving and snorkeling on reefs and wrecks. And finally there is
Palau
, a beautiful nation known for its lake full of jellyfish in the Rock Islands. Guam, the Midway Islands, and Wake Island are also a part of Micronesia.
Activities on the islands range from swimming, scuba diving, and snorkeling to hiking, fishing, exploring on foot, and experiencing the traditional culture of the islands. Sailing and other boating excursions are also popular just offshore, as well as sightseeing historic WWII sites.
Related:
Looking for a party? Find a
hostel in Sydney
,
Melbourne
,
Cairns
, or along the
Gold Coast
.
Top Tourist Attractions
With thousands of islands making up the whole of Micronesia, it is difficult to pick and choose from the many sights of the archipelago. For the most part top tourist attractions include reefs and wrecks just offshore, tropical beaches, cultural villages, diverse wildlife, and WWII historical sites.
Culture on Yap: One of the Federated States of Micronesia, Yap is a great place to experience some of the more traditional cultures of the islands. There are quite a few authentic villages as well as the Yap Living History Museum in Colonia with traditional houses and stone money on display. The outer reefs around Yap are also a top attraction, full of aquatic life, attracting divers from all corners of the globe.
Diving at Palau: A region most famous for its diving sites, some of the best including The Blue Corner, German Channel, Ulong Channel and Blue Holes. The Rock Islands of Palau are also well-known for its many jellyfish lakes where visitors can also snorkel.
Wildlife on the Midway Islands: a wildlife refuge in the northern Pacific Ocean, these islands are home to nearly 5 million members of 17 species of seabirds, plus the endangered Hawaiian monk seals, giant green sea turtles, and spinner dolphins. The islands also contain memorials and artifacts of the 1942 Battle of Midway during WWII. Nature viewing, wildlife photography, snorkeling, kayaking, and touring the World War II historical sites are all popular activities on the islands.
Beaches: Most of the islands of Micronesia have pristine tropical beaches for any relaxing getaway. Anibare Bay is a popular spot for beach-bumming on Nauru, Saipan in the Marianas has more of the historic kind, while the Federated States of Micronesia have plenty of untouched shoreline within reach for a peaceful escape.
Ancient Ruins: The islands are also dotted with archaeological sites and ancient ruins lying long abandoned in the island jungles. Some of the more popular sites include Nan Madol, a ruined city adjacent to the eastern shore of the island of Pohnpei, as well as the Lehlu Ruins of Kosrae. Both are a part of the Federated States of Micronesia.
Popular Foods
Some of the native cuisine of Micronesia consists of that of the Chamorro people who inhabit the Mariana Islands. Most dishes include rice and various spices, as well as the use of local produce with fruits like lemmai, mangga, niyok, and bilimbines and vegetables including taro, yam, and potato.
Kelaguen: a Chamorro dish from the Northern Mariana Islands, Kelaguen consists of cooked chicken, raw shrimp, fish, or beef marinated in a pickling mix of lemon juice, fresh coconut, green onions, salt and spicy hot peppers, or donne. In most cases the citric acid from the marinade will "cook" the dish. It is served cold or at room temperature and eaten as is, over rice, or wrapped in a warm corn or flour tortilla. Served with finadene on the side.
Finadene: a salty, spicy, sour all-purpose condiment used in Chamorro cuisine. Varieties include soy sauce, lemon, or coconut. Often served with meat.
Tinaktak: a meat dish made with coconut milk
Micronesia cuisine is also influenced by many different cultures. In the Marianas, Korean, Chinese, Japanese, and American cuisine are commonly available. You might also find various types of sweet or savory empanada, originally introduced by Spain, and pancit, a noodle dish from the Philippines. In Guam, Tobasco sauce is highly consumed.